Dayton Info & More
There's so much to see, learn and do in Dayton, Ohio! While we strive to provide an abundance of information for you on this site, we know that sometimes you just need some quick-reference phone numbers. 
Emergency & Non-Emergency Services
EMERGENCY - 911
Dayton Fire Department - 937-333-4500
Dayton Police Department - 937-333-COPS (2677)
Montgomery County Sherrif's Office - 937-225-4357
Important Phone Numbers
AAA Emergency Road Service - 937-224-2841
Central Ohio Poison Center -  800-222-1222
Dayton International Airport - 937-454-8200
Hospitals
Dayton CHildren's Hospital - 937-641-3000
Dayton Children's Outpatient Care Center / Springboro - 937-641-5725
Good Samaraitan Hospital - 937-734-2612
Grandview Medical Center - 937-723-3200
Kettering Medical Center - 937-298-4331
Miami Valley Hospital - 937-208-8000
Miami Valley Hospital SOuth - 937-438-2400
Southview Medical Center - 937-401-6000
Sycamore Medical Center - 937-866-0551
24 Hour Pharmacy
Kroger - 937-294-7210
Walgreens Kettering - 937-395-0633
Walgreens Miamisburg - 937-859-3879
Interpreting & Translator Services
Vocalink Language Services - 937-229-1415
Interpreters For The Deaf, LLC - 937-242-6047
...and as always, we're happy to help! 
Jacquelyn Y. Powell
President/CEO
jypowell@daytoncvb.net
937-226-8267
Bruce Stricker
Controller/Director of Human Resources
bstricker@daytoncvb.net
937-226-8212
Bev Rose
Director of Marketing & Communications
brose@daytoncvb.net
937-226-8226
Anna Nash
Director of Sales & Services
anash@daytoncvb.net
937-226-8281
Market Segments:  National/Regional, Fraternal, Religious
Donna Michael
Convention Services Manager
dmichael@daytoncvb.net
937-226-8236
Ron Eifert
Senior Sales Manager
reifert@daytoncvb.net
937-226-8284
Market Segments:   Sports, Hobby & Vocational
Carmen Huffman
Sales Manager
chuffman@daytoncvb.net
937-226-8292
Market Segments:  State Association, State & Local Government, Education, Fraternal, Multicultural
Rev. Dr. Crystal Walker
Sales Manager
cwalker@daytoncvb.net
937-226-8162
Market Segments:   Faith Based
Christina Combs
Sales Manager
ccombs@daytoncvb.net
937-226-8273
Market Segments: Military Reunion, Religious
Sean Robison: Sports and Social Fraternal
Sales Manager
srobison@daytoncvb.net
937-226-8259
Lynn Gathagan
Executive Assistant to the President/CEO
lgathagan@daytoncvb.net
937-226-8257
Nicole Nett
Digital Marketing/Content Manager
nnett@daytoncvb.net
937-226-8247
Anita White
Visitor Information Specialist
awhite@daytoncvb.net
937-226-8211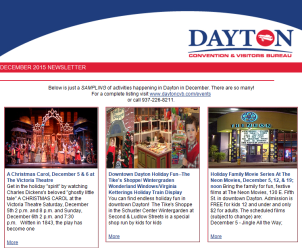 Want to know what's going on in Dayton? Looking to keep up with the latest Dayton, Ohio news? Sign up for our E-Newsletter!
LEARN MORE