3 Can't-Miss DAYTON July 2022 Events!
Summer has arrived and it's time to experience the sights and sounds of the season!  Summer is for FUN and for CREATING MEMORIES!  
Ok, we may be biased, but we believe there is no better place for FUN & CREATING MEMORIES than Dayton, Ohio.  In particular, you'll want to plan to attend these "3 Can't-Miss Dayton July Events!"
So mark your calendars now and plan on making the short and easy drive to Dayton for incredible summer festival fun!  Make it a mini-getaway, or a "Daycation-a Dayton Vacation" by booking a hotel room for the night!  Click here for information on area accommodations.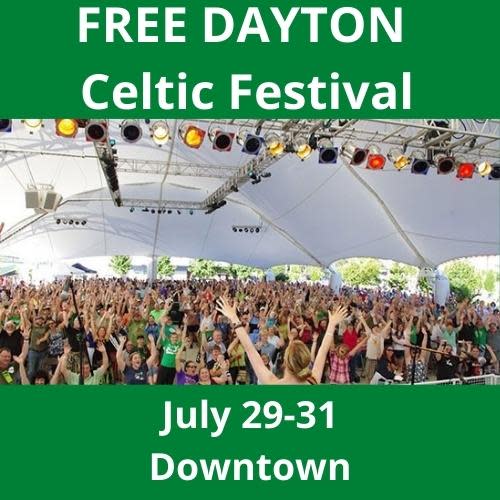 The United Irish of Dayton Celtic Festival JULY 29 - 31 
Thee luck 'o thee Irish will be with yee when you attend this amazing, FREE festival in downtown Dayton on the beautiful banks of the Great Miami River at RiverScape MetroPark.  Celebrate Dayton's Celtic heritage with live Irish music, a multitude of food and Irish gift vendors, and of course beer! Slainte!  Participate in a fun 5k/10k run, a traditional Gaelic Mass complete with pipes and dancers, Sunday morning at 10 a.m. at RiverScape.  Explore the children's activity area, enjoy great live music, and be infused with the festive, happy-go-lucky spirit that permeates this popular annual event.  This Dayton Celtic Festival takes place Friday, July 29 from 5:30 - 11 p.m., Saturday, July 30 from 11:30 a.m. - 11 p.m., and Sunday, July 31 from 9 a.m. - 6 p.m.
The free festival features the following headlining music acts:  Gaelic Storm, Scythian, Socks in the Frying Pan, The Drowsy Lads, The Fitzgeralds, Boxing Banjo, Joanna Hyde & Tadhg O'Meachair.  In addition, numerous other acts will perform.
For more information log onto www.daytoncelticfestival.com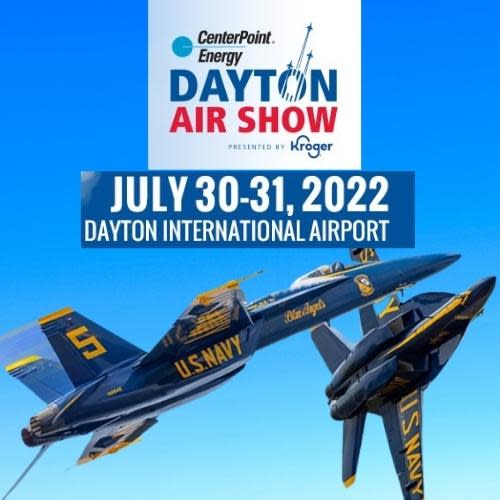 CenterPoint Energy Dayton Air Show Presented by Kroger JULY 30 - 31
Dayton, home to the Wright Brothers, is the Birthplace of Aviation & So Much More!  So, it is only fitting that annually Dayton hosts one of the nation's premier air shows. The CenterPoint Energy Dayton Air Show is a must-see that will thrill audiences of all ages!  This year the U.S. Navy Blue Angels will be the featured jet team, performing on both Saturday and Sunday.  Experience chest-pounding, daring aerobatics, an enormous variety of aircraft on static display, Midway food and activities, and thrilling displays of anti-gravity feats!  The Dayton Air Show takes place Saturday, July 30 and Sunday, July 31 at the Dayton International Airport.  There are a variety of ticket options starting at $17.  For information on general admission tickets, Synchrony Family 4-Packs, Pavilion Seating, Parking and more, contact Etix at 800-514-3849 or click here 
In addition to the U.S. Navy Blue Angels, you're guaranteed to be wowed by the U.S. Marine Corps C-130 "Fat Albert", U.S. Air Force F-16 Viper Demo Team, U.S. Air Force F-15C Eagle, the U.S. Army Golden Knights, the U.S. Air Force C-17 Globemaster III, the Tora! Tora! Tora! reenactment performance, the Kent Pietsch and Vampire Air Shows, and famed Air Show Announcers Rob Reider and Danny Clisham. 
For more information log onto www.daytonairshow.com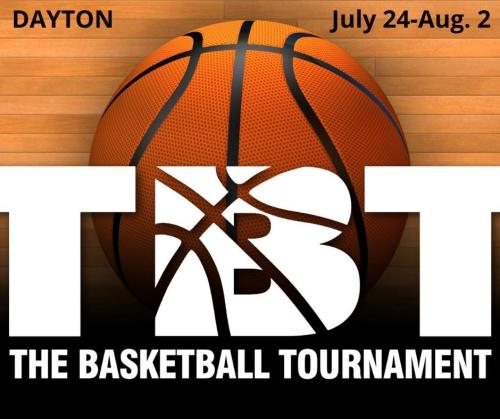 TBT -- The Basketball Tournament JULY 24 - AUG 2
Get your exciting basketball fix this summer at the TBT at the University of Dayton Arena!  The Basketball Tournament (TBT), the $1 million, winner-take-all summer basketball event, is broadcast live on ESPN networks.  DAYTON and the UNIVERSITY OF DAYTON ARENA will host the Dayton Regionals July 24-27, the TBT Quarterfinals July 28-29, TBT Semifinals July 30, and the TBT Championships August 2!
For TBT ticket information, please visit daytonflyers.com/TBT or call the Arena Ticket Office at (937) 229-4433.
Tickets are now on sale for the TBT games in Dayton.   Regional All-Session Packages (3 days of basketball, 4 sessions, 7 games – July 24, 26 and 27) are in the regular price range of $60 in the upper Arena to a premium package of $300.  Championship Week Packages (4 days of basketball, 4 sessions, 6 games - July 28-30, August 2) are as low as $70 to $300 for a premium package.
The TBT has announced that all tickets for each game of the Championship Week, July 28- August 2, are $25 each.
WHAT IS THE TBT?
The TBT is ESPN's 9th annual 5-on-5 single-elimination men's basketball tournament that brings together a large number of alumni teams from schools such as Ohio State, University of Dayton, Purdue, and Syracuse.  64 teams compete for the winner-take-all prize of $1 million.  There are eight regions –DAYTON, New Mexico, Omaha, Rucker Park/Harlem, Syracuse, West Virginia, Wichita, and Xavier. The previous year's regional winner receives an automatic bid.
The TBT starts with fields of eight teams within each of the eight regions and hosts single-elimination games to narrow the bracket down to one team emerging from each region.  Two teams will square off in Wichita for a quarter-final showdown, while the other teams all meet in DAYTON at UD ARENA and face off in the other three quarterfinals, two semi-finals, and the TBT 2022 Championship Game during Championship Weekend, July 29- August 2.  At the end of the tournament, the sole remaining team takes the million-dollar prize.  The entire tournament only takes six wins!
And each game ends quickly with an exciting basket due to the Elam Ending!
DON'T LIKE LATE-GAME FOULING? THE ELAM ENDING IS FOR YOU!
Designed to preserve a more natural end of game finish, the Elam Ending® calls for the game clock to be shut off in the fourth quarter.  A Target Score is set by adding 8 points to the leading team's score. The first team to reach the Target Score wins.  For example, if the score is 80-72, the Target Score becomes 88.  The first team to reach 88 wins. Once the game clock is eliminated, trailing teams are allowed to focus on getting stops rather than preventing the clock from running out.  This results in great defense and pure basketball possessions all the way through the end, making for an electrifying fan experience!