Bacon Week 2020
Go Pig or Go Home!
Bacon Fest may have been canceled for this year, but the fun will continue with Bacon Week! Visit participating restaurants August 15-22, 2020 for bacon dishes and Bud Light specials all week.
Meadowlark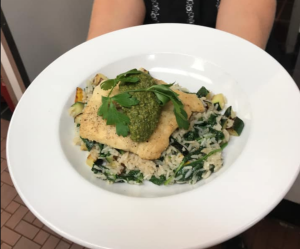 Double Down Bacon Burrito
Thick-cut, tender Pork Belly AND smoky strips of Nueske's Bacon combine with a slather of creamy frijoles, tomato rice, cheese and tomatillo salsa for the lunch of a lifetime. Well, that might be overstating it. Oh, and if you'd like to Brunch-i-tize it, we'll swap out the rice for some fluffy scrambled eggs! Served with fries or vinaigrette dressed greens.

And of course we always have these bacon-y specials:
Fried Green Tomato Sandwich with Bacon and Goat Cheese
Sliced, coated in breadcrumbs and fried to golden brown, green tomatoes soften and sweeten with cooking and become a special treat. Here they are teamed with smoky Nueske's bacon, a slathering of goat cheese, lettuce and caper mayo to make a great summer sandwich. Served with fries or vinaigrette-dressed greens.

Spaghetti Carbonara
Steaming strands of spaghetti very lightly coated with tiny soft curds of egg and ricotta, accented with Nueske's smoked bacon, peas, black pepper and Parmigiano Reggiano cheese. So good. Served with toast.
Meadowlark Dinner Specials for Bacon Week
Appetizer
Hungarian Greasy Bread with Homegrown Tomatoes
An Old World campfire dish reformatted for today's bacon lovers! A thick slice of rye bread is grilled with Nueske's smoky bacon drippings and topped with crusty slab bacon, thick slices of homegrown tomato, coarse salt and pepper and a smattering of chopped bell pepper.

Bacon Week Surf and Turf: Asian-braised Pork Belly and Seared Tuna
Slices of flavorful pork belly are laid atop fragrant jasmine rice alongside slices of seared tuna for the ultimate dream team, with a bevy of garnishes including charred scallions, grilled shiitakes, shaved summer squash, Japanese-pickled cucumber, sesame mayo, and spicy chile crisp.

Bacon Banana Caramel Shortcake
Make a flaky bacon-studded scone. Warm it and split it, and spoon on sliced bananas in a deep amber bacon caramel sauce. Sprinkle on some roughly chopped bacon. Crown with a big cloud of toasted cashew whipped cream. May the bacon be with you.
Bunker's Sports Bar & Grill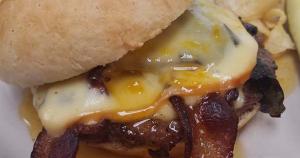 Dine-in and carrout available
½ Pound Bacon Beast Burger
Char grilled Beast Burger (Wagyu beef, Boar, Elk & Bison) topped with Applewood Smoked Bacon with your choice of toppings(lettuce, onion, tomato, pickle, mayo) served with chips and a pickle.
Rip Rap Roadhouse
Bacon Wrapped Jalapeno
Freshly sliced jalapeno, stuffed with seasoned cheddar and cream cheese. Wrapped in bacon and fried to perfection.

Bacon grilled cheese
A loaded grilled cheese with cheddar, provolone and goat cheese, bacon jam, strips of bacon and tomato on two pieces of Texas toast.

Bacon Lattice Burger
Our never frozen 1/2 lb. Black Angus choice beef burger topped with a bacon lattice, bacon jam, your choice of American, cheddar, provolone or pepper jack cheese, lettuce, tomatoes, onions and pickles on a toasted bun.

Bacon Pizza
Our Pizza topped with a mozzarella and provolone cheese blend, bacon, fresh mushrooms, caramelized onions, goat cheese and a seasoned olive oil.

Ribs and Bacon wrapped Shrimp
3 of our fall off the bone ribs smothered in our sweet and tangy BBQ sauce served with a skewer of deep fried bacon wrapped shrimp.
The Florentine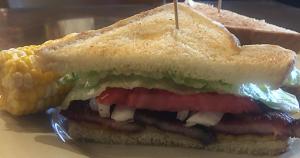 Available Dine-In and Curbside Pickup.
Double smoked, thick-cut in-house to 1/4-lb BACON for a BLT!
12-hour smoked pork-belly, thick-cut in-house for an upgraded PLT
(like a BLT but even better!!)
Complete your meal with an appetizer of Fried Green Tomato, side of Corn-on-the-Cob & a 16-oz draft Bud Light for $2