Calvary Cemetery
Calvary Cemetery is on South Dixie Avenue adjacent to the Carillon Historical Park. It's official address is 1625 Calvary Dr., Dayton, Ohio, and the rolling hills of are a beautiful and peaceful setting for a cemetery.
St. Henry's Chapel
Their main chapel is easy to find. The New Bedford stone chapel, designed in the Victorian Gothic style, was constructed in the 1890's. Frank Mills Andrews, a prominent mid-western architect, had worked for John Patterson building the National Cash Register Company. Andrews was drawing the Dayton Arcade at the same time he was designing St Henry's Chapel. Amber and blue leaded windows were crafted by Dayton Art Glass. Black Walnut pews were made by Ohmer Furniture Company. The wood beamed ceiling came from Kuntz Lumber Company.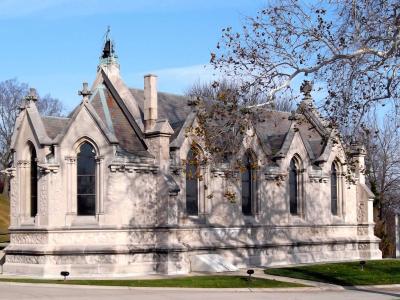 Drive up any hill and go as high up and west as you can get and you will see a long fence about 30 yards west of the road.
I-75
When you get close to the fence you will notice the "Miami Valley." While you do not see the Miami River you can see we are in a huge valley. You notice how the other side of the valley comes up. You can hear the traffic of the Interstate 75 Highway. When you are riding here on the interstate you can see the Miami River.
St Kateri Preserve
This is a five acre land conservation project beginning with a natural burial area, walking trails, and a 1.5 acre lake. It is a green space that is a nurturing environment for human as well as plant and animal life. Natural burial (aka green burial) is available for both biodegradable caskets as well as cremated remains in eco-friendly containers.
St Kateri, the first Native-American Catholic Saint, is the Patron Saint of the environment and ecology. Her name also is a nod of respect to the Mound Builder earthworks, part of the cemetery's ancient geography. St Kateri will be honored with a larger than life size bronze statue placed near the top of the trails head which will be installed and dedicated in Spring 2015.
A Little East
A little east of the St Kateri Preserve you find the Stations of the Cross Mausoleum. Situated in a beautiful wood side setting this offers quality, value and peace of mind. In the center of the mausoleum garden is an inspirational circular chapel with open-air archways. The mausoleum exterior features a combination of stone with four varieties and shades of Italian granite. Bronze plaques featuring the stations are mounted on stone walls around the exterior of the chapel. A series of wide sidewalks provide easy access for funeral services and visitation.
Focke  
When you drive in the original area you will find many interesting headstones and many have an explanation about the deceased. This one is "Clemmy" Focke who was a drowning victim. Calvary has been developing a self guided tour of notable sites throughout the cemetery using location signs equipped with QR codes to lead visitors to more information about each site.
Cannon
This is a veteran's area. The yellow tag explained that during the Civil War a Dayton group was in the Battle of Atlanta and this is Confederate cannon.
Stang
Sister Dorothy Mae Stang, S.N.D., (7 July 1931 – 12 February 2005) was born in Dayton and joined the Sisters of Notre Dame de Namur in Brazil. She was murdered in the Amazon Basin. Stang had been outspoken in her efforts on behalf of the poor and the environment, and had previously received death threats from loggers and land owners. This is a recognition of what she did.
As you are driving down the hills you have seen many important people and memories of Dayton.