By Charlie Campbell
1000 Carillon Blvd, Dayton, OH 45409
(937) 293-2841
http://www.carillonbrewingco.org
http://www.daytonhistory.org
Today Dayton is home to a growing brewing industry. This growth is not new. Daytonians have had a thirst for ales and beers for centuries.
The Carillon Brewing Co. takes you back to the 1850s. You can learn about the history of brewing in Dayton and how it dictated the way of life for Daytonians then and the lasting effects today. Watch and interact with our Brewster as you go through the brewing process using historical methods, recipes, and tools that create an authentic taste of history. You will be able to sip on the historical brews and compare them to modern varieties at the full bar. An extensive menu of German inspired fare is also offered. Many of the brewery owners and workers in the mid-19th century were of German descent.
Carillon Brewing Co.
In here each step of the historical brewing process comes to life in front of you. Feel the heat radiate off the glowing charcoal fires under the large copper kettles. Smell malt wafting through the air as they mill the next batch's grain. Watch as costumed staff hand ladle sweet wort into the boil kettle. Engage in a conversation with the brewer. Listen to stories about how Dayton's brewing industry came to be. Get to know how a glass of beer is full of history.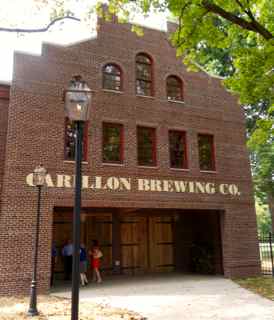 Brewing Area
The immigrant settlers of the 1850s found Dayton to be much like home (England, Ireland, Germany) but lacked the drinks for which they longed. At the cross roads of agriculture and industry, they found resources and opportunity to begin brewing their own beer, wine, and cider.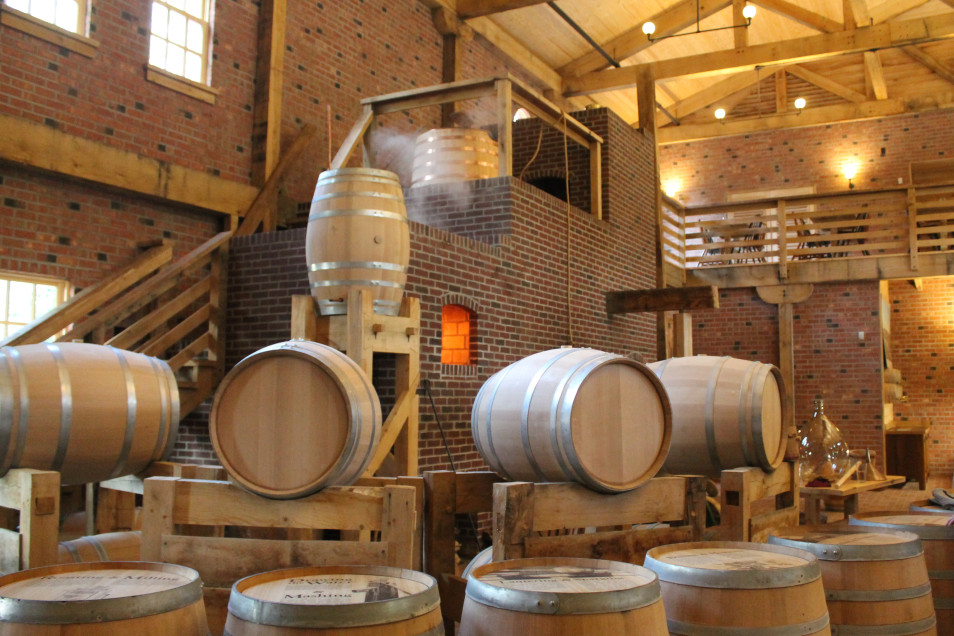 Spiced Ale
Ale is made from malted grain, water, hops and yeast. Early brewers in Dayton had malted six-row barley, rye and corn available to them from regional farms. Water was abundant from the converging five waterways and the aquifer lying just below the city's ground. Hops would have either been grown locally or come in on the canal, and later the railroad, from hop growing states like New York. Yeast was both collected here in town and, for specialty strains, brought in.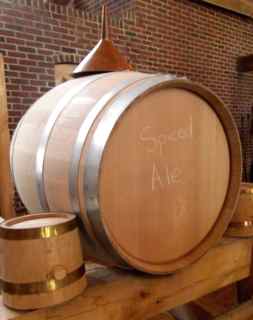 Brewing Process
On top of the barrels are all the explanations of how the beer and ale were produced, stored, and delivered. There is a bar there where you can taste the various items. And upstairs is a place where you can eat….and drink!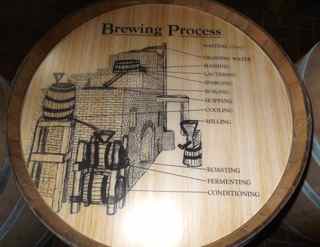 Growler
Visiting, tasting, and eating here is a wonderful way to experience what Dayton was doing 150 years ago. In their gift shop you can get a Carillon Brewing Co "Growler" and can have it filled up. When you get home, you can enjoy again what you had seen brewed. (A growler is a glass or ceramic jug used to transport draft beer in Australia, the United States and Canada. They are commonly sold at breweries and brewpubs as a means to sell take-out craft beer.)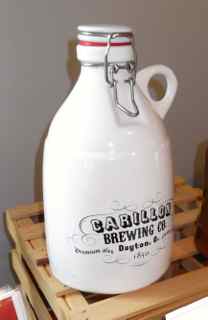 Please note: The Dayton CVB has compensated me to share my thoughts on Carillon Brewpub.