The Carillon Historical Park

No matter where you are in downtown Dayton, The Carillon Historical Park is easy to find. http://www.daytonhistory.org/destinations/carillon-historical-park/
There are so many wonderful things to be doing here….everything from listening to bells on the carillon to hiking and sliding down the Glacial Slide and Moraine Exploration Area. And the park is open year round!
BUT, for those who don't have a long time, here are the "Great 8." (Note, these are not numbered in priority….these are 8 things to check out!)
The Kettering Family Education Center. This is where you head for admissions and info and in the building are several top sites.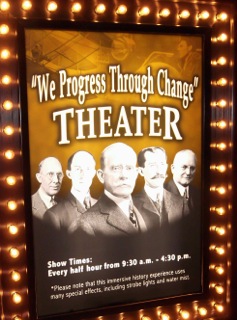 # 1
You need to find the "We Progress Through Change" Theater. This has several "actors" talking and demonstrating what they invented and produced right here in Dayton. It gives a great overview of Dayton's manufacturing and inventing geniuses.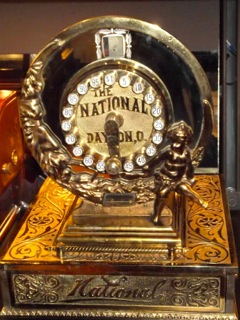 # 2
You head into the "Heritage Center of Dayton Manufacturing and Entrepreneurship" and the first area has many, many cash registers. National Cash Register (NCR) was established right here more than 100 years ago. You can see lots of old cash registers and be amazed how these mechanical things were designed and manufactured.
# 3
Keep walking into Deeds Barn and you will see an old Cadillac automobile and learn that Charles Kettering invented the self starter. We have all seen how in the old days someone had by hand crank the automobile engine to get it started. And right here is where the self starter was invented and manufactured. Charles Kettering named it the Dayton Engineering Laboratory Co. which became DELCO.

# 4
The Carousal is also in this building. I hope you take a ride. As you look at it you will see all kind of information actually on the merry-go-round. You can ride on a Mike-Sell Potato Chip, or an NCR cash register, and look at all the signs and buildings that are painted there.

# 5
Still in this building is what you use all the time. A "pop top."  Before this everyone used a "church key" to open a can. Right here in Dayton the snap-top was invented. It is like having an opener tool built into every can.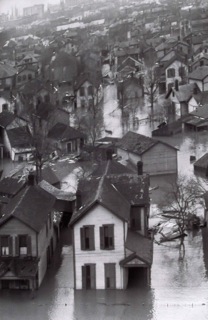 # 6
You now head out of the main building and you are wandering past many interesting buildings. Your next stop is "The Great 1913 Flood Exhibit Building." As you are looking at the photos and hearing the rain be sure to look for the dog on top of the porch. As a result of this flood the entire area cooperated and established the Miami Conservancy District. Five dams were constructed and are still maintained to protect our region.
# 7
Keep on walking and head into the "James F. Dicke Family Transportation Center." You will see a beautiful interurban car, a B&O caboose, and a 1903 Barney and Smith Railroad car. Barney and Smith constructed those railroad cars here in Dayton.

# 8
You then head back and go to the "John W. Berry, Sr. Wright Brothers Aviation Center." As you head in you will see lots of original bicycles, see how the Wright Brothers were constructing everything to create an airplane, and finally you will see the original Wright Flyer III. This was the airplane the Wright Brothers developed to make totally functional…and that was in 1905.

You can go there anytime and see so many things that have happened right here in Dayton.
Please Note:  The Dayton CVB has compensated me for my thoughts on the Carillon Historical Park.