One of summer's biggest events, the annual CenterPoint Energy Dayton Air Show, presented by Kroger, is set to return to the Dayton International Airport, July 22 & 23. Get ready to "take off" for top-flight fun as the spectacular U.S. Air Force Thunderbirds headline the 48th-anniversary event. It's only fitting that the Thunderbirds headline this year's show, as the National Museum of the U.S. Air Force celebrates the centennial of its founding!
Founded in 1975, the CenterPoint Energy Dayton Air Show is one of North America's premier air shows. It features world-class aerobatic champions, military jet demonstrations and entertainment for the whole family. It celebrates Dayton's rich aviation heritage as home of the Wright Brothers, Wright-Patterson Air Force Base, National Museum of the U.S. Air Force, National Aviation Hall of Fame, National Aviation Heritage Area, and Dayton Aviation Heritage National Historical Park.
In addition to the Thunderbirds, this year's show features a jaw-dropping lineup of other featured performers, as well as an impressive lineup of aircraft for the ground displays. Grab your aviator sunglasses and flight jacket, as we give a brief preview of this year's show!
U.S. Air Force Thunderbirds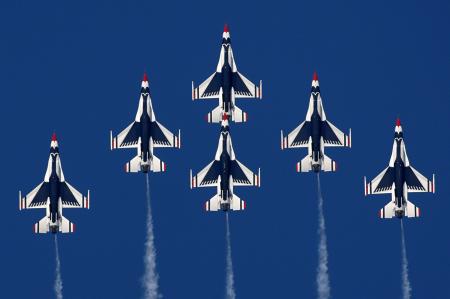 America's "Ambassadors in Blue," the U.S. Air Force Thunderbirds, will roar over the Dayton skies once again this year! Flying six General Dynamic F-16 Fighting Falcons, a premier multi-role fighter jet, the Thunderbirds will dazzle spectators with their incredible flying skills. Commanded by Lt. Col. Justin Elliott, the Thunderbirds reflect the precision and professionalism of American Airmen thrilling millions of spectators around the globe. 2023 will mark the 70th year the Thunderbirds have been performing.
Did You Know?
The Thunderbirds' first civilian show was in July 1953 in Cheyenne, WY for Frontier Days!
The Thunderbirds were named because of the strong Native American culture in the southwestern United States. Native American folklore tells of a birdlike creature which creates thunder by flapping its wings. The Native Americans called this creature a "Thunderbird".
Five other types of aircraft have been used prior to the F-16 Fight Falcon. They are: the F-84G Thunderjet, F-105 Thunderchief, F-100C Super Sabre, F-4 Phantom, and the T-38 Talon.
It only takes 72 hours for a Thunderbird jet to be made combat ready!
The wheels and brakes of the F-16 are made by Collins Aerospace Systems in Troy, Ohio!
U.S. Army Golden Knights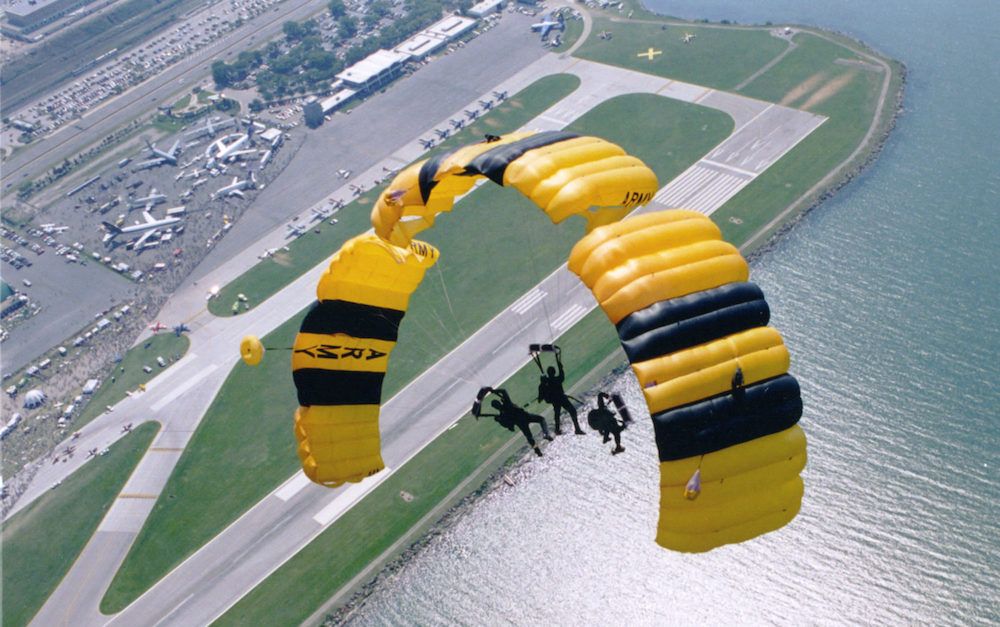 Watch the U.S. Army Golden Knights open the 2023 CenterPoint Energy Dayton Air Show! The Army Golden Knights inspire audiences of all ages with their patriotism and exciting maneuvers. Formed in 1959, the Golden Knights are the Army's official demonstration team. Members are drawn from US Army paratroopers who have demonstrated excellence in parachuting skills. They will thrill spectators with their intricate canopy work along with skydiving formations and landings that require extreme precision. Based in Ft. Bragg, North Carolina, these ambassadors of the Army represent the skill and professionalism of U.S. soldiers serving all over the world. The 16 member team will travel to Dayton in their Fokker C-31A Troopship which will also serve as their jump aircraft.
Did You Know?
Freefall Parachuting was invented at Old McCook Field in Dayton. Army Lt. Harold R. Harris became the first person to parachute out of a malfunctioning airplane on October 28, 1922!
For many years, Wright Field, now Area B of Wright-Patterson Air Force Base, was a main location for parachute technology research and development for the military!
In 1959, the team was formed and named the Golden Knights in 1962.
"Golden" signifies the gold medals the team had won while "Knights" referred to the team's ambition to conquer the skies!
Red Bull Team Performers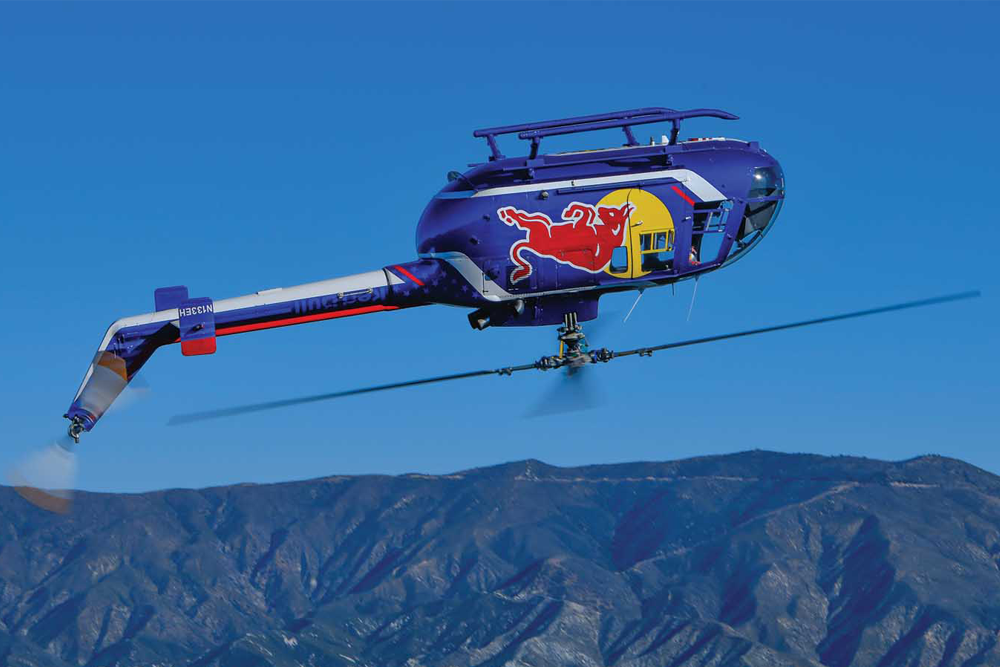 The Red Bull Team will be at the Dayton Air Show in full force, with multiple acts performing! Aaron Fitzgerald brings the Red Bull Helicopter, billed as the world's only helicopter capable of aerobatics! Kirby Chambliss and Kevin Coleman will each fly their Red Bull stunt planes. The Red Bull Skydiving Team will put on a spectacular show - these wingsuit flyers can reach speeds of well over 100 mph!
Randy Ball's MIG-17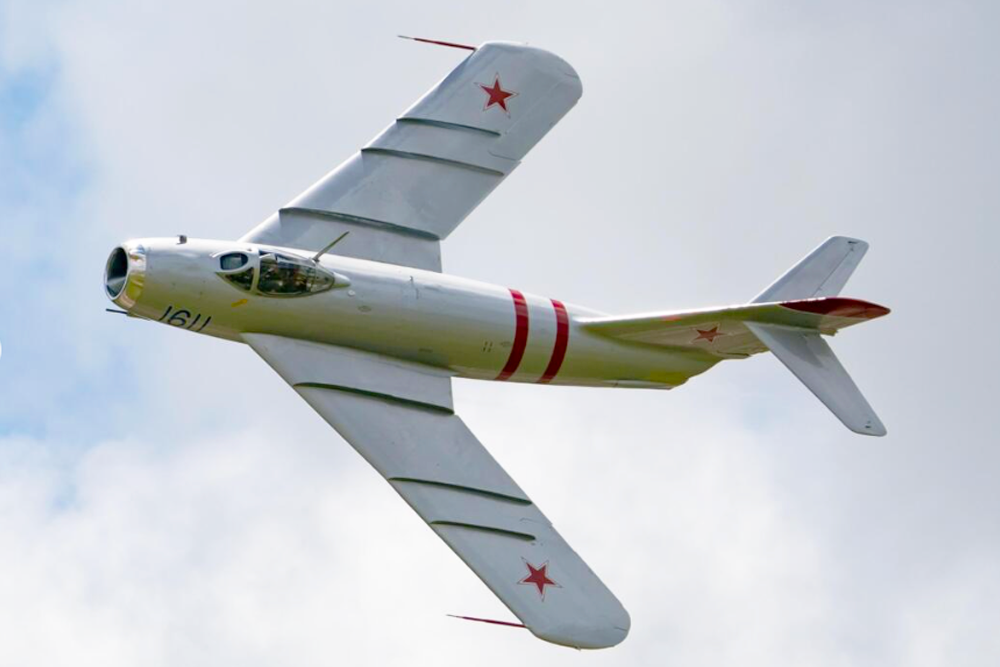 Randy Ball will take to the Dayton skies in his MIG-17F, an aircraft that was the main enemy aircraft for the United States during the Vietnam War. At the time, it was the tightest-turning fighter in the world.  Randy has over 1,500 performances and over 18,000 flying hours flying time to his credit.
B-25 Mitchell "Rosie's Reply"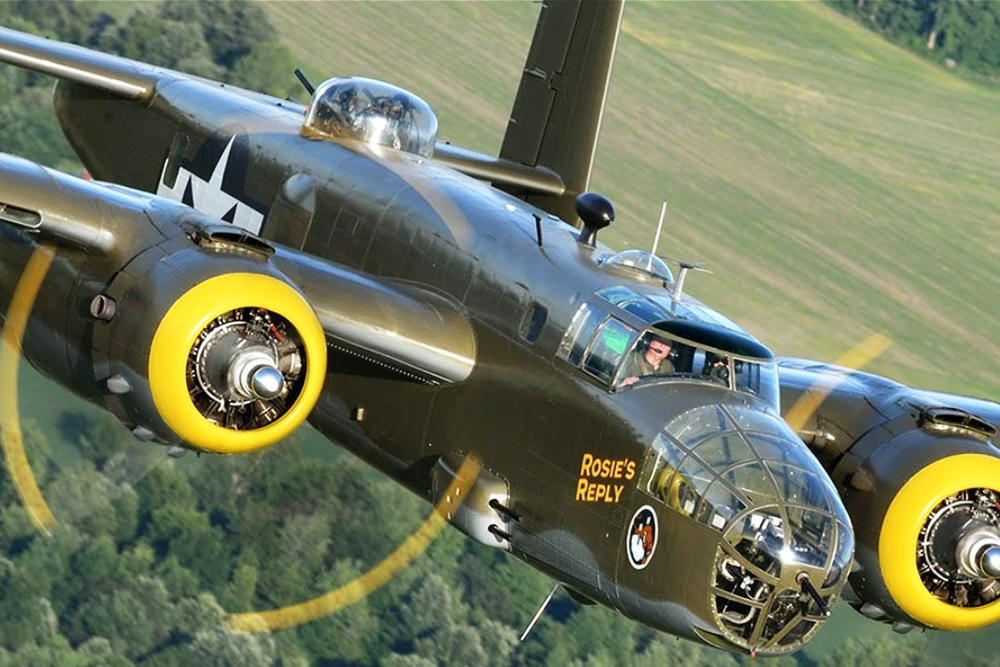 See an incredible piece of living history, as the World War II era B-25 Mitchell bomber "Rosie's Reply" joins the Air Show from the Yankee Air Museum.
Wright B Flyer "White Bird"
The pubic unveiling of the Wright B Flyer's new "White Bird" will be at this year's Dayton Air Show - it will do a fly-over shortly after 11 a.m. both days of the show. Check out the video above, as YouTuber Tom Scott takes a ride on the White Bird!
Hot Streak Jet Truck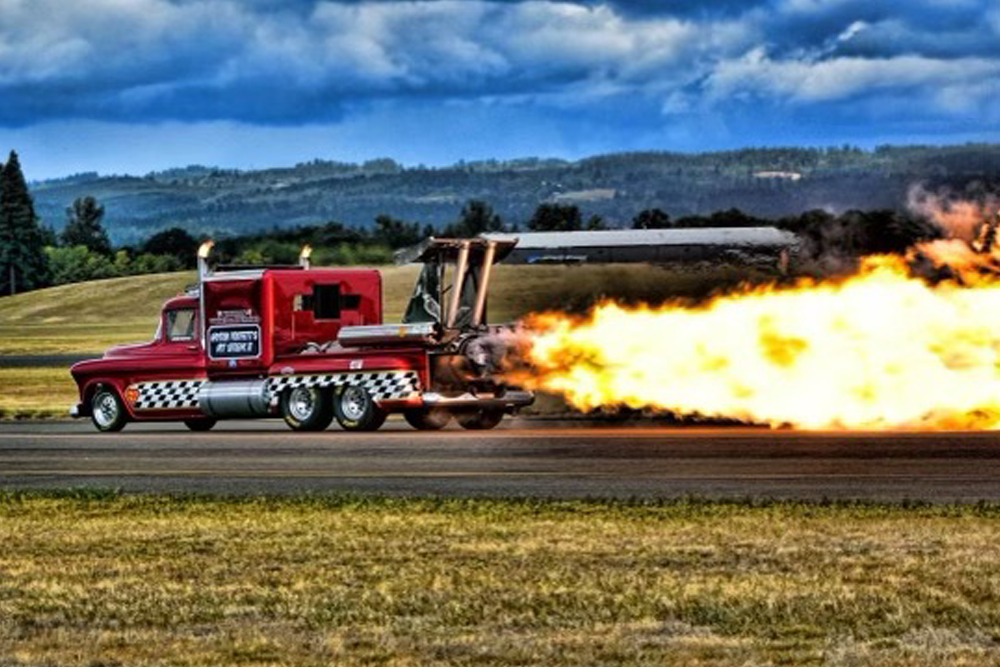 There's excitement on the ground too, as you feel the heat of the Hot Streak Jet Truck, burning up the track at over 350 mph!
This is just a small taste of the weekend's featured performers - you can see the complete lineup of featured performers at the Dayton Air Show website.
Ground Displays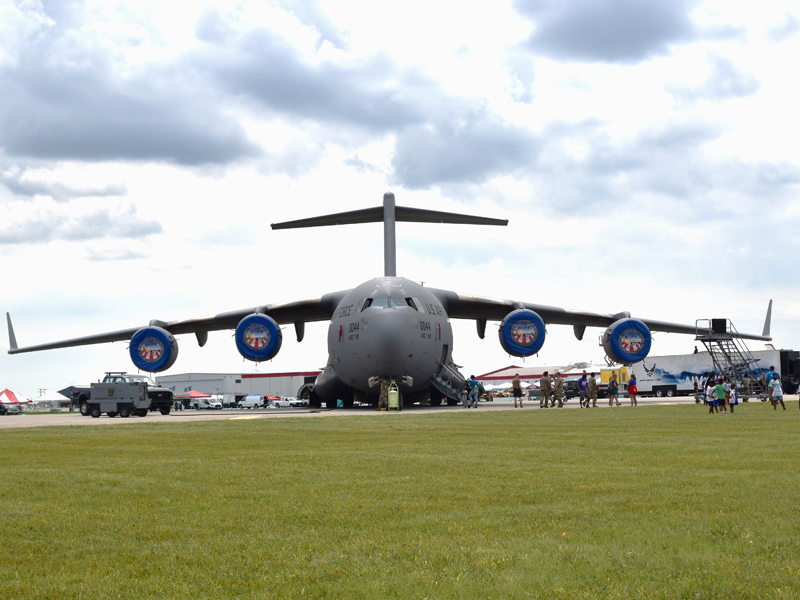 In addition to the performers, an extensive range of aircraft will be featured in the ground displays. A few of the scheduled aircraft include the C-17, KC-135, KC-45, A-10. B-52, F-35, DC-3 "Flagship Detroit", L-4 Cub and a Fed-Ex 757. The list of ground display aircraft is actively being updated as we write this, so visit the Air Show website for the latest updates.
CenterPoint Energy Kids Hangar & Rides
The CenterPoint Energy Kids' Hangar will once again be part of this year's show. It's a special place that permits children to dig in a huge sandbox, enjoy face painting and crafts, climb on a backyard gym and so much more.
In addition, the following ride opportunities will be offered during the show: Huey/Cobra Helicopter, Precision Exotics automobiles (Ferrari F430 & Lamborghini Gallardo Spyder), and the B-25J Mitchell "Champaign Gal". Prices and scheduling vary, so check the Air Show website for details.
Show Schedule
Show Dates: July 22 and 23, 2023
Gates Open: 9 a.m.
Feature Show: 11:15 a.m. to 4:15 p.m.
Gates Close: 6 p.m.
Show schedule each day:
Flag Drop and National Anthem
USAF C-17 Globemaster III Demonstration Team
U.S. Army Golden Knights
MIG-17F: Randy Ball
Bill Stein Airshows
USN F/A-18 Super Hornet West Coast Rhino Demo Team
Legacy Flight
Kevin Coleman
Red Bull Airforce
U.S. Air Force Thunderbirds
Schedules are subject to change
Get Your Tickets for the CenterPoint Energy Dayton Air Show
A variety of ticket options are available for the Dayton Air Show. You can purchase advance tickets online (general admission, or popular specialty seating areas like the Pavilion or Blue Sky Chalet) or at over 100 area Kroger stores in the Dayton/Cincinnati region.
Parking Information
Dayton Air Show officials are reminding everyone of changes to parking for the 2023 Air Show. New this year: all onsite air show parking requires advance online purchase of parking passes. The General Admission parking lot is located directly across from the showground's main entrance on the east side of North Dixie Drive. A portion of North Dixie Drive directly in front of the gateway will be blocked to give patrons a safe walk to the entrance. 
Parking lots can be accessed from I-75 or I-70. Signs will direct attendees to the appropriate lots. A three-lane access point will be available off Engle Road and Northwoods Boulevard to keep cars off the highway as much as possible and provide quicker access to air show parking lots. Maps for all parking lots and their access points are available at the Air Show website.
---
This is just a small taste of everything the CenterPoint Energy Dayton Air Show, presented by Kroger, has to offer! You can find full details and information at the Air Show's website.
Make it a full weekend "Daycation" and book a hotel room, check out other area attractions, and explore some of the fantastic food and drinks available throughout the Dayton region. Be sure to also download our FREE Visit Dayton app to have everything right at your fingertips!