Reflecting on the legacy of Dayton Ballet.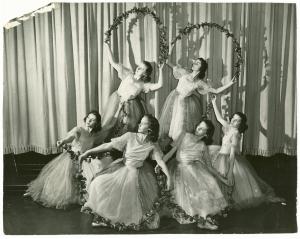 Wow. 85 years. I'm not sure if Dayton Ballet founders Miss Jo and Miss Hermene Schwarz imagined the impact their Experimental Group of Young Dancers would have on future generations of Daytonians and more. Did they realize, in 1937, that they were laying a foundation of arts appreciation, education, and financial support that has enhanced Dayton's quality of life for 85 years and beyond?
Did they realize that their Experimental Group of Young Dancers would grow into a nationally known, respected professional ballet company? That their ballet school would produce students who perform in, choreograph for, or costume prestigious dance companies? I like to think they had an inkling. Each time I see the little Nutcracker rats and soldier battle on the Schuster Center stage, or watch the professional company rehearse for their next show, I picture Miss Jo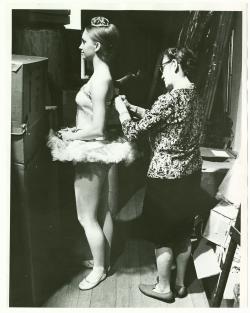 smiling down at them with a special twinkle in her eye. It warms my heart.
I never knew Miss Jo or Miss Hermene, but I feel like I do. Countless people who knew or worked with them have shared many Miss Jo stories with me; I can't help but feel connected. Lowell Mathwich still wears the kilt Miss Jo gave him. Miss Bess, Camile Morris, Carol Jean Heller, Adele Good, Ann Davis, Dermot and Karen Burke, Kathy Reed, Susan Kettering, Gregory Robinson, and so many others share stories of her kindness, grace, dedication, standards of excellence, discipline, and compassion. She and her sister indeed left their mark on the arts in Dayton.
Dayton Ballet doesn't look the same as it did in 1937. It's been Dayton Ballet Theater, Dayton Civic Ballet, Dayton Ballet Association, and today Dayton Ballet, part of Dayton Performing Arts Alliance (DPAA). The foundation the Schwarz sisters laid in 1937 has held firm through all of the changes and will remain strong over the next 85 years. Their legacy, love for ballet, the arts, and community has been passed down to generations of students and patrons.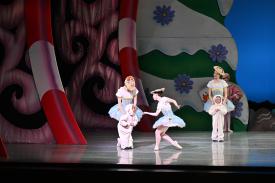 In recognition of that long history, Dayton Performing Arts Alliance will present Dayton Ballet's 85th Diamond Anniversary production on February 10-12 at Victoria Theatre. I encourage everyone to attend. You'll see pieces from three female choreographers, Annabelle Lopez Ochoa, Jennifer Sydor, and Dayton Ballet Artistic Director Karen Russo Burke. DPAA pays tribute to Dayton Ballet's history through a commissioned video created by University of Dayton students, and through Burke's piece, Dear Booky, that celebrates the two sisters. On Saturday afternoon (Feb. 11), Dayton Ballet II, Dayton Ballet's pre-professional junior and senior companies, present Reflections, a performance linking Dayton Ballet School's past with the present and a glimpse into the future. Co-directors Megan Forney and Gabby Sharp nurture these young students knowing they will carry Miss Jo and Miss Hermene's legacy to the next generation. While you are at the theatre, look at the historical photos and displays. Be sure to take it all in; I bet you'll feel connected to Miss Jo and Miss Hermene's legacy. How will you carry it forward?
Get Tickets to Dayton Ballet's 85th Diamond Anniversary Performance
You won't want to miss this performance, on stage at the Victoria Theatre, February 10-12. Tickets start at just $18 and are on sale now through Dayton Live's website or by calling 937-228-3630. 
You can learn more about this and other upcoming Dayton Ballet performances at the Dayton Performing Arts Alliance website. 
---
Thank you to Diane Schoeffler-Warren of the Dayton Performing Arts Alliance for contributing to this blog post. All images are courtesy Dayton Ballet.
Be sure to bookmark our Calendar of Events and download our Visit Dayton app from Google Play or the Apple Store to stay connected with the best events and things to do in Dayton!