With a deep-rooted history and a contemporary spirit, Dayton offers a unique blend of creativity and culture that continually surprises and delights. November and December are the culmination of a year's worth of anticipation, an enchanting season of artistic vibrancy. As we dive into the ever-evolving world of the arts, Dayton's artistic community is on full display, inviting all to explore its diverse and dynamic offerings.
Dayton's arts and culture scene boasts something for everyone. Whether you're a seasoned art connoisseur or just beginning to explore the art world, you're sure to find inspiration in these remarkable showcases:
1. Henri de Toulouse-Lautrec: The Birthplace of Modern Paris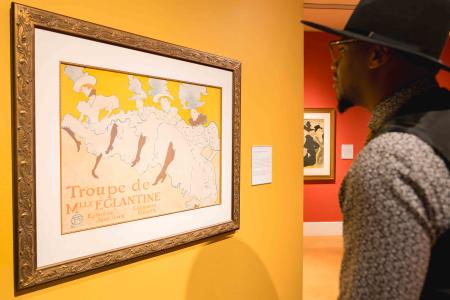 Dayton Art Institute
456 Belmonte Park N, Dayton, OH 45405
Step back in time to the vibrant and exhilarating world of late 19th-century Paris with Henri de Toulouse-Lautrec: The Birth of Modern Paris. This internationally renowned Post-Impressionist artist captured the essence of bohemian Paris, from cabarets and race tracks to music halls, circuses, cafés, and brothels. With a unique blend of empathy and humor, Toulouse-Lautrec's artwork provides an almost journalistic window into la belle époque, the beautiful era of Paris.
Featuring over 240 works that celebrate Toulouse-Lautrec's exceptional talent in printmaking, this exhibition seamlessly intertwines modern life with the flowing lines of Art Nouveau. Moreover, rare photographs of Toulouse-Lautrec and his family, accompanied by handwritten letters from the artist, offer a personal glimpse into the man behind the art. Don't miss the opportunity to experience the magic of a bygone era through the eyes of a true artistic pioneer at the Dayton Art Institute, now through January 14, 2024.
2. Edward A. Dixon Gallery Pop Up Displays
Edward A. Dixon Gallery
222 N St. Clair St, Dayton, OH 45402 
November and December are set to ignite your creative spirit as Edward A. Dixon Gallery proudly presents an exciting lineup of Pop-Up Art Exhibitions. Kicking things off, they're thrilled to introduce the captivating works of Nathan Conner & Cheyenne Shuttleworth starting November 3, 2023. But that's just the beginning! Each weekend will star a different group or artist: Common Threads - A Captivating Group Show (11/10), Epic Oddity - Michael Surber's Unique Vision (11/17), Parallax Photography Group - A lens on the world (12/01), Muse - Angelo Pierro's artistic journey (12/08) and Vintage Artwork & Decor Show - A touch of nostalgia (12/14).
And that's not all! The main gallery space will feature an ever-changing display of exceptional artwork by talented artists, including Cynthia Kukla, Kris Billhorn, Julio Antonio Pino Varens, and more. The best part? It's all free to explore, and everyone is welcome. Friday 3 p.m. - 8 p.m. Saturday & Sunday 12 p.m. - 5 p.m. 
 3. Shon Walters: The Hole Belly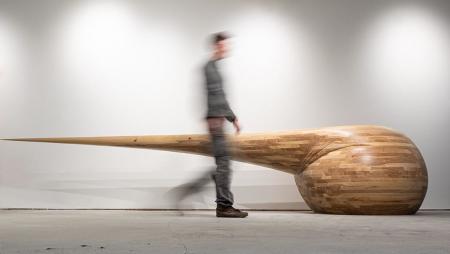 The Contemporary
25 W 4th Street, Dayton, OH 45402
Walters, a self-taught artist hailing from Fairborn, Ohio, showcases his mastery in transforming found and sourced wood into remarkable sculptures. His work, rooted in abstract organic forms rich with psychological, cultural, and historical references, challenges the boundaries of the medium. By embracing imperfections and unique wood characteristics, he breathes life into his creations, revealing inherent patterns and hidden stories.
Discover the awe-inspiring fusion of nature and craftsmanship in an ambitious exhibition brought to you by The Contemporary Dayton located in the Dayton Arcade. The Hole Belly is the brainchild of this visionary sculptor who has spent three and a half years meticulously crafting an immersive experience that fills all four of The Co's galleries. Walters has exhibited his work locally and nationally. Don't miss your chance to see it in Dayton through January 14, 2024.
4. The Nutcracker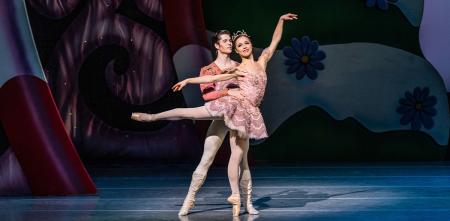 Schuster Center
1 W 2nd Street, Dayton, OH 45402
Picture this: Clara, a young girl with a heart full of dreams, embarks on a wondrous journey with her mysterious Uncle Drosselmeyer. As he sweeps her away to the enchanting Land of Sweets, you and your loved ones will be transported to a world of imagination and wonder. This dreamy realm is inhabited by mischievous rats, brave soldiers, darling lambs, and a Sugar Plum Fairy who will steal your heart. But that's not all; you'll also encounter life-size confections and a dashing Cavalier who will leave you in awe.
The holiday season is just around the corner, and there's no better way to create lasting memories with your family and friends than by attending the timeless classic, "The Nutcracker." This beloved holiday tradition is back at the Schuster Center, December 8-10 and 15-17!
5. Straight No Chaser: Sleighin' it Tour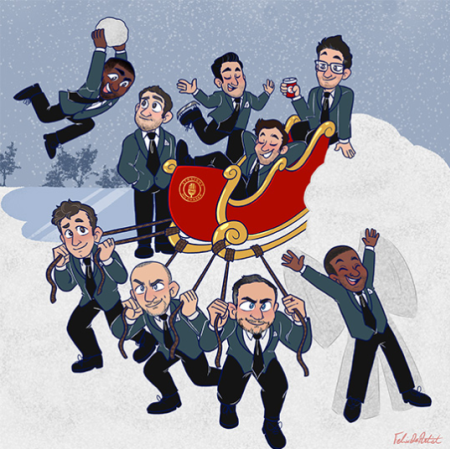 Schuster Center
1 W 2nd Street, Dayton, OH 45402
Straight No Chaser (SNC) has emerged as a bona fide phenomenon, boasting a massive fanbase and a string of remarkable achievements. With two RIAA Gold Certified albums, over 1.5 million concert tickets sold, more than 1 billion streams on Pandora, and over 2 million albums sold worldwide, Straight No Chaser is not your typical male a cappella troupe. They're something entirely extraordinary.
Their music isn't just about harmonies; it's about the magic of nine unadulterated human voices coming together to create something truly extraordinary. Their sound resonates with people on a profound level, moving them in ways that only music can. And, perhaps most importantly, they do it all with a sense of humor. Experience the captivating sound of Straight No Chaser at the Schuster Center, November 28, 2023!
---
As the holiday season unfolds, and the temperatures drop, warm your hearts with the splendor of art and creativity in Dayton. These five can't-miss art events and exhibits we've explored are just the tip of the creative iceberg, and they represent the depth of artistic expression that flourishes here. Dayton, with its blend of tradition and innovation, provides a platform for artists to shine and for art enthusiasts to immerse themselves in originality. It's a city where art is not confined to galleries and museums; it spills out into the streets, the theaters, and the hearts of the people. For more things to going on in Dayton visit our things to do page!