The Wagner Subaru Outdoor Experience, presented by Huffy, is a dynamic event hosted by Five Rivers MetroParks that takes place on Saturday, October 7th and Sunday, October 8th at Eastwood MetroPark. This extraordinary festival, celebrated as the ultimate outdoor adventure extravaganza in the Midwest, originated in 2005 and has since flourished into an annual gathering that beckons over 20,000 outdoor enthusiasts to the heart of Dayton, Ohio—the "Outdoor Adventure Capital of the Midwest." The event cultivates a deep connection between individuals and the great outdoors, plunging them into the exhilarating realm of outdoor adventure. What makes this experience even more remarkable is that it's not only FREE, but also designed to be family-friendly, even extending a warm welcome to your furry four-legged companions.
What to Expect:
1. Try it Activities 
From the crack of dawn until the setting sun graces the horizon on both Saturday and Sunday, the Wagner Subaru Outdoor Experience has something thrilling in store for you. Between 11 a.m. and 6 p.m., dive headfirst into a world of adventure with "try it" activities. Whether you've dreamt of scaling towering cliffs, cruising along scenic cycling trails, mastering the art of disc golf, casting your line into pristine waters, or embarking on a serene paddling excursion, this is your chance to give it a shot. These action-packed hours are your ticket to experience the exhilaration of climbing, cycling, disc golfing, fishing, paddling and slacklining. In previous years, an increasing number of dog owners have been opting to bring their beloved canine companions along, so by saying, "there's something for everyone", that includes your furry friends, too! Visit Pooch Island Off-Leash Dog Park and Swim Area for playtime and sniff out dog treats during "yappy hour."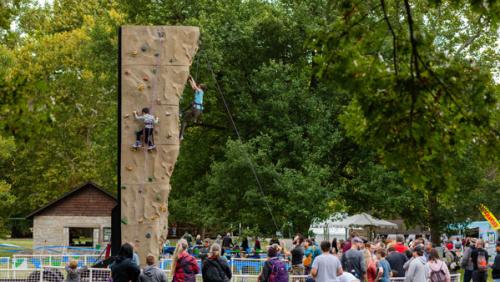 2. Watch & Learn Workshops
Prepare to be inspired and educated by some of the finest professional instructors! Several sessions will be led by the esteemed Get Outside Tour! Team, renowned for their expertise in all things adventure. Everything from the art of crafting your own fishing lure, enabling you to connect with nature on a deeper level, to the essential know-how of leaving no trace and safely navigating the wilderness, including how to handle the delicate matter of "how to poop in the woods," is covered. These unique and informative sessions promise to enrich your outdoor experience, equipping you with the knowledge and confidence to fully immerse yourself in the natural world.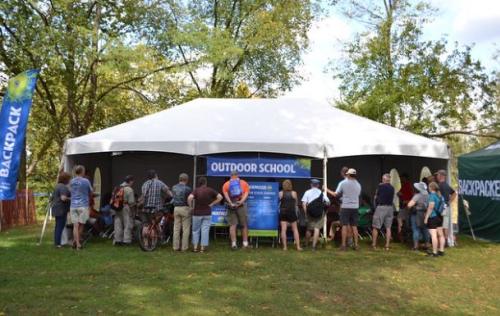 3. Find the Perfect Gear for Your Adventures
Step into the heart of the action at the Exhibitor Village, where retailers, manufacturers, clubs, and organizations converge to ignite your outdoor passion. Here, you'll be immersed into a world of cutting-edge gear, from innovative gadgets to top-notch equipment. You'll find exhibitors such as Cabela's, Dock Dogs, Humpback Kayaks, SICSA, Tomfoolery Outdoors and many, many more. Not ready to fully invest? The Used Gear Area provides a great place for adventurers to pick up some lightly used outdoor recreation-related equipment or consign items to get gear back in action with a new owner. Drop off up to 30 of your items to be managed/sold with consignment fees going right back to the Five Rivers MetroParks Foundation. By implementing these practices, a significant step toward reducing waste in landfills is taken. 
4. Eat, Drink & Sleep Right at the Event!
Experience the ease of living, and the freedom of camping without any cost at the Wagner Subaru Outdoor Experience Campground. Nestled along the serene banks of the Eastwood Lagoon, and sheltered beneath a majestic canopy of sycamore trees, this campground offers a tranquil oasis right on the event's doorstep. You can complete your registration to camp at the information tent, conveniently situated inside the main entrance gateway. Registration hours are as follows: Friday from noon to 7 PM, Saturday from 7 AM to 10 PM, and Sunday from 11 AM to 5 PM. If you arrive on Friday night after hours, don't worry—you can set up and complete your registration on Saturday morning.
 Among the many highlights of the event, you can look forward to the presence of two exceptional breweries: Great Lakes Brewing Company and 50 West Beer Garden. Just remember to bring your own reusable pint glass for beer, or you can purchase one at the event site if needed to support the waste free initiative. As an outdoor enthusiast, you'll definitely work up an appetite. Enhance your drink with a delectable snack or meal from one of the festivals food vendors. The full food truck lineup will be announced shortly, and the Dayton/Montgomery County region also boasts an abundance of exceptionally delicious restaurants. Organizers of the event have also partnered with 91.3 WYSO to bring some of the best and most talented musicians to the stage for a weekend to remember!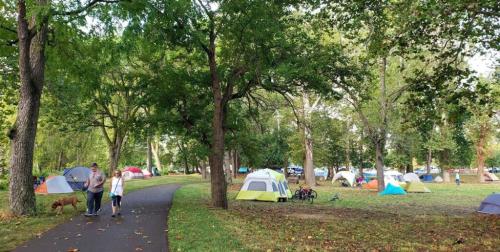 Ready to Attend?
Let your spirit of exploration soar and experience the magic of the great outdoors in Dayton, Ohio. The FREE Wagner Subaru Outdoor Experience, October 7th and 8th, can be your gateway to adventure, camaraderie, and a deeper connection with nature. With a host of "try it" activities, hands-on clinics, and inspiring workshops, this event promises to ignite your passion for adventure while providing the opportunity to learn essential outdoor tips & tricks. Whether you're a seasoned outdoor enthusiast or a newcomer to the world of adventure, you'll have a blast. For more information on how to get involved, the full schedule and FAQs, visit Wagner Subaru Outdoor Experience | Presented by Huffy (metroparks.org).
Eastwood MetroPark, 1385 Harshman Rd., Dayton, Ohio