Pickleball is becoming Montgomery County's go-to pastime. In the region – long celebrated for its aviation history and Midwestern charm – the sport is really taking off, with residents enticed by the fun, social element and relaxed gameplay.

Perfect for all ages, pickleball's simplicity makes it easy for newcomers to learn, while its social nature contributes to a community atmosphere that players benefit from. Although the county is thriving with festivals, baseball, and outdoor recreation, pickleball is emerging as the latest sensation, with novices and seasoned players alike joining in on the fun.
What is Pickleball?
Pickleball – a racket sport where players hit a perforated ball over a low, 34-inch net – combines a number of different elements of tennis, badminton, and ping-pong. Pickleball offers a myriad of possible health benefits. For instance, it can enhance coordination, balance, and mental agility. Unlike many sports, however, its adaptable pace makes it ideal for fitness, socializing, and skill-building simultaneously.

Learning how to play pickleball isn't difficult either – which is why 36.5 million pickleball players picked up their paddles and headed down to courts across the US throughout 2022.
Where to Play Pickleball in Montgomery County
If you're on the hunt for a spot to play a game, read on to find out more about some of the pickleball courts in Montgomery County: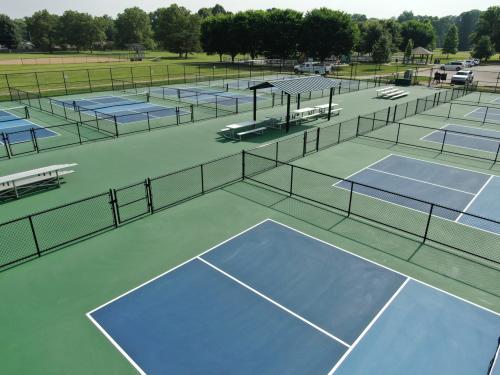 Located in Dayton, Kennedy Park boasts six dedicated outdoor hard courts, complete with permanent lines and nets. Players can enjoy free access to the courts, along with amenities like restrooms and water.
This complex offers six outdoor asphalt courts which are free to use. While the lines are permanent, players need to bring their own nets. The facility provides food, restrooms, water, and lights, and is wheelchair accessible.
Situated in Dayton, this park features six outdoor hard courts dedicated to pickleball, with permanent lines and nets. Players enjoy free access.
Located in Englewood, Kleptz YMCA offers six indoor courts with permanent lines. Portable nets are available, but a membership is required to play.
Centerville's Activity Center Park offers six outdoor hard courts, dedicated to pickleball. The facility is free and includes amenities like restrooms and water.
This center in Miamisburg features six indoor hard courts. With permanent court lines and portable nets, players are guaranteed a great playing experience. The center is equipped with amenities such as restrooms, water facilities, a well-stocked pro shop, and adequate lighting. Membership is required to access these top-notch courts, however.
So, What Are You Waiting For?
Lace up, grab a paddle, and immerse yourself in a game of pickleball. Dive into the nearest court and see for yourself why the game has become America's fastest-growing sport, three years running. You can learn more about pickleball at websites like www.usapickleball.org and www.pickleheads.com. For more information on local pickleball leagues, visit the Dayton Pickleball Association website. For more fall fun around the Dayton area, be sure to also visit the Outdoor Recreation section of our website!