By Charlie Campbell
Want to check out some inventions?
Some sculptures in downtown Dayton represent things that everyone uses. By seeing them, you will know a lot more about it when you use one. Go to downtown Dayton and find East Monument Avenue between N. Patterson Blvd. and N. Jefferson Street. There are lots of parking spaces. Walk north, and you will see the area that is part of Five Rivers Metro Park.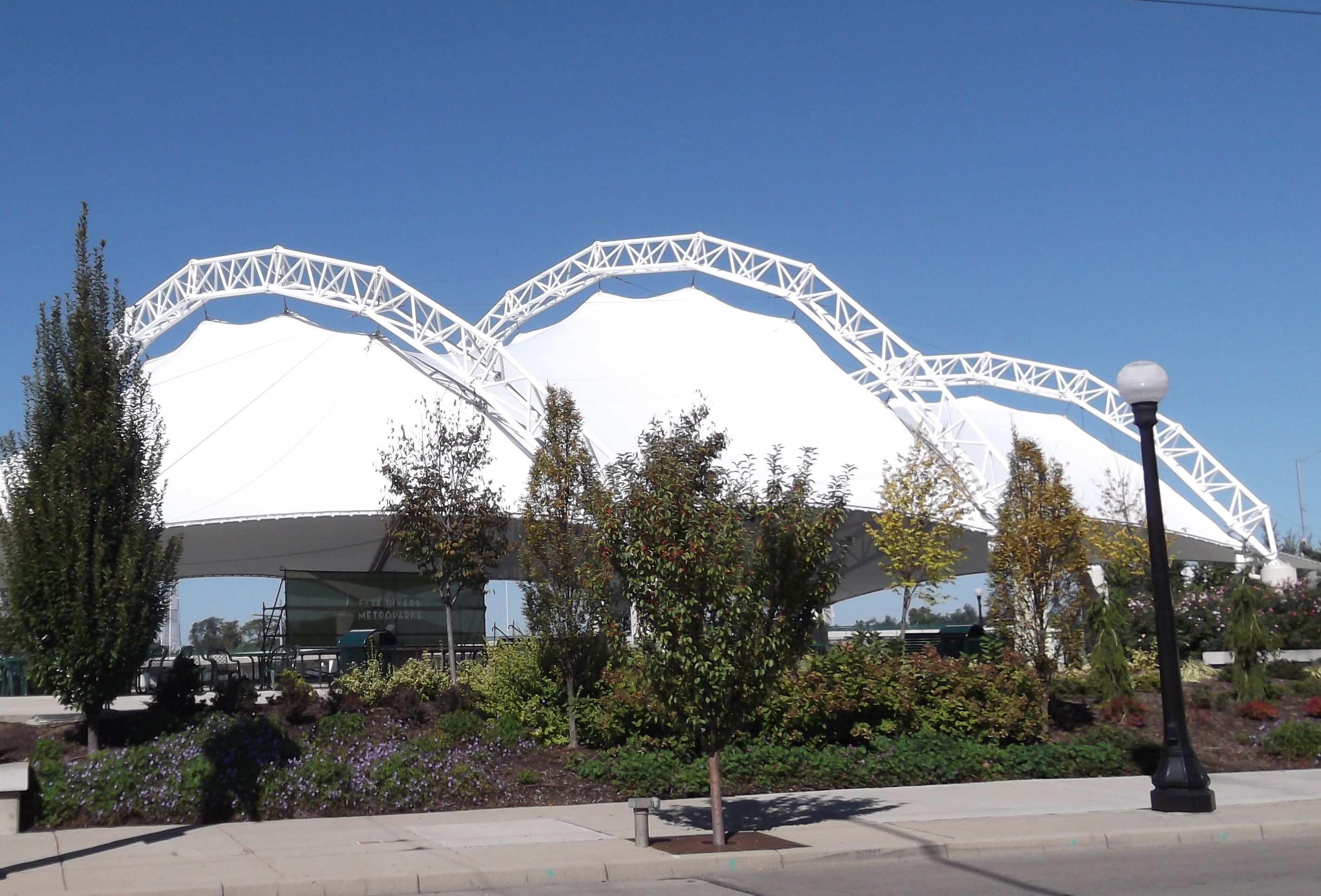 At the very west end is a sculpture that represents Charles F. Kettering, whose nickname was "The Boss."  When you get in your car and start it up….think about The Boss. He invented the self starter! And in order to have them manufactured he (and another) created the Dayton Engineering Laboratories Co…Delco. This was in 1909, and Delco was responsible for several innovations in automobile electric systems including the first reliable battery ignition system and the first practical automobile self starter.
As you head a little east, you will see another sculpture that is kind of unusual but again, it represents what is used all the time now. Some folks in Dayton invented  methods to quickly search through vast amounts of legal reports to find a specific document. At its inception the database was named LEXIS by Mead Data Central. On April 2, 1973, LEXIS launched full-text search for all Ohio and New York cases. In 1980, LEXIS completed its hand-keyed electronic archive of all U.S. federal and state cases. The NEXIS service, added that same year, gave journalists a searchable database of news articles.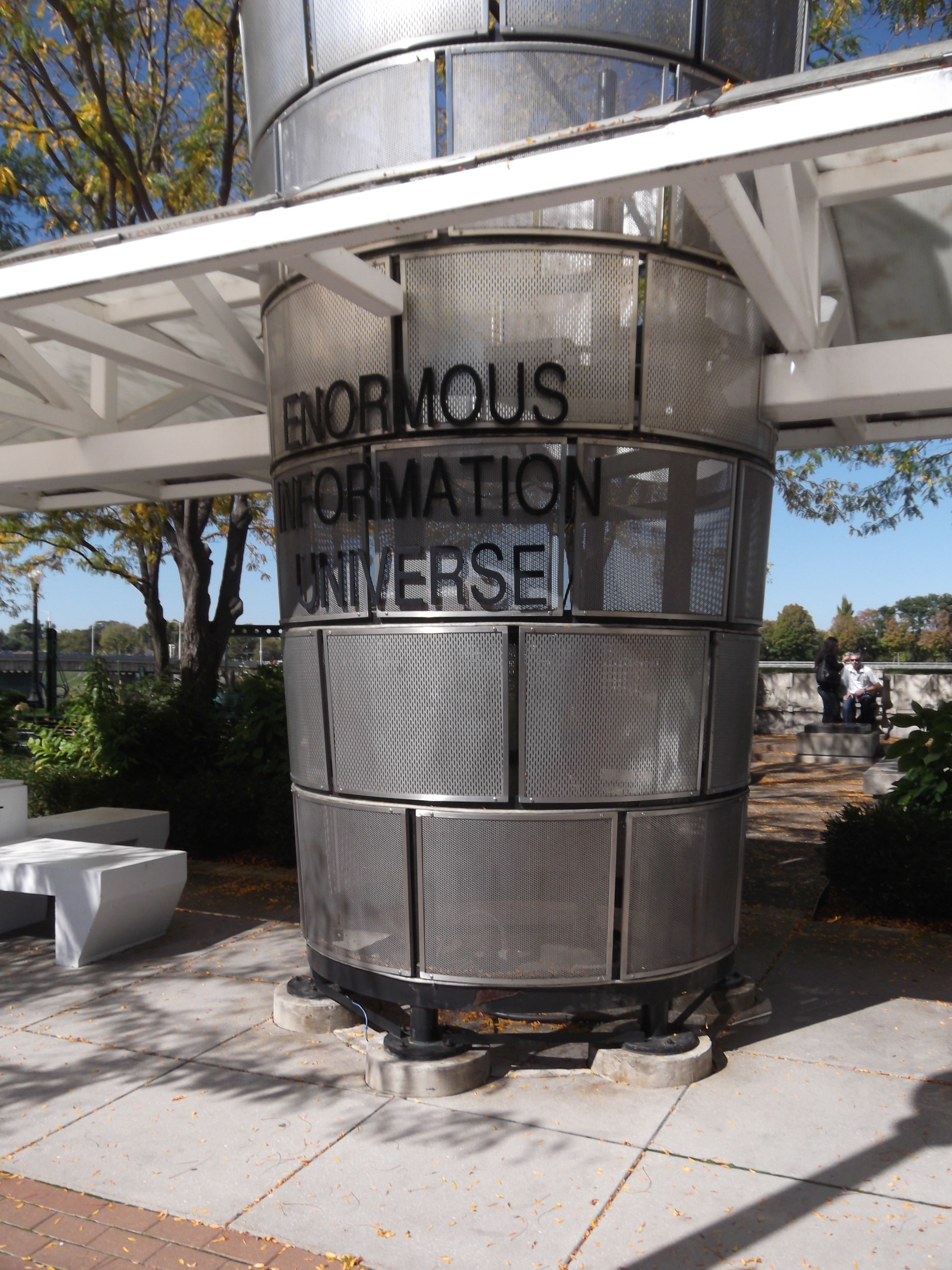 And when you wander just a little more east you will see a sculpture of something that everyone uses now!
A few of you will remember the "church key." It was used to open a bottle or a can. The story is that when a Dayton man, Mr. Ermal Fraze, lost his church key he thought there should be a better way. In 1959 he came up with the Pop-Top, and all of us now use it on everything.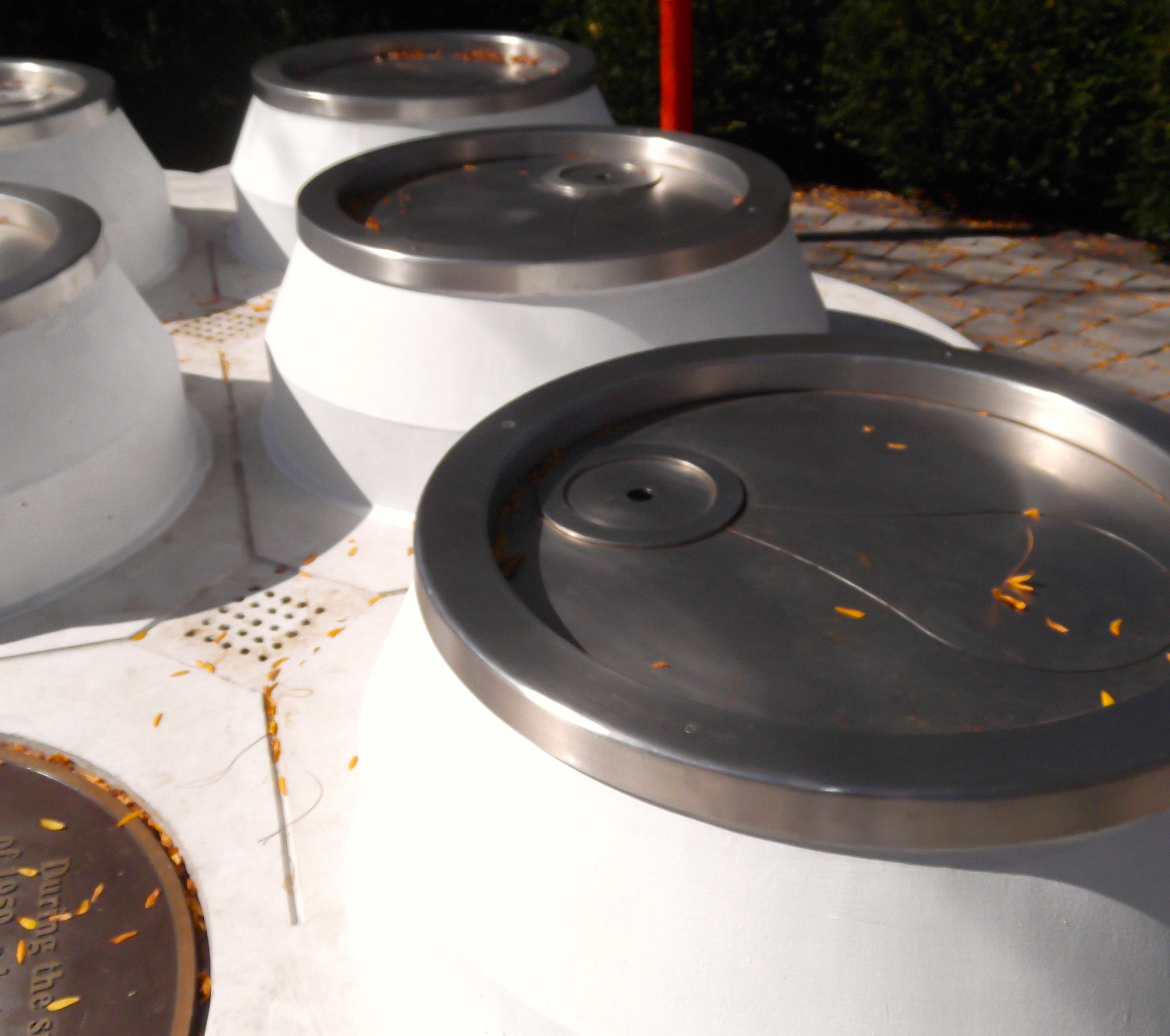 When you are now at the corner of Patterson and Monument, you will see a cash register, and that too was part of Dayton.
The company began as the National Manufacturing Company. They  manufactured and sold the first mechanical cash register. This was invented in 1879 by James Ritty. In 1884, the company and patents were bought by John Henry Patterson and his brother. They renamed it National Cash Register Company. Patterson formed NCR into one of the first modern American companies, introducing new, aggressive sales methods and business techniques. He established the first sales training school in 1893 and introduced a comprehensive social welfare program for his factory workers.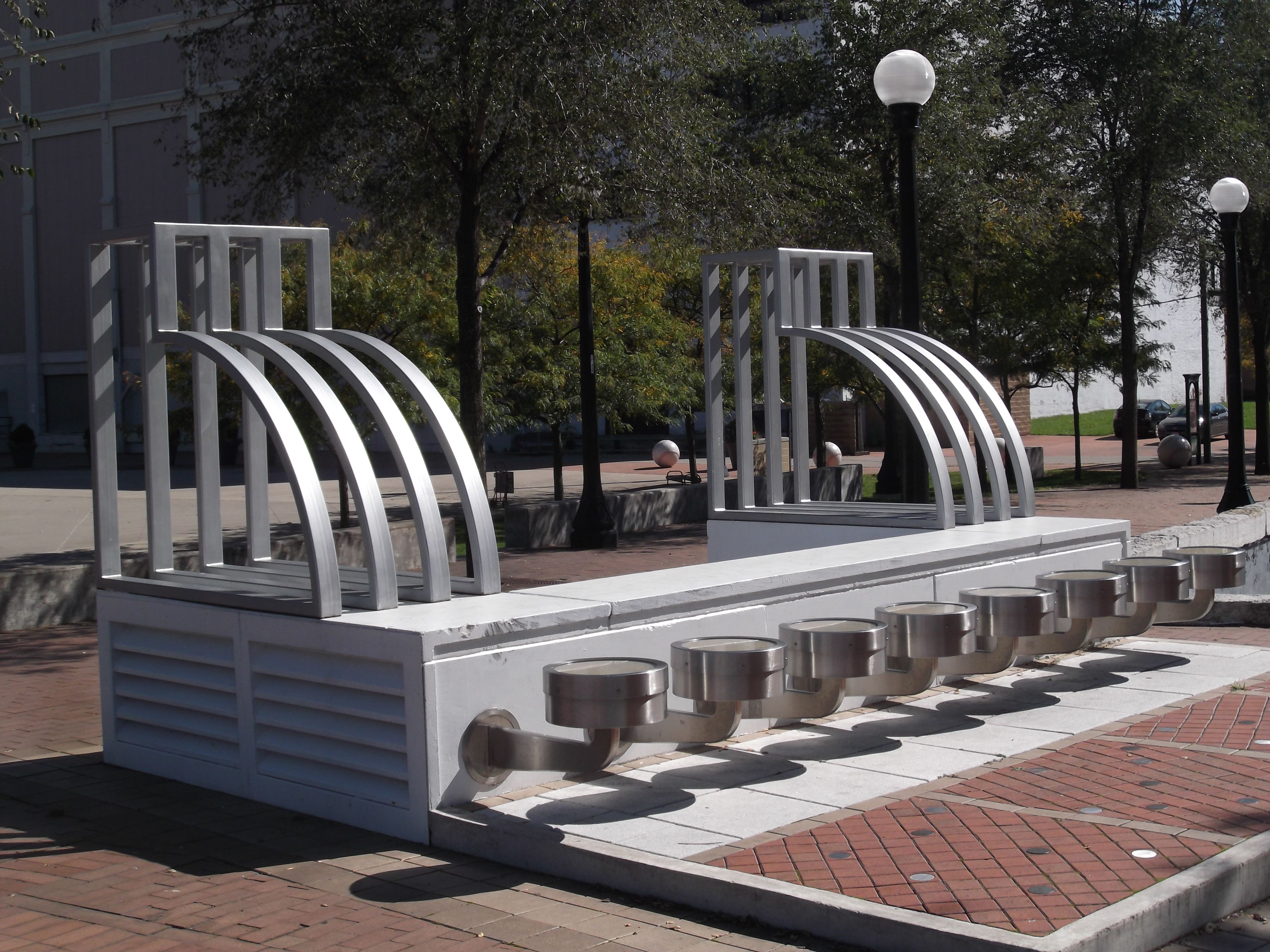 And just one more block south is something else that may still be in your refrigerator…..an ice cube tray.
The ice cube tray is another such invention right here in Dayton. Arthur Frei, worked at Frigidaire here in Dayton. He developed twenty-three patents on the ice cube tray. One of his most significant developments was the quick release lever on top of the tray that dislodged the cubes. Prior to that, the metal tray had to be soaked in hot water to free the ice.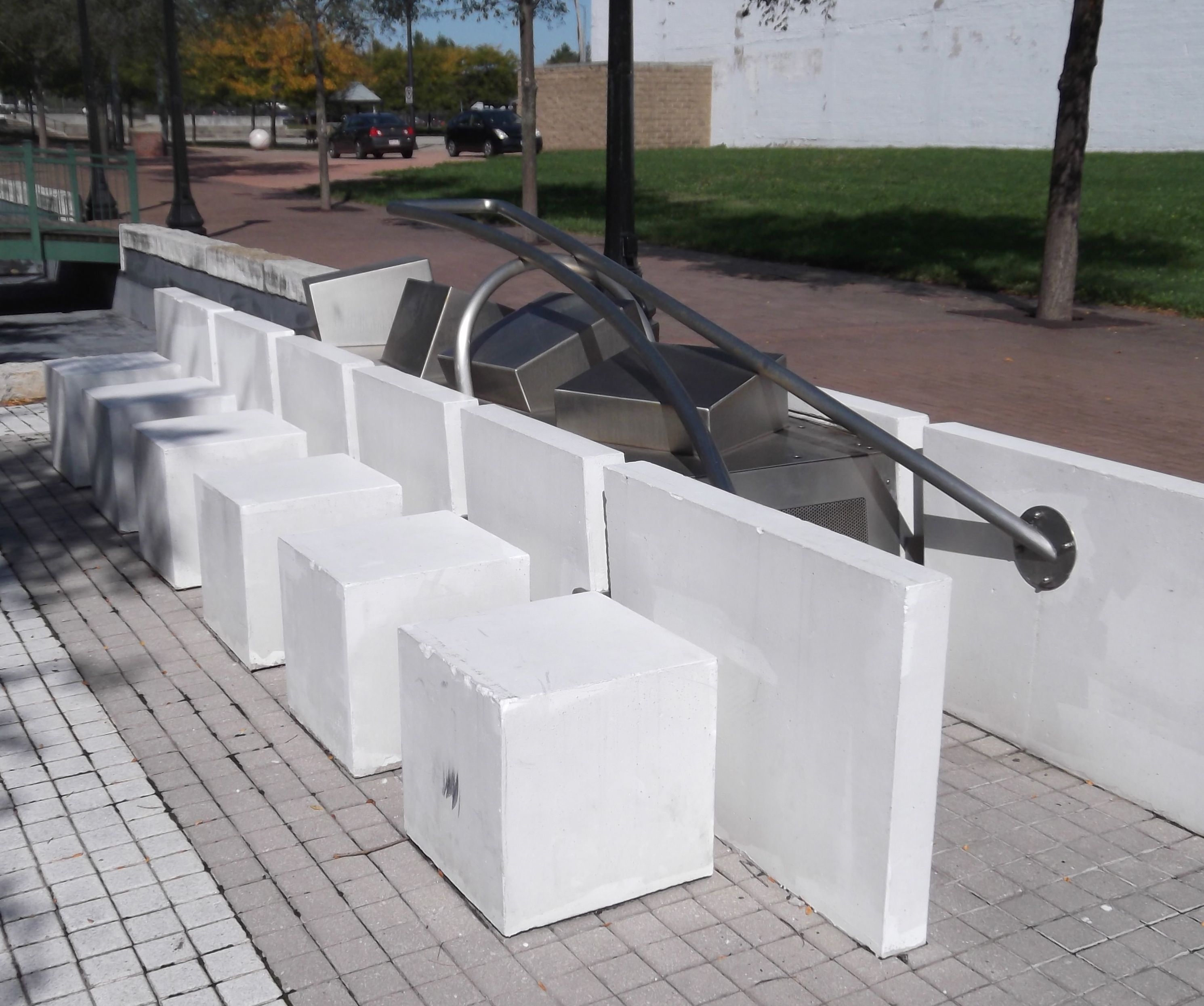 A short walk and you have seen five amazing inventions that happened right here in Dayton, Ohio.
Please Note:  The Dayton CVB has compensated me for my thoughts on Downtown Dayton's Sculptures.