Depending on when you're reading this, at press time I'm currently shoulder deep in snow.
Well, it sure seems like it with all the snow we're had this winter season.
Now it's time to think spring and fast!
There's no better place to think it than Wegerzyn Gardens Metropark.
As with all my blogs for the Dayton Convention and Visitors Bureau, I love to begin with a little history lesson.
Benjamin Wegerzyn was an avid horticulturalist with a generous spirit. In 1963 he made a donation of $358,000 to establish a horticultural center in Dayton.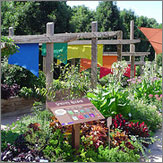 Quoted at the time he said, "I felt there should be some kind of space in or near the middle of town for the public's enjoyment,"
Shortly thereafter, the city of Dayton and various gardening groups saw a need for a central display area for flower shows, educational programs, gardening workshops and conserving natural resources.
From that decision the Wegerzyn Center was born in 1973.
In 1993, the Wegerzyn Horticultural Center and the 22 acres around it became part of 'Five Rivers MetroParks.
By the way, Mr. Wegerzyn remained involved with the center up to his death in 1997.
Today the center and gardens is a respite for the weary, an oasis in our city.
And there are plenty of things to see, enjoy and experience like strolling through the formal gardens and the delightful Children's Discovery Garden which is a child-friendly place to discover, experience and love our world through gardening.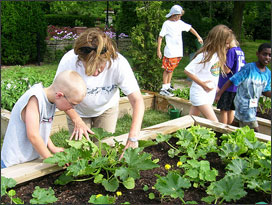 Divided into three main areas, the garden offers opportunities to play among interesting and whimsical plant displays, learn about Ohio habitats, and grow vegetables and other backyard plants.
In a nutshell, it's awesome.
Also, no matter what the season, they have something special to offer.
Home gardeners will find a wealth of design ideas, wonderful plants, and cultivation techniques suitable for the Miami Valley.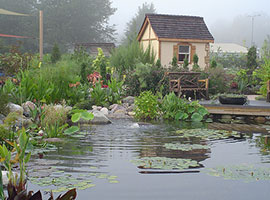 Also walk the Marie Aull Nature Trail and Swamp Forest Boardwalk and discover the scenic Stillwater River corridor.
There are many programs and activities 'sprouting' up all year long.
For more information please visit www.metroparks.org/Parks/WegerzynGarden or call (937) 277-6545.
Wegeryzyn Gardens MetroPark is located at 1301 E. Siebenthaler Avenue in Dayton.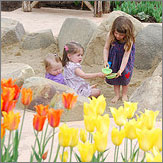 And this concludes our history lesson for the day.
Please Note:  The Dayton CVB has compensated me to share my thoughts on Wegerzyn MetroPark.