As a kid, my parents would make regular visits to Woodland Cemetery to visit the graves of our dearly departed relatives.
And with our family dating back years here, including my great, great grandfather who fought in the civil war and great, great, great uncle (with maybe a 'great' once or twice removed) Robert Edgar who helped Colonel George Newcom build his tavern, we had many final resting spots to visit.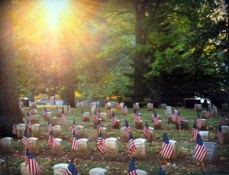 I never, ever was frightened over a cemetery like some people were, especially this wonderful oasis that's a living, breathing entity right here in the City of Dayton.
Woodland Cemetery and Arboretum is located at 118 Woodland Avenue and is one of the oldest "garden" cemeteries in the United States.
The cemetery was founded in 1841 and has over 3,000 trees and 165 specimens of native Midwestern trees and woody plants grace the rolling hills.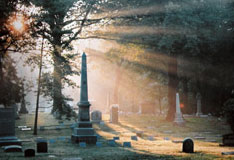 We have our fair share of famous folk buried here too like Wilbur and Orville Wright and Paul Lawrence Dunbar to name a few.
Other movers and shakers from the past who not only put their marks on Dayton and the Miami Valley, but the world are also interred at Woodland.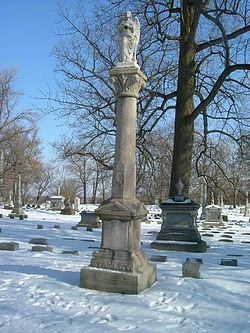 Woodland is the final resting place for award winning writer, humorist, Erma Bombeck and remember the old commercial jingle, "Let your fingers do the walking through the Yellow Pages," it was all thanks to L.M. Berry, founder of the yellow pages; he's here too.
Others include, James and John Ritty, inventors of the cash register, Clarence 'Satch' Satchell Page of The Ohio Players, Charles Kettering, who among other things, founded DELCO, invented the first electrical ignition system and co-created the self-starter for automobile engines along with Colonel Edward Deeds and NCR founder John Henry Patterson is here.
Al Tucker Jr., who played in the National Basketball Association (NBA) from 1967 to 1971 as a member of the Seattle SuperSonics, Cincinnati Royals, Chicago Bulls and Baltimore Bullets.
How about this, Dr. William Charch was the developer of cellophane. I'm wondering if he was wrapped in it before being lowered in.
There are many more, but alas I'm out of space; Woodland is a wonderful gem in our Gem City.
Plus, it offers one of the greatest views of downtown.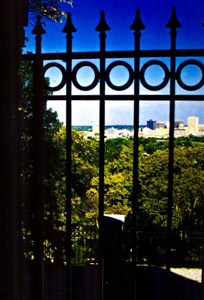 Check it out sometime, you also may come across a Bucher or two.
But not me… at least not yet.
Cheers,
Buch
FOR MORE ON WOODLAND CEMETERY, VISIT www.woodlandcemetery.org (all photos courtesy of Woodland Cemetery).
Please Note:  The Dayton CVB has compensated me to share my thoughts on Woodland Cemetery.