By Charlie Campbell
When you are in downtown Dayton go to the corner of Third and Main, head west on Third St. and you will cross over the Miami River.
At the next intersection turn south on Edwin C. Moses Boulevard. If you are wondering how this road got the name Edwin C. Moses, it is because he is a local Dayton and former American track and field athlete. He won gold medals in the 400 meter hurdles at the 1976 and 1984 Olympics. Between 1977 and 1987, Moses won 107 consecutive finals (122 consecutive races) and set the world record in his event four times.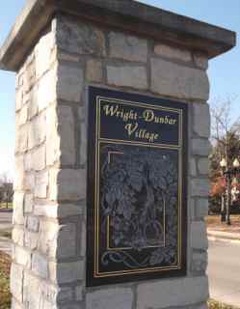 As you are driving along you will see the pylons that say Wright Dunbar Village and turn into 4th street. Feel free to wander around this area. As you are looking around you will see many old homes that were built in the mid 1800's and have been rehabbed. You will also see some new homes and when they were constructed the exterior has them looking old. This entire area has gone through a major change. The dilapidated ones were torn down; the decent ones have been rehabbed, and all the trash and waste were removed.
When you get to the intersection of 4th and Hawthorn Street you should park  your car and walk around. The southwest corner is an empty lot and this is actually where the Wright Brothers lived. There are several plaques which let you know what this area was like in the late 1800's and early 1900's.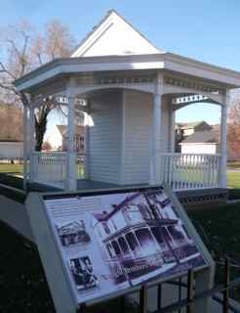 On that lot you can also see the little reconstructed front steps and porch. This was where the actual front door was located for Wilbur and Orville Wright.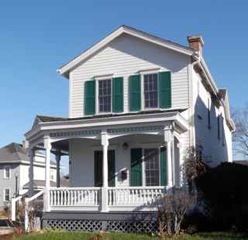 When you are actually on the corner of 4th and Hawthorn St look east. This home was built recently and it is a replica of the Wright brothers house. While inside it is totally different, you can see what the house would have looked like in the late 1800's.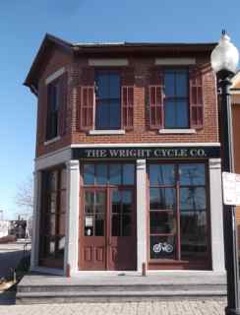 Now go to 4th and Williams and head north. You will see the actual building of  The Wright Brothers Cycle Company when they were manufacturing and selling bikes. Adjacent is the Dayton Aviation Heritage National Historical Park. http://www.nps.gov/daav/index.htm  Find a parking space and head into both of them. They always have fascinating exhibits, and inside the big building is also the Aviation Trail Parachute Museum.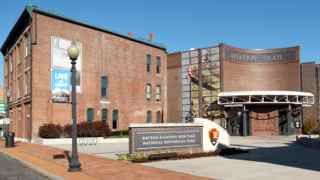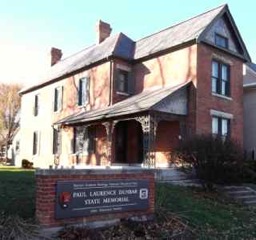 You now are getting back on 3rd Street and head west. You will go three blocks and then turn on to the Paul Laurence Dunbar St. (north). You will head a couple of blocks and on the west side is the actual house where Paul Laurence Dunbar was living.
Paul Laurence Dunbar was an African-American poet, novelist, and playwright of the late 19th and early 20th centuries. Much of his popular work in his lifetime used a Negro dialect, which helped him become one of the first nationally-accepted African-American writers.
Two brief examples of Dunbar's work, the first in standard English and the second in dialect, demonstrate the diversity of the poet's production:
(From "Dreams")
What dreams we have and how they fly
Like rosy clouds across the sky;
Of wealth, of fame, of sure success,
Of love that comes to cheer and bless;
And how they wither, how they fade,
The waning wealth, the jilting jade —
The fame that for a moment gleams,
Then flies forever, — dreams, ah — dreams!
(From "A Warm Day In Winter")
"Sunshine on de medders,
Greenness on de way;
Dat's de blessed reason
I sing all de day."
Look hyeah! What you axing'?
What meks me so merry?
'Spect to see me sighin'
W'en hit's wa'm in Febawary?
You now can get back onto 3rd street and head east. You will return to downtown Dayton.
Please Note:  The Dayton CVB has compensated me for my thoughts on the Wright Brothers & Paul Laurence Dunbar.