A DAY IN DAYTON - Down To Earth Discoveries
9:00 A.M.  Begin your day learning about our universe at the Boonshoft Museum of Discovery.  The planetarium and observatory, and "floating" globe "Science on a Sphere" transport visitors to all continents plus outer space, while the Discovery Zoo offers encounters with playful river otters, prehensile-tailed porcupines, meerkats and other species.  At Explorer's Crossing, youngsters are free to dream of becoming a veterinarian, a judge or a pizza chef!
12:00 P.M.  Rev up at one of Dayton's noted dining spots.  Enjoy scrumptious cuisine at Meadowlark Restaurant.  Or, devour a traditional pizza in an Italian courtyard at Marion's Piazza which has seven locations around the city.
1:00 P.M.  Kick off your afternoon admiring the visionary works of Claude Monet, Edward Hopper, Georgia O'Keefe and other artists at the Dayton Art Institute one of the best mid-sized art museums in the country.  The three primary exhibit halls hold more than 26,000 pieces spanning 5,000 years!  If planning a rustic excursion, Aullwood Audubon Center and Farm, the first nature sanctuary in the Midwest, offers exhibits, as well as six miles of trails through forests, marshes, grass and ponds for hiking and wildlife watching year-round.
3:00 P.M.  Arrive at tranquility beside reflecting pools, beneath hanging flowers or amid landscaped gardens at RiverScape MetroPark, a popular community park downtown.  Don't miss out on RiverScape's outdoor pursuits: pedal for miles along the nation's most extensive bikeway network, or peacefully drift by kayak down the Great Miami River.  In the winter, enjoy ice skating at the RiverScape Pavilion.
5:30 P.M.  For dinner, downtown Dayton's Oregon District is home to several palate-pleasing destinations.  Kick back with a humble pint over fish and chips or an Irish whiskey chop at Dublin Pub.  At Thai 9 Restaurant, opt for sake and chopsticks for an authentic Asian experience.  Following dinner, you're ready for a night on the town!
7:00 P.M.  Rock with the band, slam poetry, savor a cocktail or jazz it up in the Oregon District, Dayton's most historic neighborhood.  Here, you'll find eclectic vintage and modern shops, martial arts, yoga classes and more by day, and exciting nightlife at Wiley's Comedy Nightclub  where the laughs keep on coming, and The Neon, an independent movie theater, plus other great spots.  Don't miss monthly First Fridays, free street parties showcasing the best the District has to offer.
To create and customize a Dayton trip for your group, contact our experienced Travel & Tourism Sales Manager, Sean Robison. 
Teena Sheffler: Travel and Tourism and Military Reunions
Sales Manager
tsheffler@daytoncvb.net
937-226-8292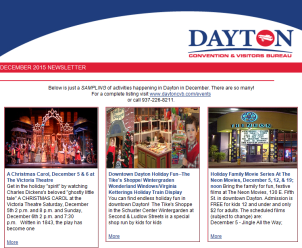 Want to know what's going on in Dayton? Looking to keep up with the latest Dayton, Ohio news? Sign up for our E-Newsletter!
LEARN MORE