A DAY IN DAYTON - Celebration of Flight
9:00 A.M.  Start your aviation-themed day at the Dayton Aviation Heritage National Historical Park, which tells the story of Dayton's airplane inventors Wilbur and Orville Wright and their childhood friend, Paul Laurence Dunbar, the nation's first recognized African-American poet and writer.  Explore where the Wright brothers first imagined humankind in flight at the Wright Cycle Company and Wright-Dunbar Interpretive Center.  Pick up a "Wilbear Wright" passport here.  Get the passport stamped at seven of Dayton's 14 aviation sites and you'll be mailed your very own "Wilbear Wright" aviator teddy bear!  Carillon Historical Park is home to the Wright Flyer III, the world's first practical airplane created by the Wright brothers.  See where the Wrights perfected their flying skills at Huffman Prairie Flying Field and Interpretive Center.
12:00 P.M.  For lunch, visit The Amber Rose a restaurant that serves traditional Eastern European cuisine.
1:00 P.M.  Explore the National Museum of the United States Air Force, the world's largest and oldest military aviation museum and Ohio's most visited free attraction.  Check out more than 360 aerospace vehicles and missiles from various periods throughout history displayed within 17 acres of hangar space.  A major expansion is opening in 2016 and will house presidential aircraft and a huge space-age display.  Learn more about famous flyers at the adjacent National Aviation Hall of Fame, dedicated to honoring 200-plus individuals who have contributed to America's rich legacy of aviation achievement.  The Hall of Fame houses exhibits dedicated to pioneers of flight such as Amelia Earhart, the Wright brothers, and Charles Lindbergh.
6:00 P.M.  When it's time for dinner, feast on lobster, crab legs and other ocean specialties, plus an extensive wine selection, at Jay's Seafood.  Head to the iconic The Pine Club for a perfectly prepared steak, or try modern American with a twist at Coco's Bistro.
8:00 P.M.  At night, head to downtown Dayton's historic Oregon District, an entertainment district, which is home to eclectic shops, art galleries, restaurants, live music and The Neon movie theater.  Nearby, pick from close to 200 varieties of whiskey and 90 types of bourbon at the nationally recognized Century Bar, designated as one of America's 55 Best Bourbon Bars by Bourbon Review.  Or sample one of Dayton's craft breweries: ToxicBrew Company, Fifth Street Brewpub, Dayton Beer Co., or Warped Wing.
To plan a similar trip to Dayton or create our own customized itinerary, contact our experienced Travel & Tourism Sales Manager, Teena Sheffler. 
Teena Sheffler: Travel and Tourism, Military Reunions
Sales Manager
tsheffler@daytoncvb.net
937-226-8292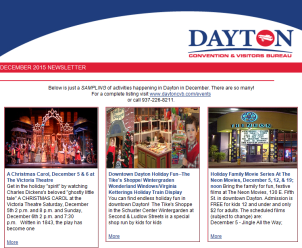 Want to know what's going on in Dayton? Looking to keep up with the latest Dayton, Ohio news? Sign up for our E-Newsletter!
LEARN MORE