A DAY IN DAYTON - New & Notable
9:00 A.M.  One of the best ways to explore Dayton is on two wheels.  With more than 330 connected miles of bike paths, Dayton offers the nation's largest network of paved, off-street trails.  You can travel 63 consecutive miles north to south between neighboring communities Piqua to Franklin without ever leaving the path on the Great Miami River Bikeway.
Rent your bike at RiverScape MetroPark, one of the city's most popular parks with gorgeous reflecting pools, a fun splash pad and the Dayton Inventors River Walk where you can get exercise while learning about some of the famous inventions made in Dayton – everything from the airplane to the cash register.
Dayton's riverfront has never been nicer, due to Mad River Run, a huge riverfront project at Eastwood MetroPark in which a dam in the Great Miami River was removed, opening up a seven-mile stretch of river for kayakers and water enthusiasts.  In place of the dam, peninsulas were installed upstream with openings where water passes.  There's an easy route for novice paddlers and a more challenging route for skilled paddlers.  Bring your canoe or rent one at RiverScape MetroPark.
12:00 P.M.  When it's time for lunch, visit a Dayton-area institution Marion's Piazza, serving up award-winning pizza and other Italian specialties for more than 45 years with locations around the city.
1:00 P.M.  Visit Carillon Historical Park, home to the 1905 Wright Flyer III, the only plane recognized as a National Historic Landmark and the world's first practical airplane created and piloted by the Wright brothers.  While at the 65-acre park, which features 30 historical buildings, listen to Ohio's largest carillon and sip on current beers and brews made in the style of the 1850s at the new Carillon Brewing Company, the first production brewery in an American museum.  In other areas of the park, ride the Carousel of Invention highlighting Dayton inventors or view the beautifully ornate Dayton-made NCR cash registers.
3:00 P.M.  Next, test your luck at another new Dayton attraction Hollywood Gaming at Dayton Raceway, open 24 hours a day, 365 days a year. The facility, which opened fall 2014, offers 1,000 video lottery terminals, live harness racing three months out of the year and indoor simulcast harness and horse racing year-round.
5:30 P.M.  Enjoy dinner at the relatively new Dayton restaurant, Wheat Penny Oven and Bar.  Order one of their California-style pizzas made with fresh ingredients and cooked in a 700 degree oven.
7:00 P.M.  See a concert at Montgomery County's newest venue, The Rose Music Center, a 4,500-seat covered music facility with a full concert schedule from April-October.  It's part of The Heights development, which also includes the Kroger Aquatic Center at The Heights, a water park open from Memorial Day to Labor Day.
To plan your Day In Dayton, or create a customized itinerary for your group, contact Teena, or experienced Travel and Tourism Sales Manager. 
Teena Sheffler: Travel and Tourism and Military Reunions
Sales Manager
tsheffler@daytoncvb.net
937-226-8292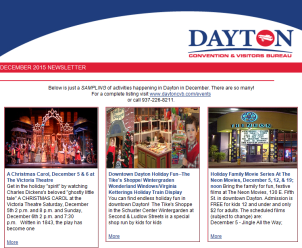 Want to know what's going on in Dayton? Looking to keep up with the latest Dayton, Ohio news? Sign up for our E-Newsletter!
LEARN MORE