Things to Do in Dayton, Ohio
Dayton is a destination packed with  big-city experiences, amenities, attractions and shopping wrapped in small-town charm.
Relax in natural splendor when you explore Dayton's robust network of parks, bike paths and rivers.
Delight in big city culture when you take in world-class visual art and professional opera, ballet, orchestra and theater performances.
Connect with family, colleagues or peers as you explore the city Forbes Magazine named the  Happiest Place to Work.
Savor sophisticated drinks and dining with restaurants and bars serving up flavors made for all palates and price points.
Start exploring and let us help you plan your stay!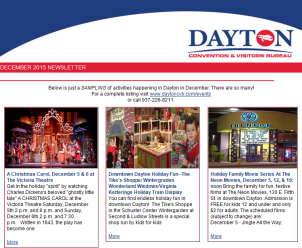 Want to know what's going on in Dayton? Looking to keep up with the latest Dayton, Ohio news? Sign up for our E-Newsletter!
LEARN MORE