Dayton Meeting Facilities & Venues
Dayton/Montgomery County offers a variety of venues to meet your needs.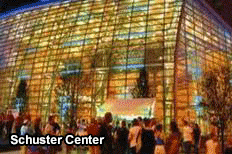 Whether you're looking for a convention center exhibit space, a dedicated conference center, an arena, a banquet hall or a unique "off-site" themed venue, or hotel space, Dayton has something to match your needs. The Dayton Convention Center, Carillon Historical Park, the Dayton Art Institute, the Montgomery County Fairgrounds and all kinds of other venues are at your disposal. We've successfully hosted groups from 25 to 25,000 and our CVB staff is eager to work with you to find the perfect options for your specific needs.
Please click your preferred meeting facility type in the "Meetings / Groups" box to the left. 
Please note that sports facilities and venues can be found in the Sports Section of this website.