Dayton Restaurants
Dayton restaurants have  what you are hungry for!
Whatever your order, we have chefs who are ready to deliver. From comfort foods to full-fledged culinary adventures, Dayton restaurants have what it takes to please every kind of palate.
Visit the Second Street Market for  reasonably priced fresh fare and local specialties or head to one of our many local independent restaurants to get a special meal inspired by the ingredients and region. Dining in Dayton, Ohio is a sensory adventure.
Jay's — one of the premiere seafood-focused Ohio restaurants — creates dishes to highlight the  fresh bounty found in our oceans. If you want to take a culinary adventure out of the country, visit El Meson, a restaurant that prides itself on authentic dishes and cocktails that are unique to Latin America.
For those looking for something more familiar, Dayton restaurants include many you've learned to love on the road — especially the wide array of restaurants on Miller Lane. Whatever you're craving,  Dayton offers plenty of options that will satisfy. Start searching below and try not to salivate.
Click in the upper right hand box to go directly to local independent Dayton restaurants or chain restaurants.
The restaurant listings below are in alphabetical order; however, you can search by:
Location (north, central, south, east, west),

Restaurant name, or

Cuisine type (American, Asian, Coffee House, Italian, Mexican, Other, Seafood, Steakhouse)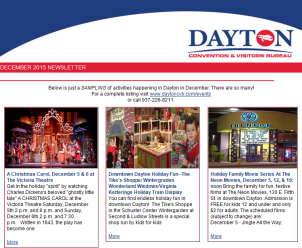 Want to know what's going on in Dayton? Looking to keep up with the latest Dayton, Ohio news? Sign up for our E-Newsletter!
LEARN MORE