Aviation Sites
Dayton taught the world to fly!  Dayton is aviation mecca!
Only in Dayton, Ohio can you explore and learn about the entire aviation story---past, present and future.  People from literally all over the world travel to Dayton to experience our authentic, world-class aviation sites and history; we invite you to join them!
Come to Dayton to learn about hometown heroes Wilbur and Orville Wright. It was here that they invented and perfected manned powered flight.  Their legacy continues on today at Dayton's Wright Patterson Air Force Base where the latest advancements in aerospace are being developed at the WPAFB labs.    
Add a bit of fun to your exploration of Dayton's aviation assets by picking up a "Race to Dayton's Amazing Aviation Places" passport.  Simply visit 7 of the 16 National Aviation Heritage Area (NAHA.org) sites outlined below, have your passport stamped and you'll be (air)-mailed a "Wilbear Wright Aviator Teddy Bear!"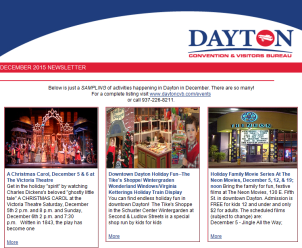 Want to know what's going on in Dayton? Looking to keep up with the latest Dayton, Ohio news? Sign up for our E-Newsletter!
LEARN MORE