Dayton Hotels
Welcome to Greater Dayton! Our hotels are all open and focused on providing you with clean, safe accommodations. Their focus is on safety as priority #1! Many are offering reduced rates and special accommodations for first-responders. Scroll down for a full listing of area properties that you can search by name, by alphabetical order, or by area - north, central, south, east or west. Should you require additional assistance, don't hesitate to call the Dayton Convention & Visitors Bureau at 800.221.8235 Monday-Friday 8am- 5pm.
Keeping You Safe
Our partners at the Crowne Plaza Dayton recently shared this video.  Our hotels are taking extra precautions to ensure the safety of you and your family.  We can't wait to welcome you back...when the time is right.
Multiple hotels in Dayton teamed up to donate 25,000 masks to healthcare facilities, first responders, senior centers, homeless shelters and food banks.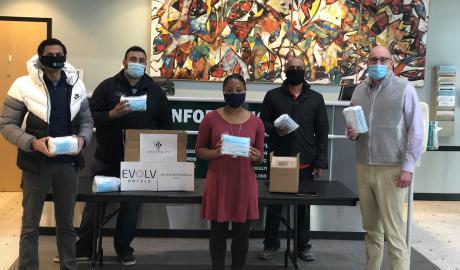 Dayton's hotels are as varied as the visitors who use them. All of our hotels pride themselves on offering world-class hospitality. The area boasts a range of accommodations with varied price points and amenities.
Whether your night of rest is for business or pleasure, we have plenty of options to help you relax and unwind. Search the accommodations below and let us help you start planning your trip to Dayton, The Birthplace of Aviation and So Much More!
The accommodations below are listed in alphabetical order. However you can search the properties by:
Location: North, Central, South, East, West

Brand: Type in your hotel brand preference to see available properties in Dayton/Montgomery County

Specific Property: Type in the name of the specific property you are looking for