Dayton Hotels
Most of Dayton's hotels are open during the COVID-19 pandemic. Many are offering reduced rates and special accommodations for first-responders.
Drury Hotels COO, Eric Strand, is running to raise funds for hospitality workers who have lost their jobs due to the pandemic. Thank you to our partners at the Drury Inn & Suites Dayton North for sharing this inspiring campaign. Please support the hospitality industry.
Multiple hotels in Dayton teamed up to donate 25,000 masks to healthcare facilities, first responders, senior centers, homeless shelters and food banks.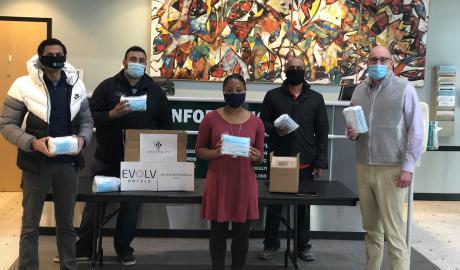 Dayton's hotels are as varied as the visitors who use them. All of our hotels pride themselves on offering world-class hospitality. The area boasts a range of accommodations with varied price points and amenities.
Whether your night of rest is for business or pleasure, we have plenty of options to help you relax and unwind. Search the accommodations below and let us help you start planning your trip to Dayton, The Birthplace of Aviation and So Much More!
The accommodations below are listed in alphabetical order. However you can search the properties by:
Location: North, Central, South, East, West

Brand: Type in your hotel brand preference to see available properties in Dayton/Montgomery County

Specific Property: Type in the name of the specific property you are looking for