Dayton CVB Services
Practical, useful and innovative event planning services.
If you're planning a convention, meeting, trade show, reunion or gathering in the Dayton area, the Dayton Convention & Visitors Bureau is here to help! Our Ohio CVB will happily provide you with a variety of useful services, ranging from pre-event planning to on-site implementation during your event.
We offer a range of Ohio tourism services to groups, many of which are complimentary. Some restrictions do apply, so please contact Convention Services Manager Carmen Huffman at 937-226-8236 (or toll-free at 1-800-221-823), chuffman@daytoncvb.net, for details.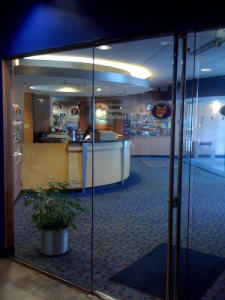 Most meeting planners will want to start out working with our Dayton CVB sales team.  A sales manager can help define your event needs, take you on a Dayton and surrounding Montgomery County site visit, suggest appropriate hotels and facilities for your event and collect bid proposals on your behalf. After you have confirmed the Dayton area for your event and have signed hotel and/or facility contracts, our CVB services department steps in to assist you with your event planning, promotion, Ohio tourism information and implementation details.  Below please find a list of appropriate Dayton Ohio CVB contacts.
Working With Our Sales Team
The professional and knowledgeable staff of the Dayton Convention & Visitors Bureau is eager to save you valuable time and money!  Meeting planners will definitely benefit from taking advantage of our numerous complimentary services.
Dayton, Ohio is the ideal location to host your next convention, meeting, military reunion, sports tournament or event.  Let our sales team help you free of charge!
Talk with us about your hotel, event space, program and agenda needs. Our sales staff pride themselves in being experts on all our community has to offer.  A Dayton CVB sales manager will work with you to develop a Request For Proposal that will be sent out on your behalf to all of the hotels, facilities and venues that could accommodate your group.  We will collect bid proposals on your behalf and assemble them into one comprehensive Dayton bid book with a summary sheet of all of your various options and costs.
Your dedicated Bureau sales manager will mail you the comprehensive Dayton bid proposal book and call you to review your options in detail.
If you are interested in a site visit your Dayton CVB sales manager will develop an appointment itinerary for you and host you throughout your visit.
Dayton CVB Sales Managers Staff Directory
Rev. Dr. Crystal Walker: Faith-based, National/Regional Associations
Interim Director of Sales
cwalker@daytoncvb.net
937-226-8162
Ron Eifert: Aviation, Hobby, Sports
Senior Sales Manager
reifert@daytoncvb.net
937-226-8284
Christina Combs: Corporate, Education, Federal Government, State Association, State Government
ccombs@daytoncvb.net
(937)226-8259 
Teena Sheffler:  Family/Class Reunions, Fraternal, Military Reunion, Multicultural, Tour & Travel/Motor Coach, Weddings
Sales Manager
tsheffler@daytoncvb.net
937-226-8292
Ready to submit your RFP?  Click Here
 
Working with the Dayton CVB Services Department
The Dayton Convention & Visitors Bureau provides a variety of practical, useful and innovative services to all groups. Our professional and knowledgeable Convention Services Department is eager to assist you with your entire event. The following services are complimentary and can be customized to best suit your needs and facilitate a successful and memorable event in Dayton! 
Contact Your Convention Services Manager Today:
Carmen Huffman:
Convention Services Manager
chuffman@daytoncvb.net
937-226-8236
Dayton Ambassadors/Registration Assistance
A team of qualified, knowledgeable individuals are provided to assist with on-site registration, data-entry, and a multitude of other event-related projects. Dayton Ambassadors are courteous and professional offering all groups a direct connection to pertinent area information while providing invaluable on-site assistance. 
Dayton Information Station
This tabletop booth comes complete with Dayton Visitor Guides, restaurant information, locator maps, shopping information and a friendly Dayton Ambassador. We can also customize the booth to contain materials specific to your group's needs. 
Restaurant Reservation Booth
This table top booth display highlights numerous popular independent area restaurants.    A knowledgeable Dayton Ambassador staffs this booth to assist in restaurant selections, providing directions and phoning ahead to reserve your table.
Dignitary Liaison
The Dayton/Montgomery County Convention & Visitors Bureau is your direct link to the City, County, and State elected officials.  To add excitement to your opening ceremony, ask your Convention Services Manager to prepare a proclamation from the Mayor or County Commission.  Welcome letters and words of invitation can also be arranged to enhance registration materials, welcome packets or programs.
Housing
We offer exceptional event housing for your group. Typically this service is offered to groups requiring three or more hotels. 
Media Resources
Need assistance promoting your event in Dayton? Our staff is available to prepare press releases for your group and distribute them to local media outlets, If you require assistance in preparing press releases to distribute through your local or organizational channels, we are happy to assist. We can also consult on your media buys to advertise in local traditional and digital outlets in addition to crafting and coaching your social media strategy. 
Name Badge Assistance
You provide a list of registrants, your logo and any information you want printed, and we will provide you professionally designed, laser produced name badges.  Additionally, your Convention Services Manager will deliver your name badges to the location of choice.
Facilities And Off-Site Events
Many one-of-a-kind venues exist in Dayton that can create lasting memories for your attendees. Let us help you find the right one, Whether you need a dine/shop-a-round, unique venue for a special evening event, attendee guest tours or a highly ranked gold course, our services staff has expert knowledge on all that the area has to offer.
Event Attendance Builder
Customize one of our digital Dayton templates to email to your attendees in advance of your event to help increase attendance. 
Volunteerism Activities
We will help connect you with highly regarded local non-profits to coordinate an activity that can engage and inspire your team. The volunteerism program introduces your organization to the community, and the community to your organization- where everyone gains a greater sense of belonging and involvement. 
Welcome Packets
To help make your attendees feel extra special, welcome packets can be prepared to familiarize your delegates with Dayton, optional pre and post event activities, and any other relevant event information you would like to include.
Custom Services
If you require assistance in an area that is not outlined above, just chat with your Convention Services Manager who will be happy to try and accommodate any special custom service requests.
Promote Your Event
Videos, images, maps and Dayton Visitor Guides, which highlight the entire area, are available for distribution in advance of your event to generate excitement. Our team can also assist with digital pieces such as save the date postcards, digital Dayton Visitor Guide links, social media support, and customized eblasts.