Dayton Arts & Culture
DAYTON ARTS WILL INSPIRE AND ENTERTAIN YOU. 
Dayton's selection of music, dance, theater and visual arts performances is what truly makes the birthplace of aviation soar to new heights. Breathtaking exhibits by master artists will leave you in awe, while world-renowned establishments such as the Dayton Ballet, Dayton Contemporary Dance Company, Dayton Opera and Dayton Philharmonic Orchestra will undoubtedly fascinate and impress you. If you wish for drama and inspiration, you'll certainly find it here in the vibrant Dayton arts community. 
There are so many things to do in Dayton, you'll hardly know where to begin.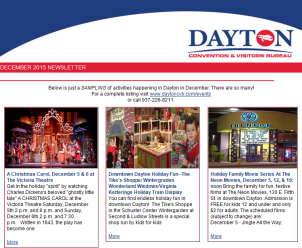 Want to know what's going on in Dayton? Looking to keep up with the latest Dayton, Ohio news? Sign up for our E-Newsletter!
LEARN MORE