This post was written in partnership with Ohio. Find It Here. and the Dayton Convention & Visitors Bureau.
The Airplane. The cash register. The electric car starter. The pop-top can. The ice cube tray. What do you all of those things have in common? If you guessed that Daytonians invented them, you would be correct! Did you know at the turn of the 20th century that Dayton became the United States' invention capital, with the most patents per capita?
When Ohio. Find It Here. and Dayton Convention & Visitors Bureau invited us to spend the day exploring Dayton, I had no idea all that we would discover. About an hour west of Columbus, Dayton is full of attractions for all ages, both indoors and out.
During our day trip, we visited the oldest and largest military aviation museum in the world, which happens to be the most-visited FREE attraction in the state. Explored a 65-acre open-air history museum, which is home to the only airplane designated as a National Historic Landmark. Stepped foot in the building where the Wright brothers had a bicycle business from 1895 – 1897. Enjoyed a delicious picnic at a gorgeous park, where we found out that Dayton is home to the nation's LARGEST network of paved trails at 350+ miles!
Fun Fact: Martin Sheen, Allison Janney, Erma Bombeck, Jonathon Winters, Rob Lowe, Mike Schmidt, Phil Donahue are a few famous Daytonians.
National Museum of the U.S. Air Force
Did you Dayton is home to the oldest and largest military aviation museum in the world? How lucky are we to have such a place in Ohio! The National Museum of the United States Air Force is an incredible space that collects, researches, conserves, interprets, and presents the Air Force's history, heritage, traditions, and today's mission to fly, fight and win … in Air, Space, and Cyberspace.
There is so much to explore; you could almost spend a few days visiting. The museum has four hangars and 19 acres of enclosed exhibit space featuring over 360 aerospace vehicles and missiles on display. You'll also discover thousands of historical items, as well as many interactive displays. You can learn more about each of the exhibit areas here. 
As soon as we walked into the first hanger, Riley's jaw dropped. We live in an area that plans frequently fly over our house, and we had been telling them for a few days that they were going to see even more planes. I guess she didn't know just what to expect. She was SO EXCITED. Every time we went around a corner, she would act as if it was the first time ever seeing a plane.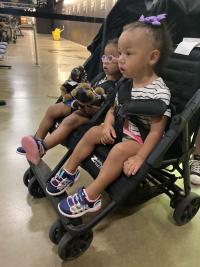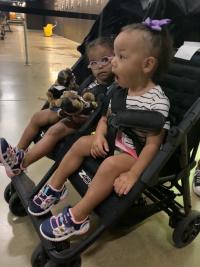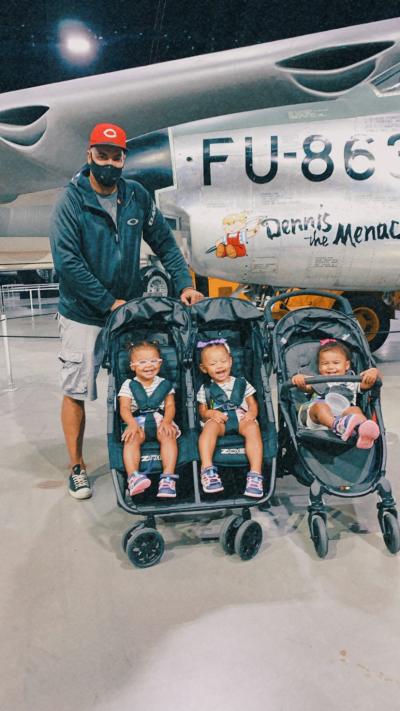 Keep in mind, children under three are not required to wear a mask. Being in such ample space, we weren't close enough to anyone for it to make a difference. Stephen and I had ours on the entire time we were inside.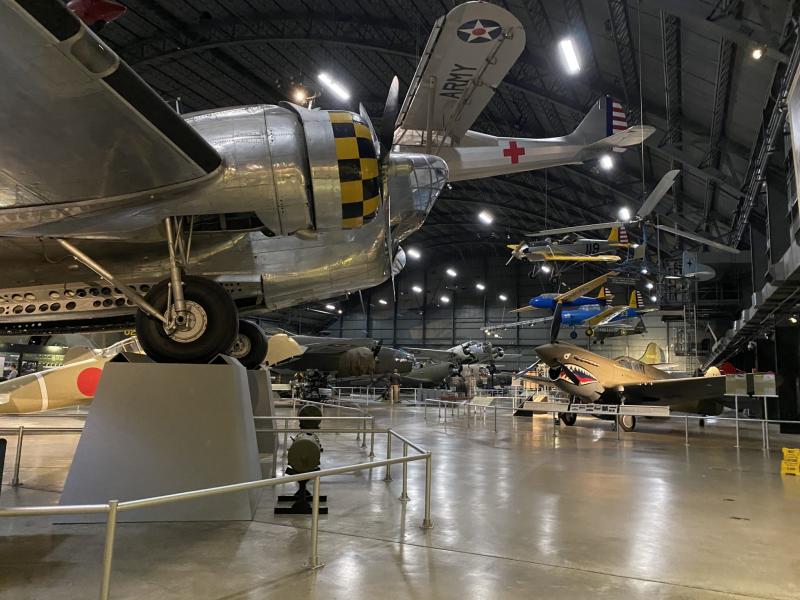 I think the Memphis Belle was one of my husband's favorite planes to see. The Memphis Belle, located in the museum's World War II Gallery, was placed there on May 17, 2018, exactly 75 years after its crew finished their last mission in the war against Nazi Germany on May 17, 1943. Like many other planes, it is surrounded by an interactive display with rare film footage and several personal artifacts that had never been seen before!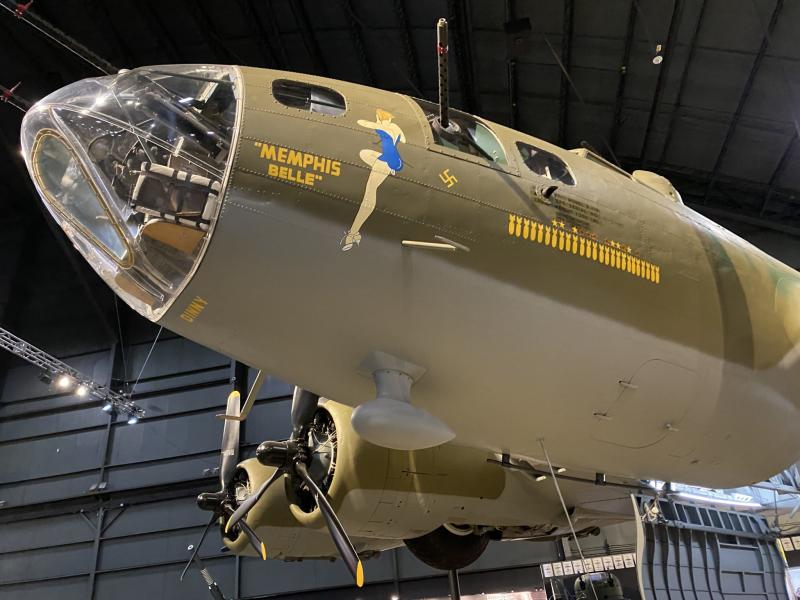 It was unreal to see these planes up close. You could feel the stories and history oozing out of them.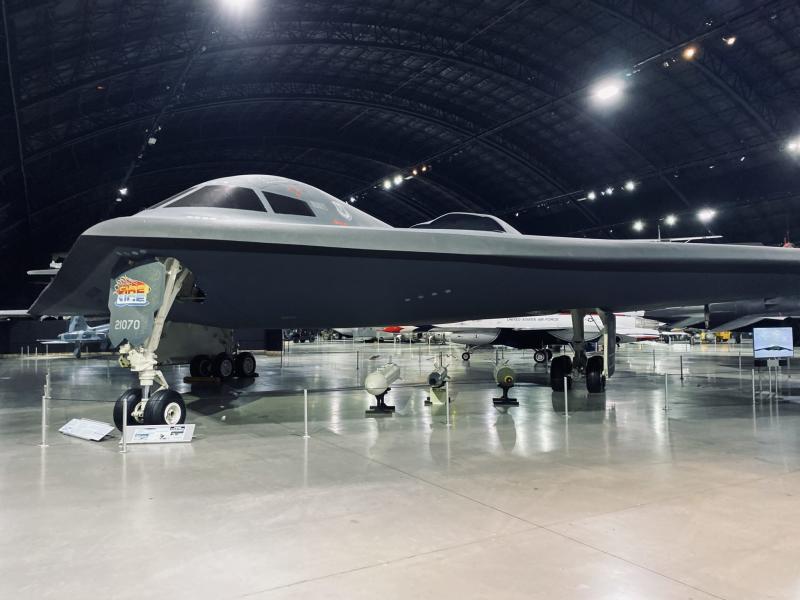 Wait until you see this in person.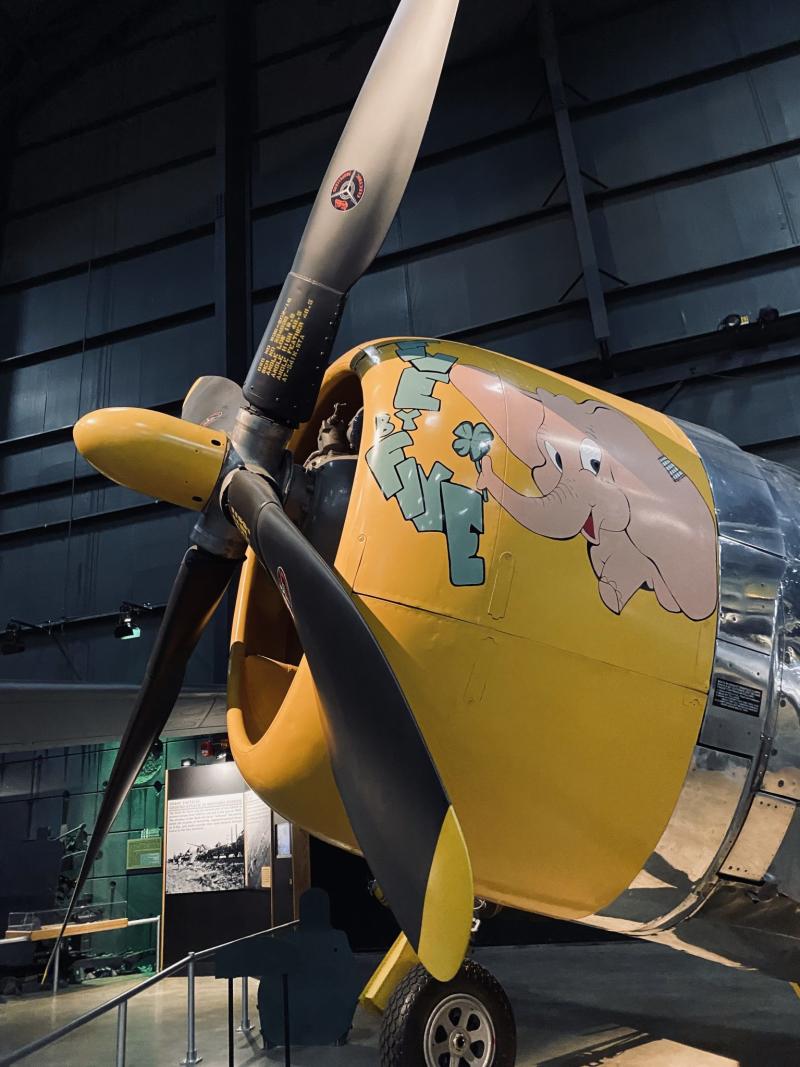 Typically, there are walk-through aircraft, sit-in cockpits, space shuttle simulators, and a few other interactive exhibits, including the option to board and tour four of nine Presidential Airplanes( including the plane (SAM26000) that flew J.F.K.'s body back from Dallas). However, they are temporarily closed during their first phase of re-opening. Don't worry. There is still more than enough to explore!
This museum is incredible, an unbelievable collection of aircraft and historical items presented in such a beautiful way. The combination of artifacts, memorabilia, and uniforms tell a story of the US Air Force that you just can't get anywhere else.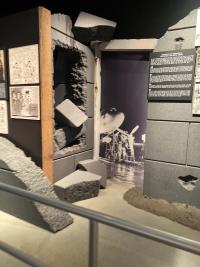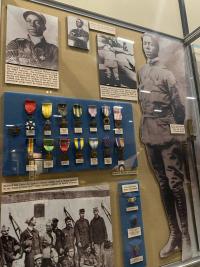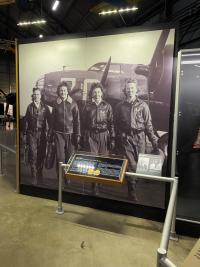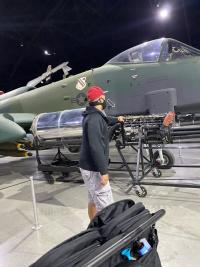 Located on-site is the National Aviation Hall of Fame. Unfortunately, we weren't able to visit this trip as it opened up later in the day after we had already left. The National Aviation Hall of Fame was founded in 1962, dedicated to honoring individuals who have uniquely contributed to America's rich legacy of aviation achievement—achievement generated by American ingenuity and individual acts of great vision, persistence, skill, and courage. You can read more here. Keep in mind their hours/days open are different from the National Museum of the United States Air Force. 
Before you head back to your car, make sure you take the time to walk around Memorial Park. The park honors Air Force-associated units and people for their courageous service and sacrifice in the cause of freedom. There are more than 500 memorials, including statuary memorials, plaques, trees, and benches.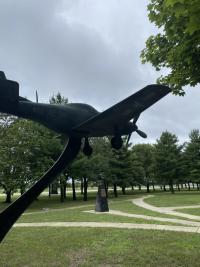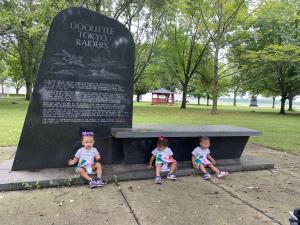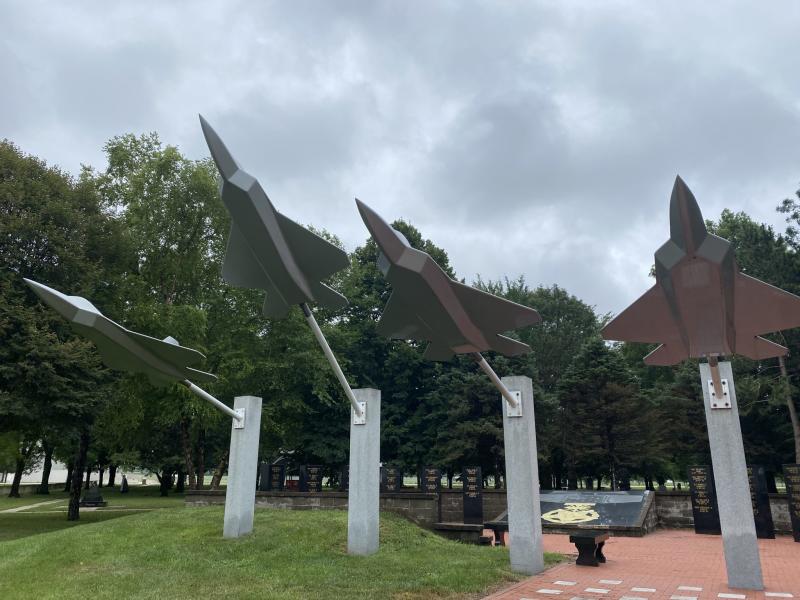 Let's talk safety
If you're like me, you probably haven't ventured out much, and if you did, it was perhaps outdoors. Visiting the National Museum of the U.S. Air Force was our first indoor trip with the girls in months. January was probably the last time that we took them somewhere indoors. The reason we felt confident in visiting the Museum is because of how open and large it is! It is actually the world's largest military aviation museum. A lot of the doors are automatic, meaning we really didn't touch any surfaces. We had zero problems maintaining six feet from those outside of our party while on the museum campus. I am not sure we even got within 20 feet of anyone. They do require face coverings for all staff, volunteers, and visitors (3 years and older). You can bring your own, or they will provide a free paper mask if you forget. Throughout the Museum, you will see hand sanitizers available for use.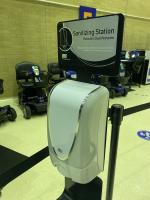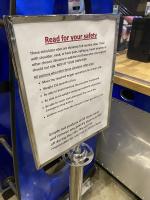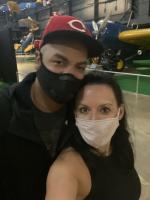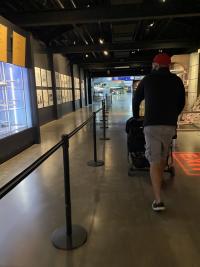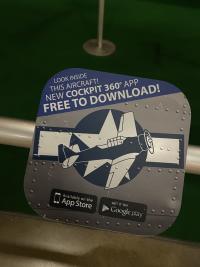 Things to Know
FREE admission and FREE parking
FREE stroller rentals
Open 7 days a week, 9AM – 5PM. The museum will be open until 8 p.m. the first Thursday of each month between August-December 2020.
Address: Wright-Patterson Air Force Base, 1100 Spaatz St. Gate 28B WPAFB OH 45433
---
Carillon Historical Park
Carillon Historical Park is a 65-acre open-air history museum that serves as the main campus for Dayton History.  There is so much to see and do as you explore the amazing stories of how Dayton changed the world.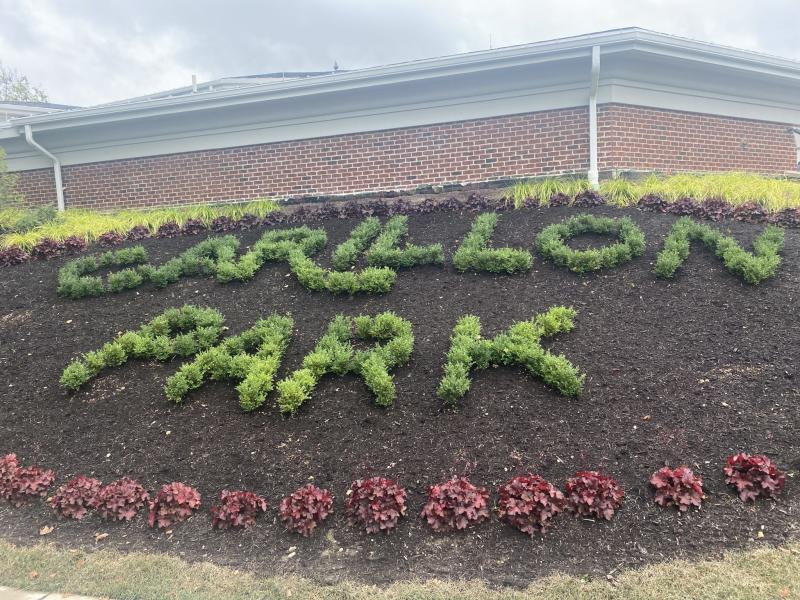 After spending all morning at The National Museum of the United States Air Force, we were pretty hungry. We decided before exploring all that Carillon Park offers, we were going to grab a bite to eat. Lucky for us, Carillon Park provides two places to dine at – Carillon Brewing Co. and Culp's Cafe. Both offer a historical story. 
Carillon Brewing Co. offers visitors a glimpse into 1850s-era Dayton through the authentically prepared food and drink of the times. It is the nation's only production brewery in a museum, and the only U.S. brewery replicating the historic brewing process. The Culp's story dates back to 1902, when Charlotte Gilbert Culp, a young West Dayton widow, began preparing baked goods for her six children to sell door-to-door. Soon, the Culp family opened a stand at the South Main Street Market before Charlotte's eldest son, Howard, expanded the business into the Arcade—selling poultry, eggs, cheese, and dill pickles at three lunch counters. In the 1930s, the Culps opened a full Arcade cafeteria; by the 1940s, they were serving as many as 5,000 customers a day. While Culp's was sold in 1960, the spirit of this family-owned restaurant lives on at Carillon Historical Park.

– daytonhistory.org
We chose Culp's Cafe because we felt it was kid-friendly, and they had the option of an outdoor patio. When we arrived for lunch, we found out that eating outdoors was not an option as it was raining a bit. The last time we ate indoors at a restaurant was in February! We decided to go ahead and eat indoors and were impressed by their procedures. Everyone was wearing a mask, including us, unless we were standing up. They were regularly cleaning and the tables were decently spaced with ours being right at the front. I did go the extra step and had plastic mats to put on the table for the girls.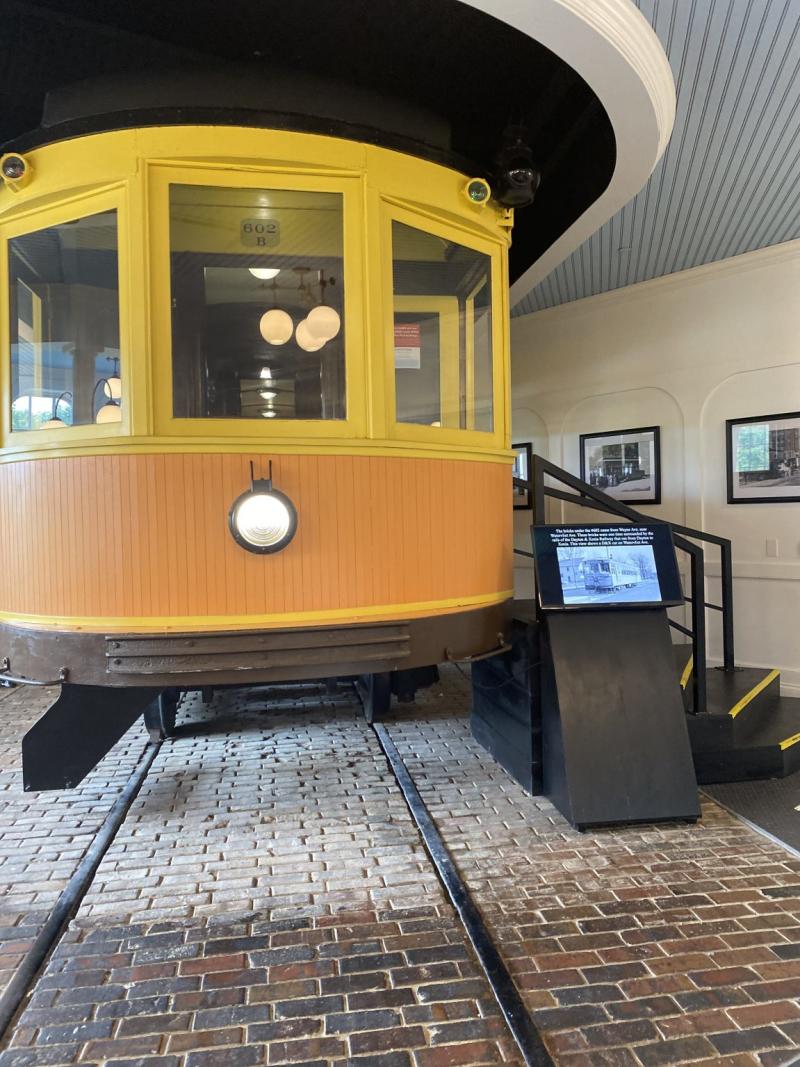 This is a restored 1903 Barney & Smith Interurban railcar that you are able to eat inside of.
We enjoyed our lunch. It was classic cafe food, intending to pay homage to the small soda fountains and lunch counters found throughout Dayton in the early nineteen hundreds. Stephen chose a delicious club & milkshake, while I decided on a parmesan-crusted grilled cheese like the adult that I am! You can view their menu here.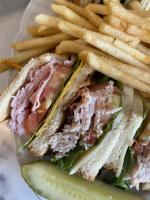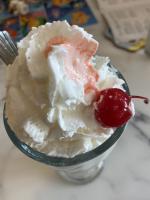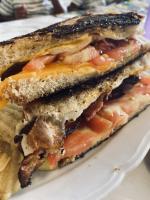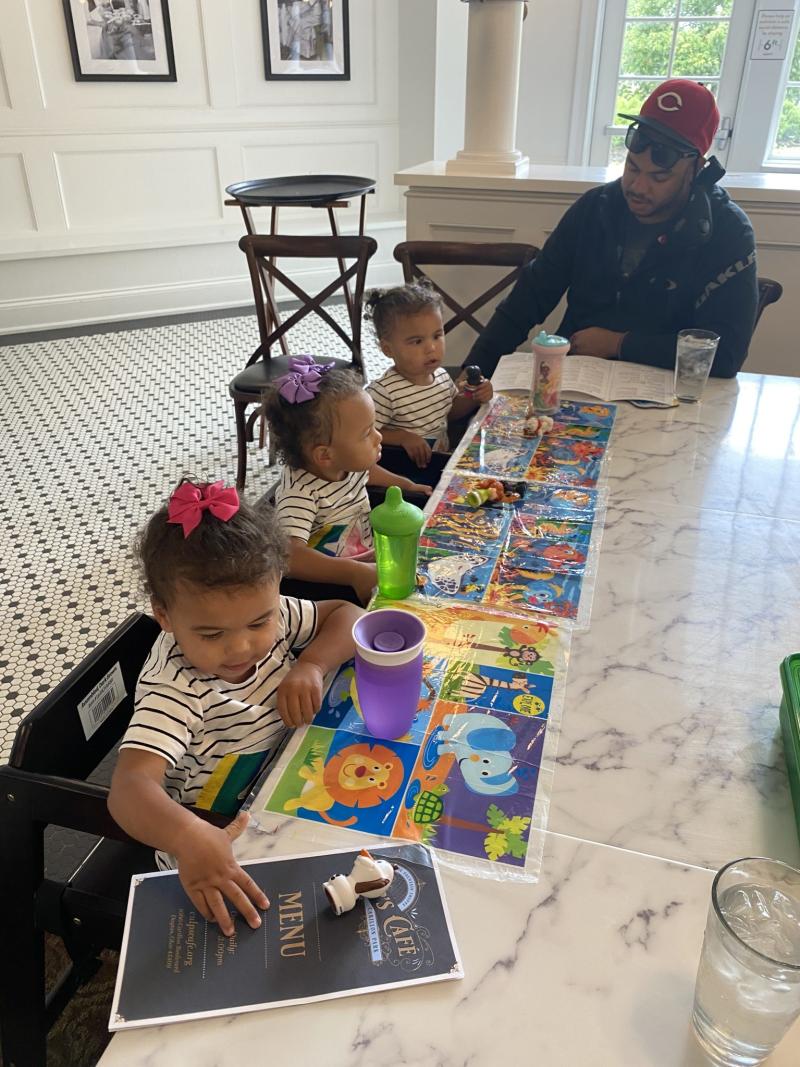 While we spent a great deal of time outdoors, they do have an incredible indoor part, which is the first stop for all admissions and information. It houses exhibits, the Iams Education Room, administrative offices, and the Museum Store (which is a must-visit!). The exhibits feature an NCR cash register room with 90 Dayton-made machines, the Build for Tomorrow animatronic theater, the original Deeds Barn, dozens of exhibits featuring Dayton factories and companies, and the Carousel of Dayton Innovation.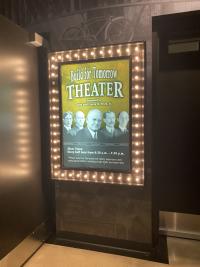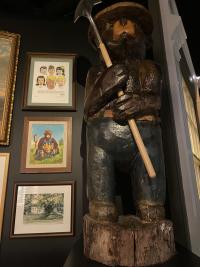 The Carousel is a full-scale, hand-carved Carousel featuring one-of-a-kind characters such as Orville Wright's dog, a Dayton soapbox derby car, and a soda can with the Dayton-made pop top.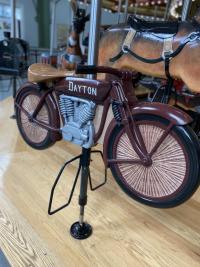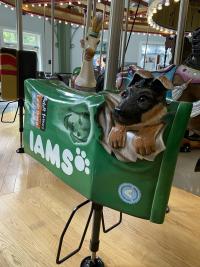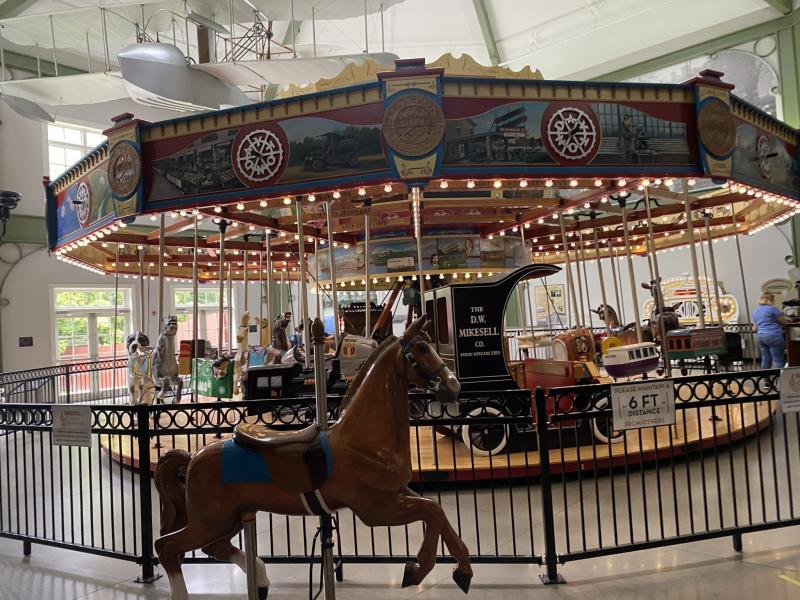 They marked which character we rode and sanitized as soon as we were off of it.
Once you're done grabbing lunch and exploring the indoor area, you're in for a real treat when you step foot outside. There are several historical buildings that you can go inside. You'll also come across the old river park swimming pool light tower, a transportation center that houses most of the parks historic public transportation collection, the Morrison Iron Bridge, a 100-foot tall climbing tower, a simulated archaeological dig site, and many other interactive experiences.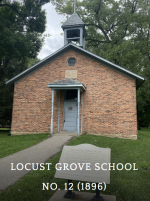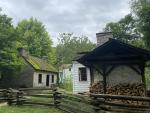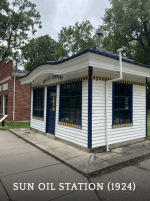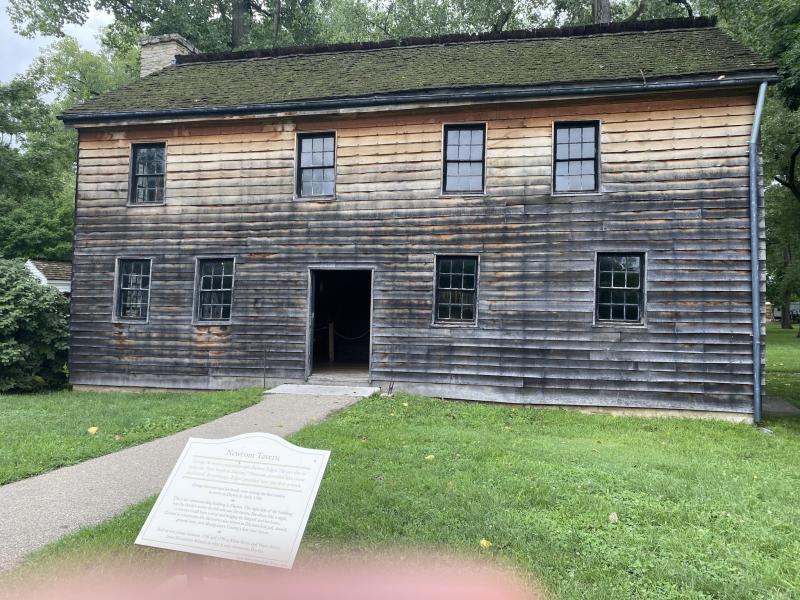 Click here to view a park map.
On-site is the Wright Brothers National Museum. The museum has more Wright artifacts on display than any other place in the world. One of the must-see artifacts is the 1905 Wright Flyer III (pictured below). It is the only airplane designated as a National Historic Landmark and the first practical flying machine. The Wright brothers considered this plane their most important aircraft.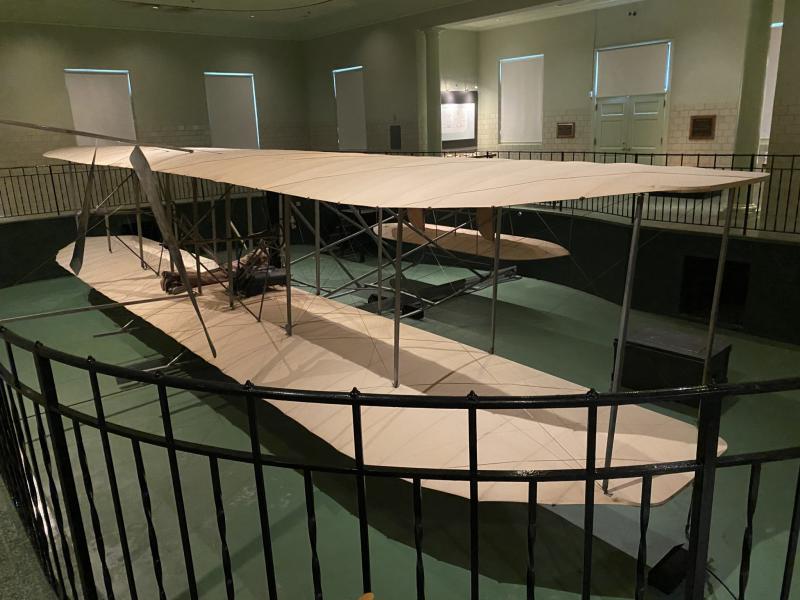 Carillon Park is perfect for all ages! The girls loved running around and exploring all the nooks and crannies of the buildings.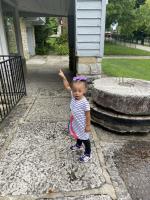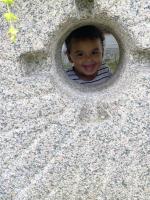 Let's talk safety
Just like the other places we visited, masks are required inside of all the Carillon Park buildings. While inside, we saw all employees wearing masks, as well as employees frequently cleaning handles/railings/all things that would be considered high touch areas. Throughout the park, both indoors and outdoors, you could see the efforts they put into creating an environment where social distancing was easily followed. For example, they have turned areas that might have been open for all directions into a one-way area – either by sign or by stanchion (aka fancy velvet rope/retractable belt).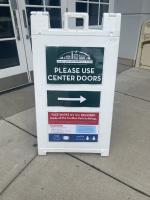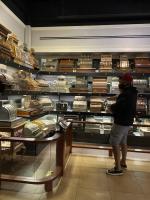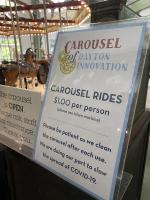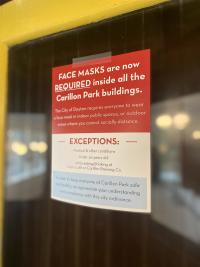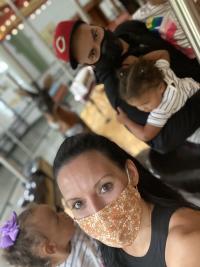 Things to Know
FREE Parking
Hours: Mon – Sat: 9:30am – 5:00pm
Sun: 12:00pm – 5:00pm
Cost: $12 per adult (ages 18–59), $10 per senior, $8 per child (3–17), children under 3 and Dayton History members FREE
Address: 1000 Carillon Blvd., Dayton, OH 45409
Two Restaurants on Site:
Carillon Brewery and Culps Cafe
Website | Facebook
Dayton Aviation Heritage National Historical Park
Dayton Aviation Heritage National Historical Park is a United States National Historical Park that commemorates the lives and achievements of Wilbur Wright, Orville Wright, and Paul Laurence Dunbar. Within the park, you'll find an evolving story of two ingenious brothers and one of America's greatest African-American poets.
There are five National Historic Landmarks and a National Register Historic District located within Dayton Aviation Heritage National Historical Park. These include the Wright Cycle Company building, Hoover Block, Huffman Prairie Flying Field, 1905 Wright Flyer III, Hawthorn Hill, and the Paul Laurence Dunbar State Memorial.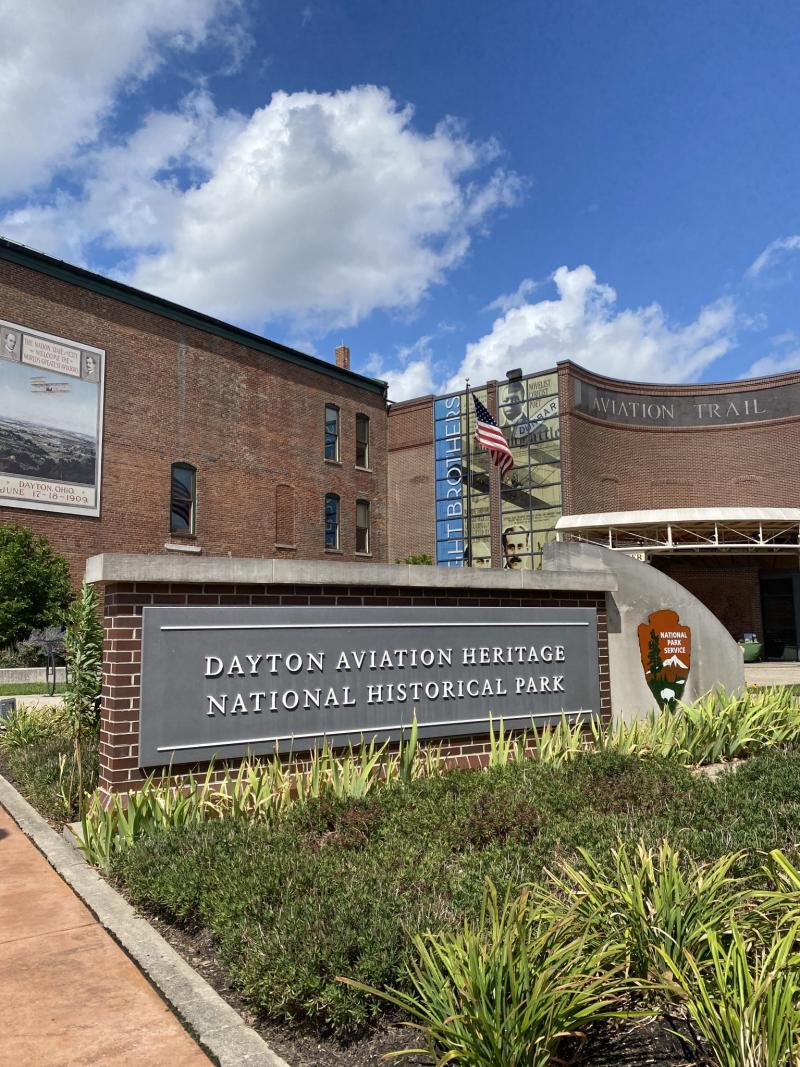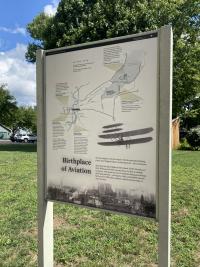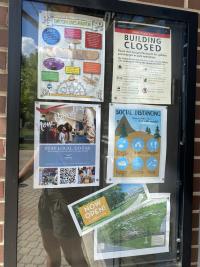 Right now, the Wright-Dunbar Interpretive Center and Wright Cycle Company are the two open buildings. Thanks to a friendly ranger, we were able to get a quick tour of the Wright Cycle Company. He was funny and very knowledgeable. We learned that this was home to the Wright brothers' bicycle business from 1985 – 1897. It was interesting to hear that this building was where they designed and constructed their gliders and first airplane, the Wright Flyer. It was surreal being in the same spot where many incredibly brilliant things happened, and while the museum was small in size, it didn't lack in history or information!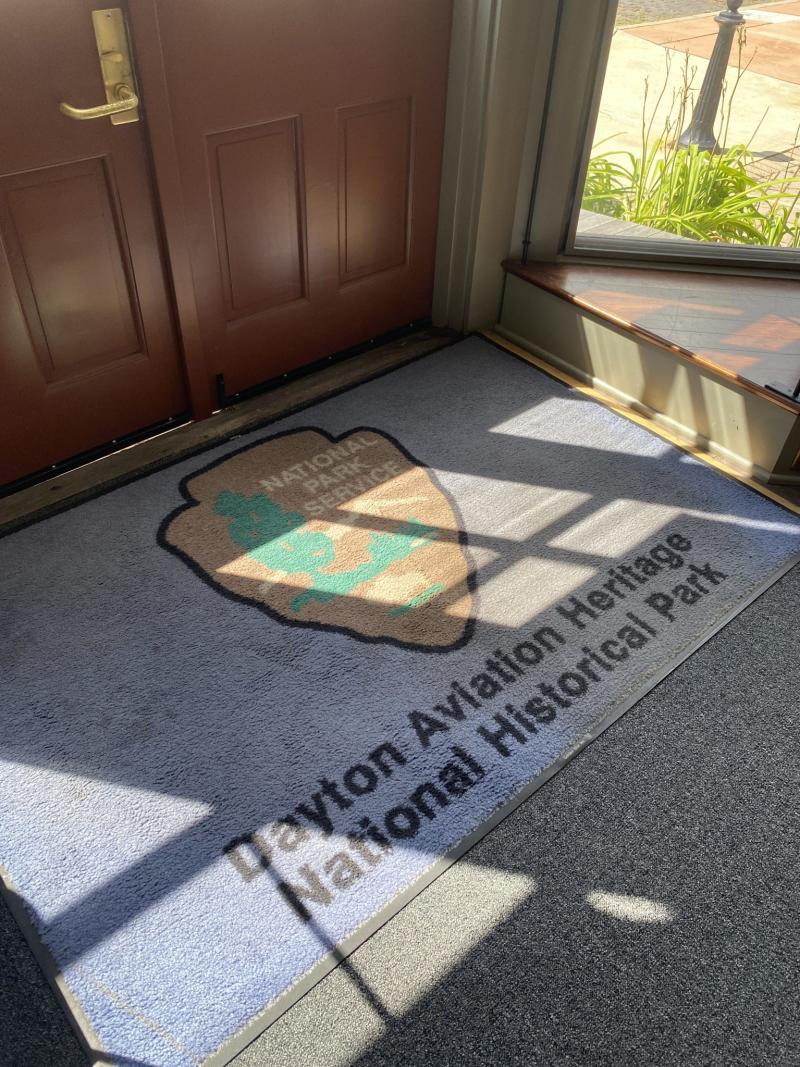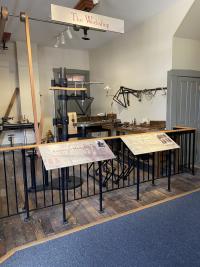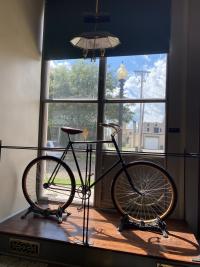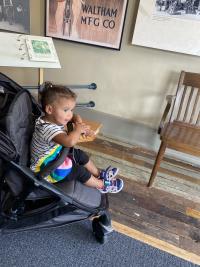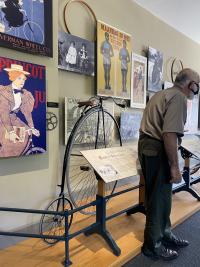 While the park consists of multiple sites, some are closed right now. Make sure to keep an eye on when they all open back up, and until then, you can always learn more on their website about their history and what they offer when open. 
Things to Know
Free Admission
March through October, 9AM – 5PM, Everyday
November through Febrauary, 9AM – 5PM, Wednesday – Sunday
Check the park website to determine its operating status before visiting, as well as  Operating Hours for Dayton Aviation Heritage NHP.
Address: 16 South Williams Street Dayton, OH 45402
RiverScape/Inventors Walk
RiverScape sits at the junction of the Great Miami River and Mad River in the heart of Downtown. It is part of the Five Rivers Metropark and is absolutely gorgeous. Beautiful flowers and well-maintained landscaping lined the streets, hanging baskets surrounded the lights, and it doesn't hurt it is against a backdrop of sweeping views of the Great Miami River. 
Due to the times, it was decently quiet – but I can see how vibrant and full of life it would be during a typical summer month. Online I read it is home to festivals of all sorts, live music, food trucks, an interactive fountain for the kids, workout classes, and so much more. Oh, and in the wintertime? I hear there is an epic ice skating rink! For now, it was the perfect place to relax, picnic, and take in the gorgeous scenery.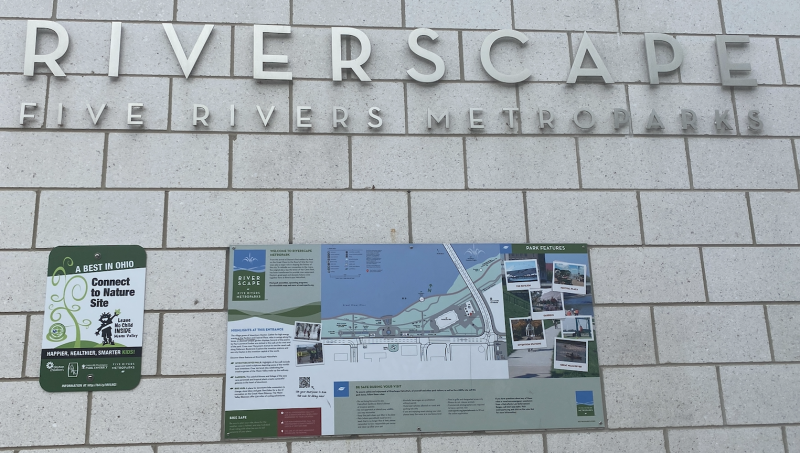 The first thing we did when we got to the park was find the perfect spot to picnic. There were signs around the park requesting that we refrain from using the shelters, picnic tables, benches, handrails, and handles due to CDC precautions related to COVID-19. That wasn't a problem for us because we were prepared with a blanket! 
We grabbed dinner before we got to the park at The Troll Pub, which has a great deal of important Dayton history within its walls. The building was first built in 1868 to become the Weustoff & Getz factory and was eventually used as Dayton's first automobile manufacturer that began delivering cars. You can read more about the history and how they pay homage to the Wheelhouse Building here. 
While we didn't dine in, it looked like they were doing a fantastic job creating a safe environment. There were markings on the ground to help people stay 6 feet apart, the patio was a great size with the tables adequately separated and employees were wearing masks. If two of the girls weren't asleep and we planned better, I would have felt completely safe dining on their patio!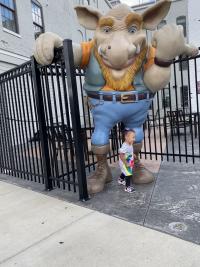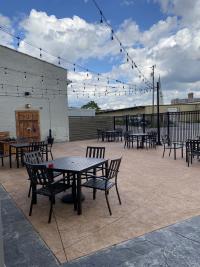 The day started pretty cold and a bit rainy, but by the time we got to the park for our dinner picnic – the weather was absolutely perfect.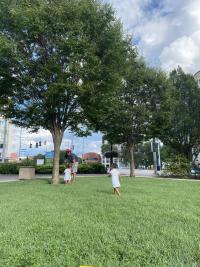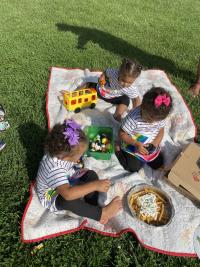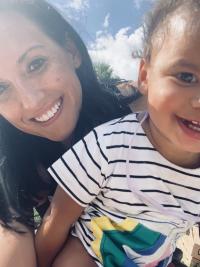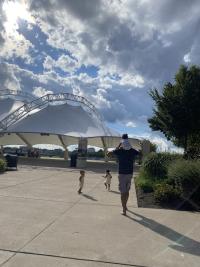 A bonus to the park is The Dayton Inventors River Walk. It is a unique way to learn about and celebrate Dayton's history of invention. On the walk, you will find seven over-sized sculptures, called Invention Stations. You will also walk along more than 150 brick tiles commemorating innovations dreamed up right in the Miami Valley. This was a great reminder of what creativity, curiosity, and perseverance can do for the world.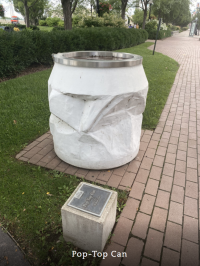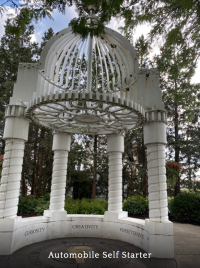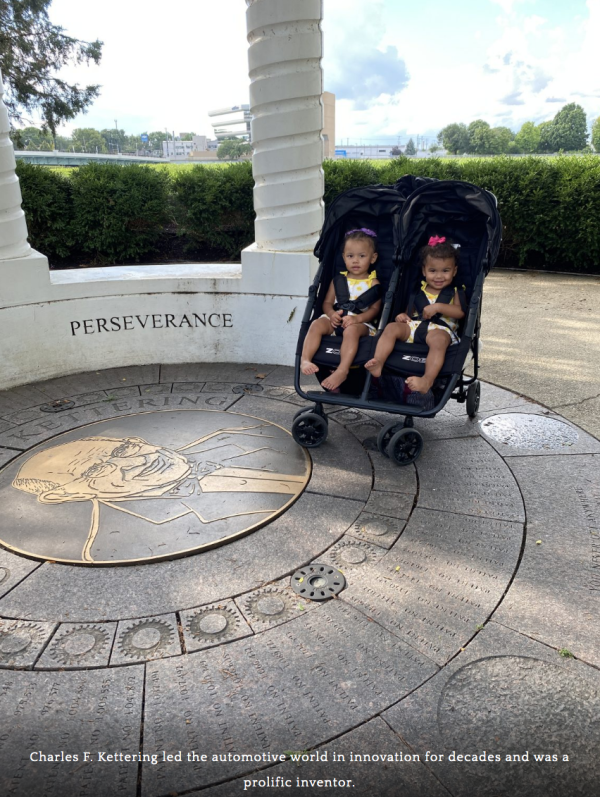 You can learn more about the INVENTION STATIONS here.
Fun Fact: Did you know Dayton boasts the nation's LARGEST network of paved trails – 350+ miles!? It is an incredible space for biking, hiking, or stroller-pushing adventures.

   
This was the perfect way to end our day exploring Dayton.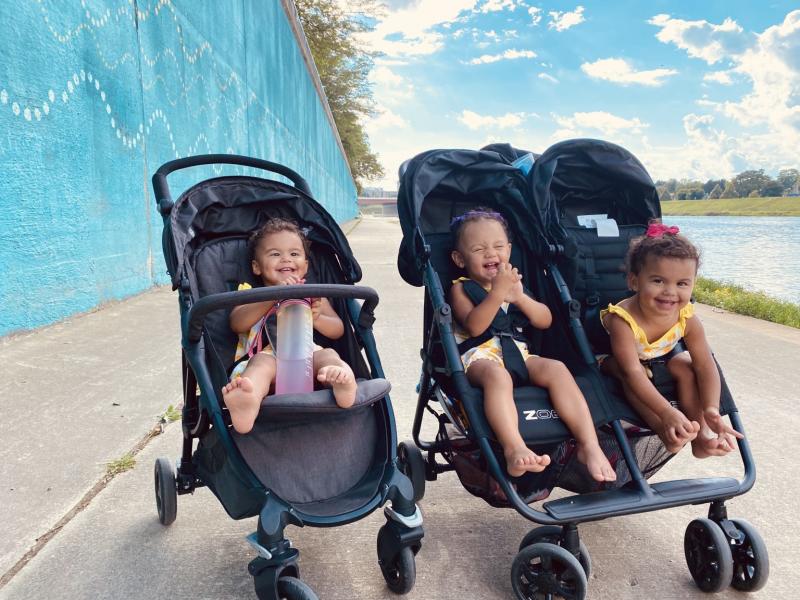 While we missed out on this visit, a focal point of RiverScape MetroPark is the Five Rivers Fountain of Lights! It is a series of five fountains that shoot water about 200 feet high and 400 feet across at the confluence of the Great Miami and Mad Rivers, making it one of the world's largest fountains! Learn more here. 
---
Things to Know
Free Admission
Hours: Open 24 hours a day, 365 days a year.
Address: 111 E Monument Ave, Dayton, OH 45402
Parking: Metered parking is free weekdays after 6 PM and all day on the weekends. There are more than 30 parking garages/lots in the downtown
area. View interactive parking map.
Paddling/Bike Rentals/Interactive Fountains are currently closed
---
We had a beautiful day exploring Dayton. It was the perfect trip for all ages to learn about Dayton's remarkable history. If you're interested in taking a trip to Dayton, I recommend starting with a visit to the places listed throughout this blog post. It is a significant first step in discovering all that Dayton has to offer and the mark they made and continue to create for the world. Next, I invite you to check out the FREE app Visit Dayton, Ohio app. It has all the information you need to Discover Dayton. The perfect handheld guide to area attractions, restaurants, hotels, arts, shopping, sports and recreation, breweries, events, and more. Oh, and even better? It is GPS enabled to find what's nearby and show you how easy it is to get around Dayton!