CVB At Your Service
Practical, useful and innovative event planning services.
If you're planning a convention, meeting, trade show, reunion or gathering in the Dayton area, the Dayton/Montgomery County Convention & Visitors Bureau is here to help! We'll happily provide you with a variety of useful services, ranging from pre-event planning to on-site implementation during your event.
We offer a range of services to groups, many of which are complimentary. Some restrictions do apply, so please contact Convention Services Manager Carmen Huffman at 937-226-8236 (or toll-free at 1-800-221-8234), chuffman@daytoncvb.net, for details.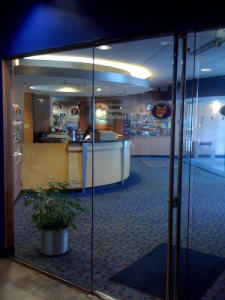 Most meeting planners will want to start out working with our CVB sales team.  A sales manager can help define your event needs, take you on a Dayton/Montgomery County site visit, suggest appropriate hotels and facilities for your event and collect bid proposals on your behalf.  After you have confirmed Dayton/Montgomery County for your event and have signed hotel and/or facility contracts, our CVB services department steps in to assist you with your event planning, promotion, and implementation details.  Below please find a list of appropriate CVB contacts.
Working With Our Sales Team
The professional and knowledgeable staff of the Dayton/Montgomery County Convention & Visitors Bureau is eager to save you valuable time and money!  Meeting planners will definitely benefit from taking advantage of our numerous complimentary services.
Dayton/Montgomery County is the ideal location to host your next convention, meeting, military reunion, sports tournament or event.  Let our sales team help you free of charge!
Talk with us about your hotel, event space, program and agenda needs.  Our sales staff pride themselves in being experts in all our community has to offer.  A sales manager will work with you to develop a Request For Proposal that will be sent out on your behalf to all of the hotels, facilities, and venues that could accommodate your group.  We will collect bid proposals on your behalf and assemble them into one comprehensive Dayton bid book with a summary sheet of all of your various options and costs.
Your dedicated Bureau sales manager will mail you the comprehensive Dayton bid proposal book and call you to review your options in detail.
If you are interested in a site visit your Bureau sales manager will develop an appointment itinerary for you and host you throughout your visit.
CVB Sales Managers Staff Directory
Rev. Dr. Crystal Walker
Director of Sales & Services
cwalker@daytoncvb.net
937-226-3162
Market Segment:  Religious
Ron Eifert: Sports, Hobby, Aviation Groups
Senior Sales Manager
reifert@daytoncvb.net
937-226-8284
Christina Combs
Sales Manager
ccombs@daytoncvb.net
937-226-8259
Market Segments:  Corporate, Education, Federal Government, State Association, State Government
Susan Raber: Weddings, Family & Class Reunions
Sales & Marketing Administrative Assistant
sraber@daytoncvb.net
937-226-8249
 Ready to submit your RFP?  Click Here
Working with the CVB Services Department
The Dayton/Montgomery County Convention & Visitors Bureau prides itself in providing extensive complimentary services to ensure the optimal planning, promotion, and implementation of your event.  You will note that many CVBs and communities charge for these services.  We offer them for free as another value-added reason for selecting Dayton/Montgomery County as your event host destination.
Contact Your Convention Services Manager Today:
Carmen Huffman
Convention Services Manager
937-226-8236
chuffman@daytoncvb.net
Area Vendors/Suppliers
The Convention Services Department maintains extensive files on local vendors ranging from charter motor coach companies, caterers, florists, speakers, entertainment options, decorators and more.  Let us provide you with a list of options available in our community. Recommendations can be made and/or information forwarded to assist you in selecting a variety of area vendors helpful to the success of your event in Dayton/Montgomery County.
Dayton Ambassadors/Registration Assistance
A team of qualified and knowledgeable individuals is provided to assist with registration, typing, hostessing, staffing a Dayton Information Station and/or a Restaurant Reservation Booth and a multitude of other event-related projects. Dayton Ambassadors are courteous and professional offering all groups a direct connection to pertinent area information while providing invaluable on-site assistance.  The CVB pays the ambassadors but no cost is incurred by the meeting planner.
Dayton Information Station
This tabletop booth comes complete with attraction brochures, current event happenings, locator maps, shopping information and a friendly Dayton Ambassador.  The Dayton Information Station has become a meeting planner's favorite and can be customized to contain materials specific to your needs.
Restaurant Reservation Booth
This table top booth display highlights numerous popular independent area restaurants.  Menus are available from many of the area's dining establishments and family favorite restaurants allowing delegates the opportunity to preview restaurants of interest.  A knowledgeable Dayton Ambassador staffs this booth to assist in restaurant selections, providing directions and phoning ahead to reserve your table.
Dine-A-Rounds
If your delegates like to eat, why not plan a dine-Around with your Convention Services Manager?  This progressive-style lunch or dinner will be customized to satisfy the interests. Tastes and budget for your group.  Popular choices have included highlighting restaurants that are ethnically diverse, architecturally interesting or historically significant.
Shop-A-Rounds
We are happy to arrange truly unique shopping experiences.  These can include a fashion show, fashions consultants, special sales, and refreshments.  Shopping experiences can include the most popular department stores and unusual specialty shops as well as outlet malls.  These outings are planned to accommodate your groups' schedule and preferences.
Dignitary Liaison
The Dayton/Montgomery County Convention & Visitors Bureau is your direct link to the City, County, and State elected officials.  To add excitement to your opening ceremony, ask your Convention Services Manager to prepare a proclamation from the Mayor, County Commission President or Governor.  Welcome letters and words of invitation can also be arranged to enhance registration materials, welcome packets or programs.
Event Attendance Builder
Customize one of our digital Dayton templates to email to your attendees in advance of your event to help increase attendance. 
Housing
For complex housing needs, the Dayton/Montgomery County Convention & Visitors Bureau provides computerized housing services. This service is particularly helpful when multiple hotels are required or when detailed room inventory must be maintained.
Maps
Media Assistance
If you wish to generate pre-event or day-of-event publicity, tap into a few of our media resources.  Complete Media Resources Guides are available to review the basics of writing press releases and public service announcements.  Electronic media contacts/e-mails for the region's print, TV, and radio stations are provided to make forwarding press releases and PSAs more convenient.
Name Badges — Buck-A-Badge
This $1.00 service is worth its weight in gold!  Just provide a list of registrants, your logo and any information you want printed to receive your professionally designed, easy to read, laser produced name badges.  Additionally, your Convention Services Manager will deliver your name badges to the location of choice, pre-sorted to your specifications.
Party Planning/Outings
Many unique opportunities exist in Dayton/Montgomery County for creating a memorable opening ceremony, awards banquets, vendor function, president's gala, golf outing or networking reception.  For these and other special activities, contact your Convention Services Manager for suggestions on exciting venues, theme ideas, and service providers.
Volunteer/Turn-Key Charity Activities
Many groups are now incorporating volunteer/social responsibility activities into their event agendas that provide their attendees an opportunity to "give back" to the Greater Dayton community.  Talk with your Convention Services Manager about turn-key options ranging from Habitat For Humanity, Dayton Children's Medical Center, and the Dayton VA Medical Hospital to the Humane Society and Five Rivers MetroParks.
Welcome Packets
Work with your Dayton Convention Services Manager to determine which collateral pieces would be helpful to your attendees.  Our Destination Dayton Visitors Guide, a comprehensive 44-page magazine providing details on area attractions, arts and culture, outdoor recreational activities, restaurants, maps, sample itineraries and more is a popular choice.  Your Convention Services Manager can place the Dayton Visitors Guide into smart plastic "Dayton Birthplace of Aviation labeled" bags which can serve as convenient totes for your attendees.
Custom Services
If you require assistance in an area that is not outlined above, just chat with your Convention Services Manager who will be happy to try and accommodate any special customized service requests.
Post Convention/Event Surveys
Curious about what your attendees thought of their event in Dayton/Montgomery County?  Looking for feedback on what was deemed the best part of our event or on ways to improve your event?  Work with your Convention Services Manager to develop a customized survey that can be e-mailed to your attendees.   A concise survey recap can be compiled by the Bureau and sent to you providing valuable feedback that will help you plan future events.