Dayton Contemporary Dance Company
Dayton Contemporary Dance Company was founded in 1968 to create performance opportunities for dancers of color. Five decades later, it remains rooted in the African American experience, committed to the development of diverse movement artists on the global stage.
​
A co-recipient of one of the dance world's highest honors, the 2016 Bessie Award for Outstanding Revival, DCDC has been presented by American Dance Festival, Paul Taylor American Modern Dance, and Jacob's Pillow Dance Festival, and supported by National Endowment for the Arts and New England Foundation for the Arts among others.
All About Love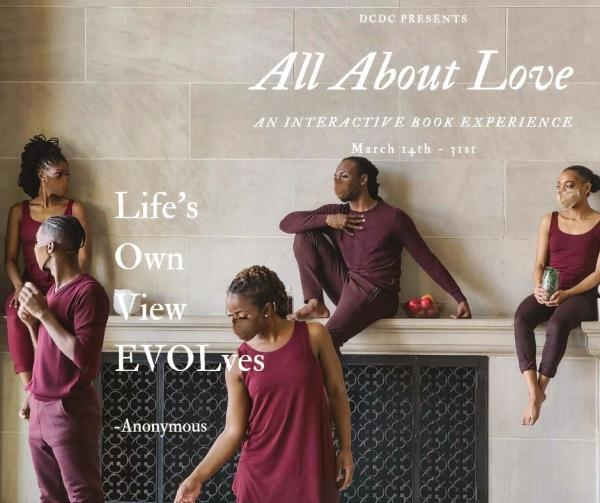 View a digital book that comes alive with every turn of the page! ALL ABOUT LOVE is a love note to the Dayton community wrapped up in the beauty and elegance of bodies in perpetual motion. It is the exploration of mattering that we need at this moment.
When you open your link to ALL ABOUT LOVE, you will immerse yourself in a book, with visual imagery that comes into motion with every click and turn.
Dancing together, we explore our relationship to this community through a production that is one-part love song and two parts visual story-telling. Deeply inspired by stories of love collected from across the region, guest choreographers premiere short dance works dedicated to the complex facets of love, written by members of our community and curated through a unique interdisciplinary partnership with The Lungs Project, a platform created to promote and nurture the work of artists and writers of color. This digital experience will include a collection of moving narratives that ask audiences to feel the nuanced emotions and grand feelings of love for the place we call home. Experience poetry in motion!
What's more, this beautiful collection of poetry, prose and personal photos has been packaged into a one-of-a-kind, limited edition print book archiving the Dayton Contemporary Dance Company family. Available only while supplies last.
Date/Time:  March 14 - 31, 2021
Cost: $50 digital performance and limited edition "Love Notes" $25 digital performance only​​​
​
​
The culturally diverse company is dedicated to exceptional performance and quality community engagement.
​
DCDC has toured the world, dancing onstage for packed houses in Bermuda, Canada, Chile, China, France, Germany, Kazakhstan, Poland, Russia, and South Korea.
DAYTON CONTEMPORARY DANCE COMPANY
840 Germantown Street
Dayton, Ohio 45402
937-228-DCDC (3232)