National Museum of the U.S. Air Force
 A "MUST SEE!" in Dayton, the National Museum of the U.S. Air Force is the world's largest and oldest military aviation museum and Ohio's most visited FREE tourist attraction with over 1 million annual visitors.  This world-renowned museum features more than 360 aerospace vehicles and missiles and thousands of artifacts amid 19 acres of indoor exhibit space. 
Exhibits are arranged chronologically so it's easy to visit the areas that interest you most. 
Examine a Wright Brothers plane 

Sit in a jet cockpit 

Walk through a NASA shuttle crew compartment trainer 

Board and tour four of nine Presidential airplanes including the plane that flew Kennedy's body back from Dallas and upon which Lyndon Johnson was sworn in as President.  

Stand in awe of the iconic Memphis Belle (permanent exhibit opens May 2018) or the world's only permanent public display of a B-2 stealth bomber.
Feeling adventurous?  Check out the Morphis Movie Simulator Ride, a computer-controlled simulator for the entire family. Capable of accommodating 12 passengers, the capsule rotates and gyrates on hydraulic lifts, giving the passengers the sensation of actually flying along.  Dramamine may be required.
Or, take in one of the multiple daily movies at the Air Force Museum Theatre's new state-of-the-art D3D Cinema showing a wide range of films on a massive 80 foot by 60-foot screen.
Satisfy your hunger at the Museum's cafeteria (where you can even try out freeze-dried 'astronaut ice cream!'), or shop for one-of-a-kind aviation gifts in the Museum's impressive gift shop.
And, just when you didn't think it couldn't happen, the best is getting even better!
The newer (opened in 2016) fourth hangar, a 224,000 square foot, climate-controlled building is a dedicated gallery space presenting the Air Force's past, present and future in space and consolidates the presidential and research and development aircraft.  The fourth hangar also houses aircraft such as the C-141C Hanoi Taxi and the C-130E.
1100 Spaatz Street
Gate 28B, enter on Springfield St.
Wright-Patterson AFB
Dayton, Ohio 45433
937-255-3286 Ext. 331
 (937) 255-3286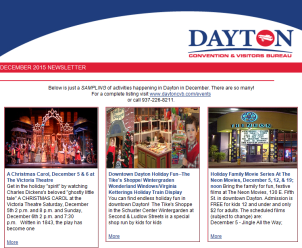 Want to know what's going on in Dayton? Looking to keep up with the latest Dayton, Ohio news? Sign up for our E-Newsletter!
LEARN MORE