Dayton Art Institute
The Dayton Art Institute has reopened on the weekends!
The museum's hours starting March 19 will be 11 a.m. to 5 p.m. on Friday and Saturday, and noon to 5 p.m. on Sunday.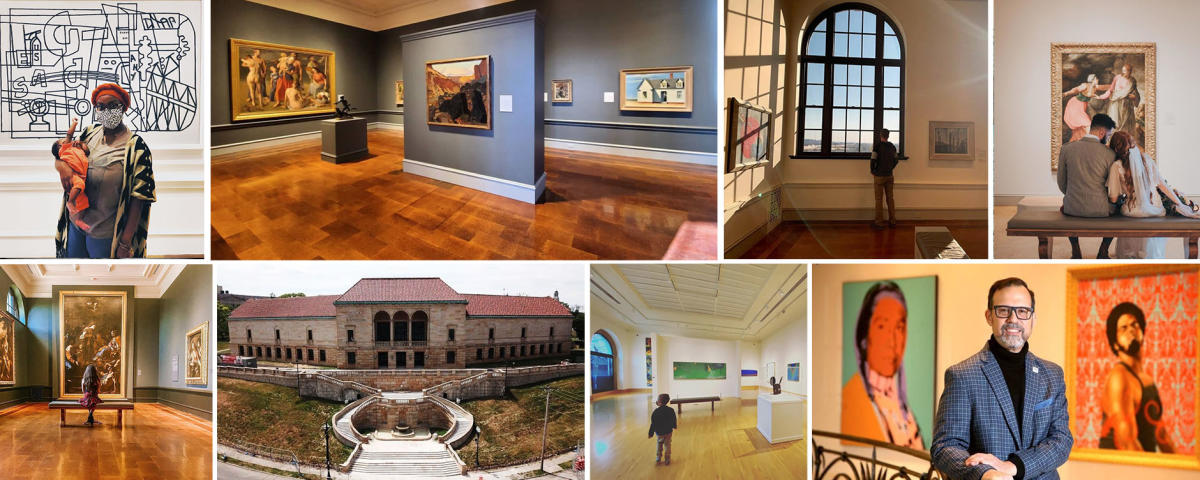 Plan Your Visit
Founded in 1919, The Dayton Art Institute is one of the region's premier fine arts museums. In addition to exhibiting outstanding special exhibitions and impressive collections of art from throughout the world, the museum is renowned for education programming that includes an array of offerings for diverse audiences.
Dive into the rich 100 years of history at the Dayton Art Institute.
The Dayton Art Institute sits atop a hill on the edge of the Great Miami River overlooking downtown Dayton. The museum's founding patrons included prominent community leaders such as Orville Wright and the Pattersons of NCR. The museum's landmark building, designed by prominent museum architect Edward B. Green of Buffalo and completed in 1930, was modeled after the Villa d'Este near Rome and the Villa Farnese at Caprarola in Italy, both examples of sixteenth century Italian Renaissance architecture. Today, The Dayton Art Institute's architecturally and historically significant facility is listed on the National Register of Historic Places.
The museum's collection spans 5,000 years of art history, including important Oceanic art, Asian art, European art, and American fine and decorative art collections.
The Dayton Art Institute also hosts concerts, family and youth programs, classes, social events and more. The museum's signature events include the annual Art Ball and Oktoberfest.  Visit the DAI website:  www.daytonartinstitute.org
Object of the Month 
Get to know your Dayton Art Institute with our Object of the Month gallery talks! Join us for an in-depth talk, led by a DAI Museum Guide, and learn more about an object from the collection. A different object is featured each month. 
Museum Admission
The Dayton Art Institute asks all visitors to pay a general admission fee. Anyone unable to contribute the suggested admission will be welcomed to the museum's collection galleries free of charge.
General Admission to The Dayton Art Institute's collection galleries:
Adults: $15
Seniors (60+), Active Military & Groups: $10 
College Students (18+ with ID) & Youth: $5
Children (6 and under): Free
Museum Members: Free
Special Exhibitions, Programs & Events*
Some special exhibitions, programs and events carry an admission charge or registration fee beyond the museum's general admission, and may include admission to the museum's permanent collection as part of the admission charge or registration fee. 
* A $2 per transaction fee will be added to all ticket sales for building preservation and art conservation. The fees are used for maintenance and upkeep of the permanent collection, building and grounds, ensuring the museum's status as a beautiful, historic site featuring world-class art.
The Dayton Art Institute
456 Belmonte Park North
Dayton, OH 45405–4700
Phone: 937-223-5277
After exploring the Dayton Art Institute, you'll be hungry for more learning, and exploring and Dayton does not disappoint!  We've put together multiple "Daycation" ideas for you and your family and friends!