Vectren Dayton Air Show
There is no better place than Dayton, the Birthplace of Aviation, to experience an Air Show!  An annual event held each summer at the Dayton International Airport, the Vectren Dayton Air Show, presented by Kroger, takes place over a weekend and is recognized as one of the top Air Shows in the country. Spectators of all ages numbering around 85,000 are thrilled by a full line-up of aerobatic dare-devils, jet teams, wing-walkers, historic aircraft, barnstormers, and parachutists, acres of static ground displays, food and fun!
The 2019 Vectren Dayton Air Show Presented by Kroger will take place June 22 and 23.  It promises to be a weekend packed with heart-pounding air performances and family-friendly activities. This is your chance to get up close and personal with the aircraft and pilots! Get your tickets early to see the United States Air Force Thunderbirds and so much more!
Address: Dayton International Airport, 3800 Wright Dr, Vandalia, OH 45377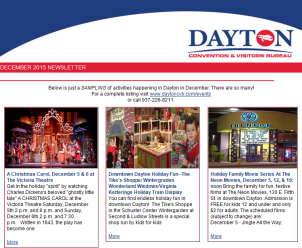 Want to know what's going on in Dayton? Looking to keep up with the latest Dayton, Ohio news? Sign up for our E-Newsletter!
LEARN MORE