Bicycling in Dayton
Dayton, Ohio – a Top Cycling City! 340+ miles of trails to explore! Dayton has the nation's largest network of paved trails--340+ miles!  Dayton is recognized as a Bronze Level Bike Friendly City! 
The League of American Bicyclists recognizes Dayton as a Bike Friendly Community—a national recognition for communities that actively support bicycling.  Bike Friendly Communities welcomes cyclists by providing safe accommodation for cycling and encouraging people to bike for transportation and recreation.
Bicycling Magazine includes Dayton in their list of the top 50 cycling cities in the United States. Citing our extensive network of Ohio trails and historical tours led by National Park Service Rangers, Bicycling Magazine applauds Dayton's terrific cycling culture.
Cyclists can take off in the birthplace of flight with 30 miles of central-city trails connecting to a 340-plus mile network of paths that offers something for everyone from the beginning rider, the casual rider, and families, to competitive spirits and professionals. Bike-mounted National Park Service rangers lead riding tours of Dayton's aviation history, including the Wright Brothers' original bike shop. Bicycle trails in Ohio offer cycling experiences for anyone and everyone.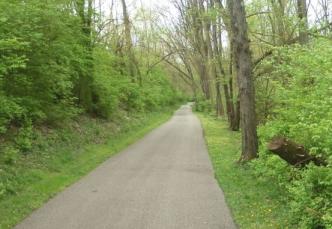 Image courtesy of MiamiValleyTrails.org
Bicycle Trails in Dayton, Ohio
Mountain Biking Trails at Huffman MetroPark: Named for the historic Huffman Dam, this MetroPark is conveniently connected to the Kauffman Road Bikeway and offers more than eight miles of sustainable Ohio trails for mountain biking developed to International Mountain Bike Association standards. This park is home to the MetroParks Mountain Biking Area, MoMBA — and expert and beginner cyclists alike will find fun and challenge on this course. Visitors also enjoy Huffman Lake, the Mad River, miles of hiking trails, picnicking and fishing.
Get more information about bike shops in and around Dayton and explore one of the best bike friendly communities in the nation.
Bike Downtown
Downtown Dayton is a bike friendly urban area. With enhanced bike lanes on the city streets and a plethora of bike racks, you'll enjoy checking out the sights on two wheels. 
To make that easier, Dayton has launched a new program: Link DYT. Link DYT is a bike share program in the downtown area. It is easy to find - look for the BRIGHT green bicycles - and even easier to use. Find a hub, grab a green bike, swipe your card and go!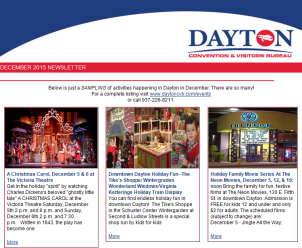 Want to know what's going on in Dayton? Looking to keep up with the latest Dayton, Ohio news? Sign up for our E-Newsletter!
LEARN MORE