Spooky Season is in full swing here in the Miami Valley, and if horror movies–recent or classic–are your thing, we have some Halloween treats to offer you this month. Several Dayton area theatres have queued up some frighteningly fun film screenings for the month of October.
Many of the featured movies are regularly shown on TV, but you can't beat the terrifyingly fun experience of seeing them on the big scream … er … screen … in a crowded, darkened theatre! There are also some rarely seen cult classics among the offerings.
So take a peek … if you dare … at this lineup of frightful films!
Dayton Convention Center's First Annual Halloween Movie Series

Our friends at the Dayton Convention Center launched their first Halloween movie series earlier this month, and they're haunting the Convention Center's theatre with a mix of adult frights and family fun. The showings include trivia, prizes, tricks & treats (including some special adult treats from Warped Wing Brewing Company)!
Upcoming films on the series include:
Friday the 13th, October 13 (naturally), 7 p.m.
Hocus Pocus, October 22, 11 a.m.
Beetlejuice (do NOT say that three times!), October 22, 3 p.m.
The Shining, October 22, 7 p.m.
Tickets are $10 per movie, with a special $5 youth price (12 & under) for Hocus Pocus and Beetlejuice. You can get more info and buy advance tickets online at www.daytonconventioncenter.com/tickets.
Plaza Theatre's Halloween Spooktacular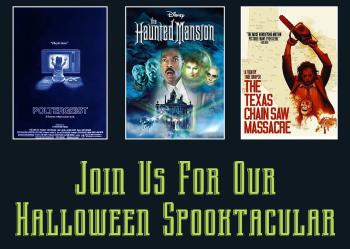 The historic Plaza Theatre in Miamisburg is kicking out all the stops, with a death-defyingly extensive lineup spanning from the 1930s to the 2020s and continuing through early November! They'll transport you from the castles of Transylvania to far-flung corners of the galaxy (and even invade your nightmares).
The Plaza's film series won't scare your wallet, with a budget-friendly ticket price of just $5 per movie. Butter up your popcorn and start blocking out your calendar for classics like The Wolf Man, Poltergeist, The Texas Chain Saw Massacre, The Haunted Mansion, Alien, Young Frankenstein, Halloween and The Blair Witch Project, to name just a few!
You can get the full lineup and times, as well as buy advance tickets, at www.myplazatheatre.com.
Slasher Night at The Neon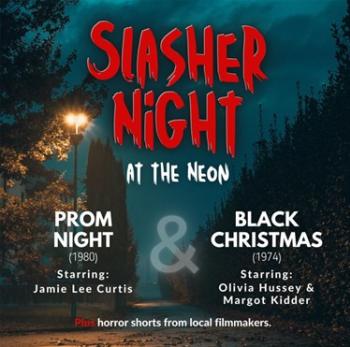 Downtown Dayton's The Neon gets into the Halloween spirit on October 27 with Slasher Night at The Neon! Bryan Bardine and Chris Burnside, both English professors from the University of Dayton, are bringing two classic slasher films to The Neon for one night only: Prom Night, starring Jamie Lee Curtis and Black Christmas, featuring Margot Kidder and Olivia Hussey. Between films, local directors will show their own short horror movies.
Tickets for the night are $20, and the first film begins at 7 p.m. For more information, go to www.neonmovies.com.
In addition to Slasher Night, The Neon will also be screening three classic Alfred Hitchcock thrillers - Psycho, Rear Window and Vertigo - in October. Dates and times vary for each movie, so visit The Neon's website for more information!
What's your favorite scary movie? Drop it in the comments below!
You can find more Halloween fun around the Dayton area at our Dayton Events Calendar.
---
For more information on things to do in Dayton, contact the Dayton Convention & Visitors Bureau at 937-226-8211 (Monday-Friday) or download the free Visit Dayton App from Google Play or the Apple Store. Be in the Know on All Things Dayton!