Our MetroParks have done it again! According to RunRepeat, Dayton is the #5 best city to live in for diehard hikers! Winning this prestigious award is due to a number of factors including but not limited to --Dayton boasting the nation's largest network of paved trails - 350+ miles-, Dayton's phenomenal Five Rivers MetroParks featuring 16,000 acres of diverse habitats with miles and miles of hiking trails, Dayton's low cost of living, and high employment numbers. Dayton has also been designated a Bicycle-Friendly Community by the League of American Bicyclists, thanks to our 30 miles of city trails that connect to more than 300 miles of lanes and paths. Read more below to see the top trails in Dayton for any skill level!
Best Trails For Nature Appreciation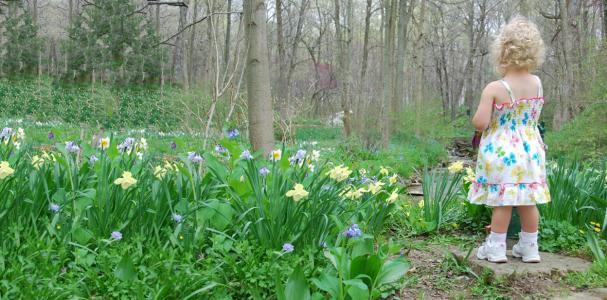 • Aullwood Garden MetroPark: Stroll the mile-long garden path to view wildflowers, woods and a prairie on this property cultivated by conservation pioneers John and Marie Aull.
• Sugarcreek MetroPark: Take the orange trail 1.3 miles to the Osage Orange Tunnel, arching trees planted in rows in the late 1800s to serve as farm fence, and hike 0.7 miles to the Three Sisters, 550-year-old white oak trees. For those with mobility challenges, Sugarcreek has a level, paved path that makes a quarter-mile loop through a prairie.
Best Trails For Discovering History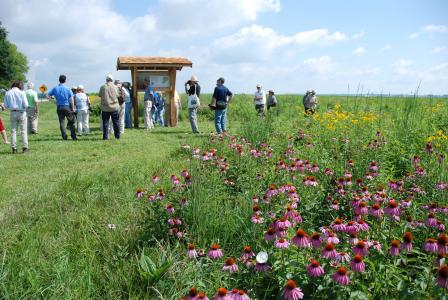 • Huffman Prairie State Natural Landmark: Learn about the importance of native prairies to the environment and wildlife while hiking this 0.2-mile trail, then visit the adjacent Wright Flying Field, where the Wright Brothers "truly learned to fly!"
• Possum Creek MetroPark: The 1.4-mile violet trail takes you through the remnants of what was once Argonne Forest Amusement Park, a 1920s destination for swimming, sports and more.
Best ADA-Accessible Paved Trails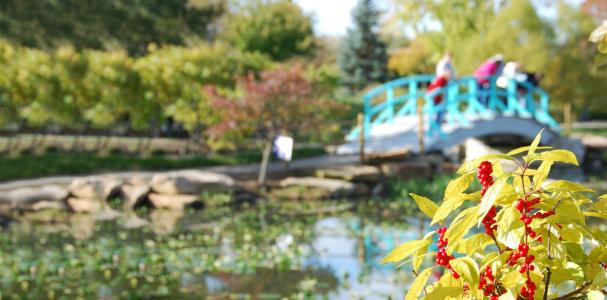 • Cox Arboretum MetroPark: ADA-accessible paved paths wind through a variety of scenic features. Visit a bird blind on the 0.6-mile red trail. Also enjoy miles of non-ADA-accessible paths.
• RiverScape MetroPark: Relax while overlooking the Great Miami River and take in seasonal activities at this wheelchair-accessible park. RiverScape MetroPark is also the nexus of 340 miles of paved recreation trails — the nation's largest paved trail network. Stroll along the "inventors walk" to learn about just a few of Dayton's many inventions that have contributed to life as we know it.
Best Trails For Walking Your Dog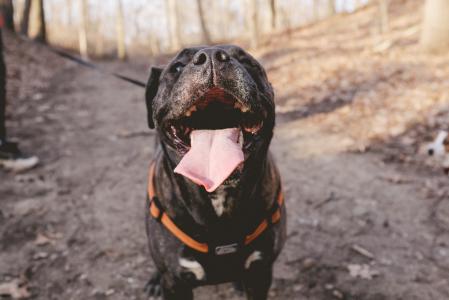 • Englewood MetroPark: The South Park trail loop allows you to customize your outing. Take a 1-mile hike or a longer 2.5-mile adventure on the natural surface trails. Dogs are required to be on a leash.
• Taylorsville MetroPark: Treat your pet to sweeping views of the forest and Great Miami River on the 1.2-mile yellow trail. Dogs are required to be on a leash.
Best Trails For Leaf Peeping

• Huffman MetroPark: The 2.6-mile section of the Creekside Trail that runs through MoMBA (MetroParks Mountain Biking Area) allows you to enjoy beautiful views while you get your heart pumping.
• Eastwood MetroPark: Paddle and color peep at the Eastwood Lagoon and Eastwood Lake or take a 4-mile paddle down the Mad River to RiverScape MetroPark – both of which offer beautiful fall views.
Best Trails For Families with Small Kids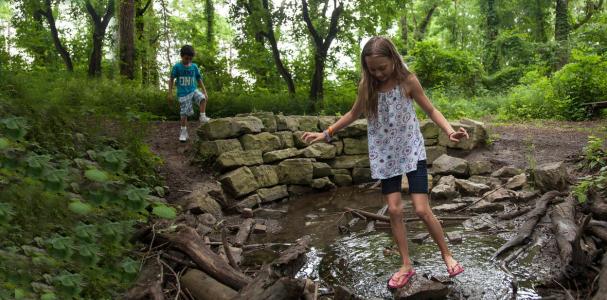 • Hills & Dales MetroPark: The Adirondack Trail loop is less than a mile and starts at Dogwood Pond. To make your walk longer, start at the Paw Paw shelter and cross the wetlands boardwalk.
• Carriage Hill MetroPark: The 0.5-mile red trail loops around Cedar Lake. The orange trail is 1.3 miles and has options for shorter routes. While at this MetroPark, enjoy learning about the 19th century working farm.