Happy New Year 2023 from all of us at Dayton Contemporary Dance Company!
The DCDC dancers are back in the studios from their winter hiatus and are already rehearsing for a variety of things including the International Association of Blacks in Dance, taking place January 26 & 28 in Toronto, Ontario, Canada. But we are especially excited about our upcoming presentation, right here in our hometown of Dayton, Ohio, at the Victoria Theatre on February 4 & 5: The Black Tour.
What is The Black Tour?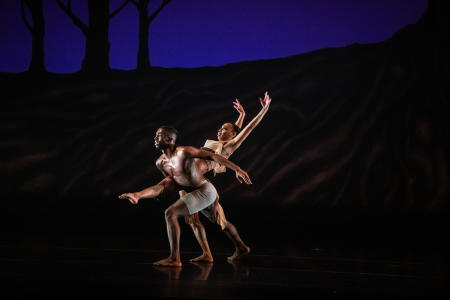 The Black Tour is a two-day residency that includes a textured series of performances and activations that uplift the breadth and connectivity of Black kinship.  Pre-show events include community gatherings, artist talks and classes, as well as site-specific and theatrical performances.  Some activities are at the main campus of Central State University and at the National Afro-American Museum and Cultural Center in Wilberforce, Ohio.
Another aspect for The Black Tour is the creation of a community quilt.  We're asking persons to donate swatches or pieces of fabric with significance to their family history–and to provide a paragraph or two about the fabric.  A community quilt will be made and displayed at DCDC studios, as well as on tour. For more information about the community quilt, you can reach out to us at 937-228-DCDC (3232) or contactus@dcdc.org.
The culmination of the residency is a mainstage dance performance at Victoria Theatre that wraps us all in a rich heritage of storytelling that will inspire all. The Black Tour is grounded by the world premiere of a new commission by Guggenheim Fellow, Tommie-Waheed Evans entitled Home/An Untitled Portrait. It uses the soundscape of modern rap music to tell the story of Black family dynamics.
This show is for everyone out there, from young to old! It also includes a work reflecting upon the power of the Civil Rights Movement; a dance showcasing the strength and drive of our community; and Children of the Passage, a classic staple of DCDC, returning to the stage.
You can also read more about the performance in this Dayton.com feature.
Get Tickets to 'The Black Tour'
You won't want to miss this performance, back in our home theatre, the historic Victoria Theatre! 54 has never looked so good on us–and so much more is yet to come!
Tickets start at just $31.50 and are on sale now at Dayton Live's website or by calling 937-228-3630. Shows are more fun with friends, too: get a group of 10 or more together and call Dayton Live's Group Sales Department, at 937-977-7160, about special group rates.
You can learn more about this show and everything else DCDC is doing over at our website. We look forward to celebrating the start of Black History Month with you at The Black Tour on February 4 & 5!
---
Thank you to DCDC's Jay Peterson for contribution this week's blog post. All images are courtesy Dayton Contemporary Dance Company.
Be sure to bookmark our Calendar of Events and download our Visit Dayton app from Google Play or the Apple Store to stay connected with the best events and things to do in Dayton!