Ready for some "A-MAZING" fall family fun? Head out to Tom's Corn Maze and Pumpkin Farm at 4881 Germantown Liberty Rd, Germantown, Ohio anytime between now and October 30th, Thursdays and Sundays noon - 6 p.m.; and Fridays and Saturdays noon - 10 p.m. Admission is just $10 per person (for those over the age of 4).
You'll find loads of fun activities, ranging from the infamous maze updated yearly, to Tom's Pumpkin Train Ride for only $1 per person. Unless stated otherwise, everything listed is included in the admission price! Read on for 10 fun things to do at Tom's Maze this fall season!
1. Tom's Corn Maze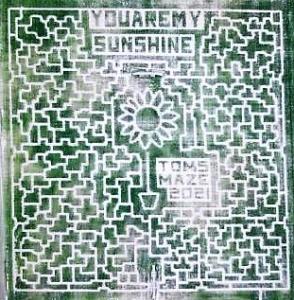 Tom's corn maze, now in its 24th year, has a new design this year featuring a sunflower in the center. It's more than just a corn maze.
Tom's Maze is an 8-acre puzzle game featuring 3 miles of paths for you to explore. Your challenge will be to find 12 puzzle pieces located throughout the Maze at roadside mailboxes. The paths are marked with various colors of ribbon. Each mailbox is numbered and has a designated color. The American flag flies proudly over the Victory Bridge which is the exit and your final goal.  Maze workers are stationed at observation bridges to help you if you need assistance. Water stations are located at the bridges. Orange ribbon lines the outside path of the Maze. The Orange Path goes completely around the Maze and will take you to the exit and the restrooms.
If you are planning to visit after dark, make sure to bring a flashlight to find your way! Admission to the maze is included with admission to the farm. The corn maze is dedicated to Tom's WWII veteran and Purple Heart recipient father, Harold Eby. We honor and thank Harold for his service and keep his memory in mind when visiting the maze.
2. Tom's Pumpkin Train Ride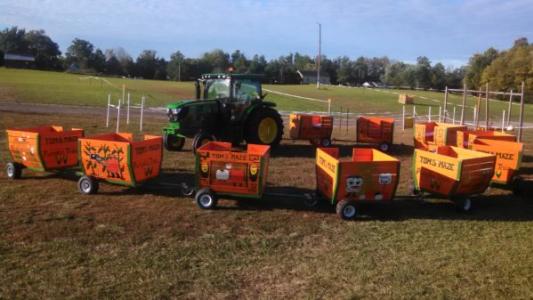 Tom's Pumpkin Train Ride, pulled by a John Deere Tractor, is a family fun ride lasting approximately 10 minutes. The cost is $1 per person (children age 2 and under ride free). Adults are required to pay and ride with children age 10 and under. The Pumpkin Train will be running, (weather permitting) daylight hours only, Friday, 1 p.m. - dark, Saturday, 1 p.m. - dark, and Sunday, 1 p.m. - dark. Train Ride Tokens may be purchased at the ticket booth or concession area.
3. Punkin' Chunkin' Cannon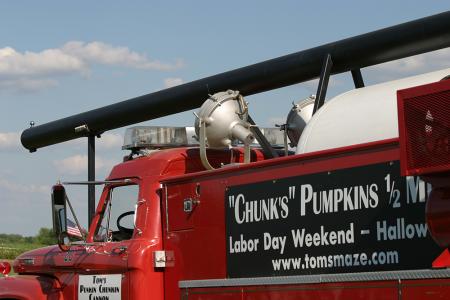 Tom's gone completely off the farm this year! This punkin' chunkin' cannon is an air-powered cannon with a 25 ft. long barrel that shoots pumpkins over a ½ mile (which depending on the direction…is OFF THE FARM!) The cannon is mounted on a vintage 1968 Ford Firetruck. Be sure to bring your camera, it is really something to see!
4. The Goat Boardwalk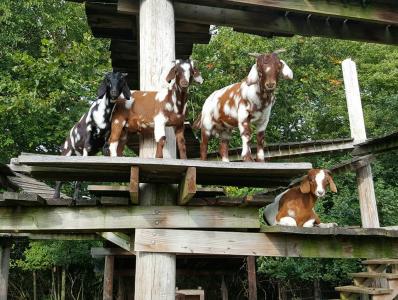 The Goat Boardwalk is a huge multi-level jungle gym where the goats romp and play. Amelia, Blossom, Ruby and their friends love to climb, hop, and skip on the towering incline boards, high in the air. Sometimes at night, after everyone's gone to bed, Blossom sneaks up to the top and practices her dance moves.  
5. The Little Red Hen House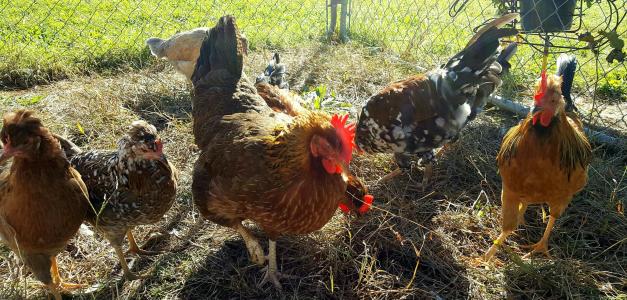 View this adorable little house for the many beautiful roosters and hens at Tom's Maze! Listen to them cluck and crow and fantasize about the giant omelet you could make by collecting their eggs. 
6. No Left Turn Maze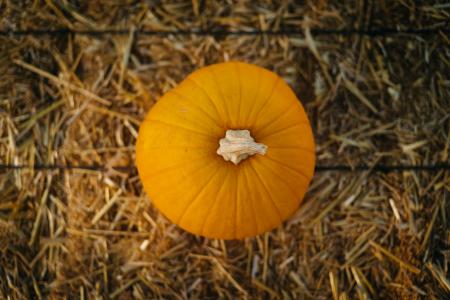 Do you find the 8-acre maze a bit intimidating?  Check out the "no left turn straw bale maze" appropriate for all ages. Your challenge is to enter the straw bale maze and walk to the exit without ever turning left. If you make a left turn, you MUST start back over again. It is harder than it looks!
7. Labyrinth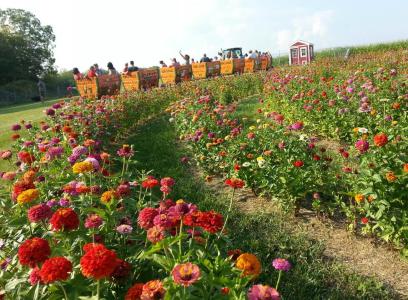 Enjoy a relaxing 5-10 minute walk on one continuous path into the center of a beautiful floral labyrinth and back. The flowers are short enough that no one will get lost!   
8. Tom's Maze Private Campfire Package 
– By Reservation Only
You supply the food and they'll supply the fun! Campfire sites feature a private area with a roaring fire ready at reservation time, log seating around the fire pit, and a picnic table for your party. Campfire site reservations are available for 3-hours for groups of 15-74 at $40 and large campfire sites for 75+ guests for $80. Book yours here and don't forget to bring the supplies to make s'mores!
9. Photo Opportunities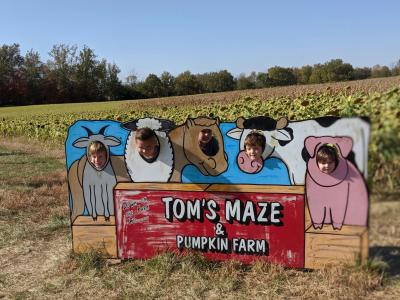 Be sure to bring your camera because photo opportunities abound!  From the corn maze, the beautiful Sunflower Garden, silly goats, to handmade scarecrows and cut-out picture boards, you're sure to "snap" a memory worth framing.
10. Human Foosball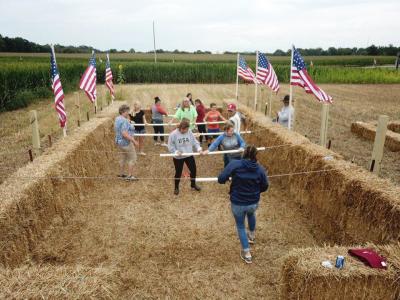 Just as you might think… Human foosball is basically the same game as regular foosball, only instead of having little plastic men whirling around on bars it is played with humans—making it a life-sized version of the game! You'll love this fun activity!
BONUS: You can pick out and purchase your own fall pumpkin, gourd or other decorative fall gift item as well as a 2021 Tom's Maze t-shirt to bring home as a souvenir of your adventure. HAVE FUN!
---
We'd love to see you enjoying your fall at Tom's Maze! If you take any share-worthy pictures (every picture at Tom's is!), share them on social media and tag us, @daytoncvb, on Instagram and Facebook! And, don't miss these coupons on the Tom's Maze website!