Whether you're an experienced angler or just someone who enjoys eating Swedish Fish and Pepperidge Farms Goldfish------you owe it to yourself to head out to Greater Dayton's abundant riverways, lakes and ponds this summer for some fishing adventures.
Before you know it, you'll be hooked . . . line and sinker!
ALL YOU NEED
Equipment
If you don't already own fishing equipment you can easily purchase it online, at local sports stores or big box discount stores.  In fact, you can even find fishing rods for as little as $7.  Bait and lure options vary but folks often have the most success with live bait like worms 
Fishing License
According to the Ohio Department of Natural Resources, kids ages 15 and under do not need a fishing license to fish in Ohio. Kids ages 16 and older are required to have a fishing license. An adult without a fishing license may assist a youth that is fishing, but if an adult also wants to fish, he or she needs an Ohio fishing license. Licenses may be purchased online or at a hunting and fishing license agent location. Learn more about fishing license requirements in Ohio. Click here to obtain a fishing license.  Ohio's resident fishing licenses are $25 and are valid for one year from the date of purchase.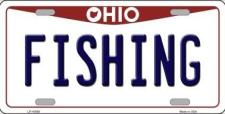 BONUS—there are a number of places you can fish in Dayton without a license.  
These Five Rivers MetroParks have areas where you may fish without a state fishing license. Visit park information for specific locations.
•    Carriage Hill MetroPark    
•    Eastwood MetroPark
•    Germantown MetroPark
•    Possum Creek MetroPark* 
•    Twin Creek MetroPark*
 
PLACES TO FISH
In addition to the MetroParks listed above, there are loads of places to fish in Greater Dayton.
Rivers and Creeks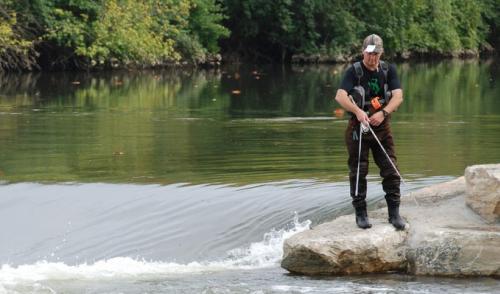 Dayton is known for it's Five Rivers MetroParks. The five rivers include the Stillwater River, Great Miami River, Mad River, Twin Creek and Wolf Creek.  Any of these waterways offer fishing.  For ideas on locations to fish in Greater Dayton's abundant rivers and creeks Download River Maps from the Miami Conservancy District 
The Stillwater River offers great fishing for smallmouth bass and rock bass.  The Great Miami River provides excellent smallmouth bass fishing. Tailwaters below low head dams are hot spots. Anglers will find lots of rock bass, bluegill, carp, and suckers along the whole length of the river. Channel catfish and flathead catfish, as well as hybrid striped bass fish can be found in the river. The RiverScape River Run's riffles and pools are the perfect habitat for fish.  
Mad River and Mad River Run are a haven for smallmouth and largemouth bass. rock bass, crappies, bluegills, carp and suckers, as well as the occasional trout. The Mad River Run has created deep pools where fish congregate and calm waters for fly fishermen.    
Lakes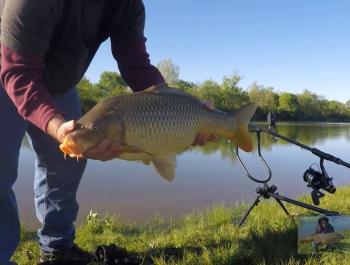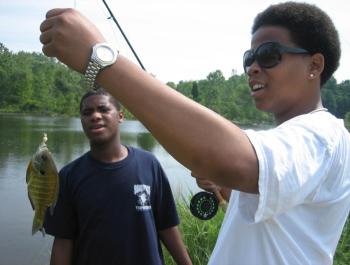 Eastwood Lake  Fishing license required. Mile-long, 185-acre lake fed by Mad River.  A fishing license is not required for the nearby Eastwood Blue Lake or the Eastwood Lagoon. 
Englewood North Park and Martindale Pond  North Park Ponds: The best places for trophy largemouth bass are the ponds in the north part of Englewood MetroPark. Martindale Road Lake: This is the best location for total numbers of crappies. East Park Lake: This shallow lake is slowly filling with silt from the Stillwater River and becoming a wetland. In spring when water is high, the lake can be used for fishing.
For the young or old.  For relaxation, recreation or food.  From a boat, while wading or sitting in the shade on the banks of a river, pond or lake.  Fishing has it all, and it's not hard to tackle. Soon you'll be having reel fun!
Catch ya later!