You're gonna need a bigger weekend! The world-famous, life-size dinosaurs of Jurassic Quest–billed as the world's largest, most-realistic dinosaur event–return to the Dayton Convention Center the weekend of February 3-5.
Jurassic Quest features more than 100 life-size animatronic dinosaurs that are meticulously painted and animated to be "realer-than-real." Guests walk through the Cretaceous, Jurassic and Triassic periods, experiencing for themselves what it was like to be among living, breathing dinosaurs. Whether you're 3 or 103, this is a one-of-a-kind experience you won't soon forget!
---
Enter to Win Tickets!
We've got an exclusive chance for you to win a family four-pack of tickets to visit Jurassic Quest! Tickets are Standard Admission tickets - see the ticket section below for details.
Our ticket contest has now closed - thank you to everyone who entered! We'll pick and notify the winner the afternoon of January 31. 
---
About Jurassic Quest

Jurassic Quest offers unique and exciting experiences for the whole family. There's no better place to make pter-iffic memories, playing with adorable baby dinos, excavating fossils, and even training a raptor, while surrounded by behemoths like sky-scraping Spinosaurus, Apatosaurus, an incredible 50-foot-long Megalodon, and the king of the dinosaurs, Tyrannosaurus Rex! A few of the show's highlights include:
Ride a Dino
Jump on a dino's back and hang on tight! Some of the shows animatronic dinosaurs are ridable and kids always find their favorite.
Explore Bounce Houses
The show's dinosaur-themed bounce houses are full of roars … of laughter. Jurassic Quest also includes bounce houses designated specifically for small children. (Note: socks are required and sold at the event.)
Create a Dino Craft
Create a paper dinosaur, color a dino, or choose from other exciting crafts at the free crafts table.
Dig for Fossils
Paleontologists of all ages are welcome – uncover ancient secrets like triceratops and T-rex "fossils" and more at the science tables.
Meet Baby Dinos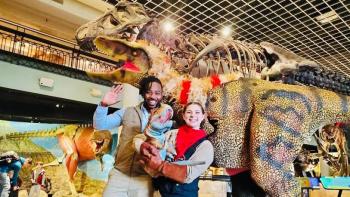 If you think the huge dinos are awesome … just wait until you meet the baby Triceratops, Camarasaurus and more! A guest favorite, the baby dinos are amazingly life-like and cute.
Walk with Dinosaurs
Adolescent dinosaurs like to run around and play with the audience! You can take photos and hang out with the dinos while exploring the show.
Discover Ancient Oceans
Discover the secrets of underwater sea dwellers like the enormous prehistoric sea turtle, the earliest discovered dolphins and, of course, the 50-foot megalodon!
Get Tickets to Jurassic Quest
You'll want to get your tickets for Jurassic Quest before they go EXTINCT!
Kids Unlimited Tickets are $36 (includes admission, plus unlimited access to stationery and walking dinosaur rides, fossil dig, and dinosaur themed inflatable attractions);  (Note: maximum weight for rides is 140lbs.); Kids Standard Admission is $22 (includes live shows, arts and crafts activities, dinosaur and marine exhibits. Tickets for other individual activities available on-site; Adult Standard Admission is $22; Senior Standard Admission is $19; and admission is free for children under 2.
Follow this link to buy tickets now
Show hours are Friday, February 3, 1-8 p.m., Saturday, February 4, 9 a.m.-8 p.m., and Sunday, February 5, 9 a.m.-6 p.m.
---
There are so many things to do in Dayton! Be sure to check out our Calendar of Events and download our Visit Dayton app from Google Play or the Apple Store to stay connected with everything happening in Dayton!