The holiday season reaches its high point this weekend with Christmas, but the holiday spirit doesn't have to end on Sunday–there are a plethora of things to do and see around the Dayton area during the week between Christmas and New Year's Day. With the two holidays falling on weekends this year, that offers a full week for fun, with many taking vacation time, and friends and family visiting from out of town.
Here is our quick guide to keeping yourself, the kids and your guests busy and entertained during the upcoming week–start making your plans! Be sure to check out our calendar of events and download our Visit Dayton app to explore more things to see and do around Dayton.
Image: The exhibition Joe Fig: Other Artists at the Dayton Art Institute / Photo courtesy Dayton Art Institute
1. Capture Some Holiday Magic at A Carillon Christmas

Carillon Historical Park's A Carillon Christmas, along with the spectacular Carillon Tree of Light, continues daily from December 26 through December 30. You can explore Carillon Historical Park (adorned with thousands of lights), see a puppet show and hear a presentation of The Night Before Christmas, take a Midnight Express Train Ride, and enjoy holiday shopping and treats. The Carillon Tree of Light towers hundreds of feet above the park. Hours are 5-9 p.m. December 26-29 and 5-10 p.m. on December 30. The Carillon Tree of Light is free and open to the public; admission to A Carillon Christmas is $14 per adult (ages 18-59); $12 per senior (ages 60+); $10 per child (ages 3-17); and Free to children 2 & under and Dayton History Members.

Information: DaytonHistory.org
2. Take Flight at the National Museum of the U.S. Air Force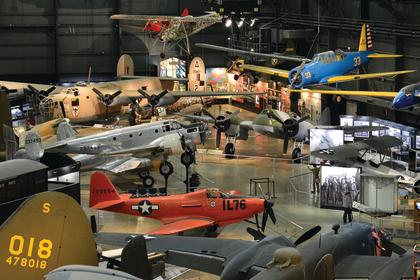 One of the biggest and best free attractions in Dayton is the National Museum of the U.S. Air Force. Spanning four hangars, 19 acres and more than 350 aerospace vehicles and missiles, it's the world's largest military aviation museum. If you haven't visited in a while, or have guests in town who haven't experienced it, make a day of it and go! And don't feel like you have to explore every square inch of the sprawling museum in one visit–there's plenty to see over multiple trips. With a collection ranging from the dawn of powered flight to the present day, there's something to spark the interest of everyone. New to the collection is a recently unveiled Douglas A-1H Skyraider that was restored over the course of 18 months. The museum will be closed Christmas Day and New Year's Day, but the open 9 a.m.–5 p.m. the remainder of the week.

information: nationalmuseum.af.mil
3. Get Inspired at the Dayton Art Institute

Did you know you can see masterpieces by Monet, Rubens, Edward Hopper and many others right here in Dayton? One of the Gem City's great treasures is the Dayton Art Institute, a world-class fine arts museum boasting a collection spanning 5,000 years of art history, as well as a fascinating selection of rotating special and focus exhibitions. Take an afternoon to explore the galleries of European, American, Asian and African art, and check out the current exhibitions, featuring the work of acclaimed photographer David Levinthal, the fascinating miniature artworks of Joe Fig, and tiny Japanese carvings known as Netsuke! Museum admission includes access to all galleries and exhibitions: $15 adults; $10 seniors (60+), active military & groups (10 or more); $5 college students (18+ with ID) & youth (ages 7-17); free for children (ages 6 & younger) and museum members.
The DAI has partnered with the Foodbank for a food drive and admission discount through January 15: each non-perishable food item donated at the museum counts towards $3 off an Adult/Senior Admission OR a free Youth (7-17) Admission.

CONTEST: Be sure to also check out our Facebook, Instagram and LinkedIn posts for a chance to win a pair of admission passes to the DAI (contest runs December 23-27)!

Information: daytonartinstitute.org
4. Cruise into America's Packard Museum
We recently featured one of Dayton's hidden gems on our social media: America's Packard Museum, located at 420 South Ludlow Street and housed in a restored Packard dealership that operated from 1917 through 1939. The museum displays around 45 cars, ranging from 1903-1956, plus a wide assortment of Packard related displays and memorabilia. Even if you're not a car buff, many of the cars on displays are one-of-a-kind works of art! If Stu Morris, the museum's Operations and Collections Manager, is there when you visit, ask if he'll give you a tour of the collection–he's a walking encyclopedia of Packard history! The museum is currently open Wednesday-Sunday, 12-5 p.m., and admission is $10 adults, $5 seniors, free for students and kids.

Information: americaspackardmuseum.org
5. Plan an Evening of Delightful Dining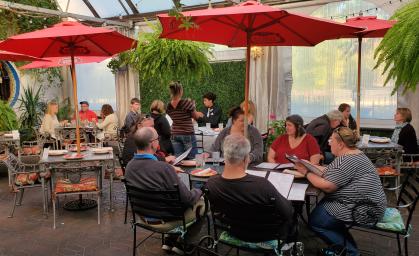 Image: El Meson restaurant in West Carrollton
If museums or other attractions aren't your thing, then plan a night out! When is the last time you got out of the house and let someone else do the cooking? The Dayton area has a wealth of restaurants across the region. From pubs and casual favorites to fine dining, there's something for every taste and budget. You can check out the restaurants section of our website for ideas and inspiration–it's searchable by category, region and keyword. Rediscover an old favorite or find something brand new!

Information: daytoncvb.com/restaurants/
6. Ring in 2023 in Your Own Unique Way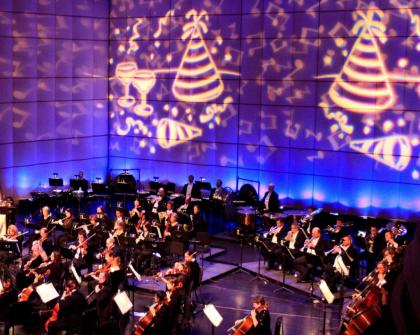 Image: Dayton Performing Arts Alliance New Year's Eve concert at the Schuster Center
We wrap up our week, of course, with the countdown to 2023! Dayton offers three distinctly different ways to right in the new year:

The Dayton Performing Arts Alliance offers an elegant soiree, New Year's Eve: Voyage à Paris, at the Schuster Center. The concert event brings together Dayton Ballet, Dayton Opera and the Dayton Philharmonic Orchestra for an of music and dance. The performance begins at 7:30 p.m. and tickets range from $14 to $75.

Information: daytonperformingarts.org

If you're looking for a New Year's party, you can check out the 5th Annual New Year's Eve Ball Drop and Silent Disco at the Yellow Cab Tavern. This unique event is hosted by TV personality and musician Zac Pitts, and it features music from three different DJ stations, as well as a sparkling wine toast at midnight. The party starts at 8 p.m. and tickets are $15 in advance, $20 at the doors.

Information: yellowcabtavern.com

For parents who want a night out, New Year's Eve Celebration at the Boonshoft Museum offers a fun-filled evening for adults and kids (ages 3-11). The grownups can dance the night away, snack on tasty hors d'oeuvres and experience the museum through a variety of live experience, while the kids will be treated to entertaining activities with the museum's education staff and volunteers. The evening concludes with a toast at midnight in the Planetarium! The event lasts from 9 p.m. to 12:30 a.m. and tickets are $100 per adult, $25 per kid and $75 for designated drivers.

Information: boonshoft.org
What are your plans to close out 2022, and what are you most looking forward to in 2023? Let us know in the comments. We'll be taking a look back at the best of 2022 and crafting our "must-do" list for 2023 in next week's post!
Post pics of your Dayton adventures on social media and tag them with #DiscoverDayton … we might feature your photos on our website and Instagram page (click through and give us a follow if you don't already!).
---
For more information on things to do in Dayton, contact the Dayton Convention & Visitors Bureau at 937-226-8211 (Monday-Friday) or download the free Visit Dayton App from Google Play or the Apple Store. Be in the Know on All Things Dayton!