It's Summer! Time to get outside and enjoy the sunshine -- and what better way to enjoy it than with a cold beer? The Dayton region can satisfy your thirst for locally brewed craft beer as you take a journey on the Dayton Ale Trail. Pick up a Dayton Ale Trail passport book at any of the participating 27 local breweries. Participants can complete the trail by visiting each brewery on the list, making a purchase at the brewery and collecting a stamp in their passport. After you have collected stamps at all 27 breweries you can visit the final destination, The Yellow Cab Tavern, and claim your prize -- a  custom logo'd Dayton Ale Trail 16 oz. beer glass. 
 Use the Dayton Ale Trail Passport to have fun exploring all of greater Dayton's amazing breweries! Continue reading for your guide to the Dayton Ale Trail...Cheers!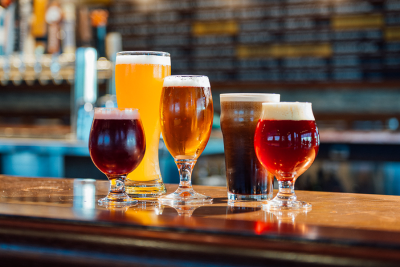 In all, there are 27 breweries that are a part of the Dayton Ale Trail! Below is a highlight of the 13 breweries located in Dayton/Montgomery County as well as nearby hotels so you can make a mini-vacation of your beer tasting explorations! These include: 
Walkable Breweries
Here for a weekend and wondering the most strategic way to hit a few breweries in one day? Check out these breweries within a 5 mile radius of one another.
Downtown Dayton 
Kettering
Centerville/Miamisburg 
Vandalia
Downtown Dayton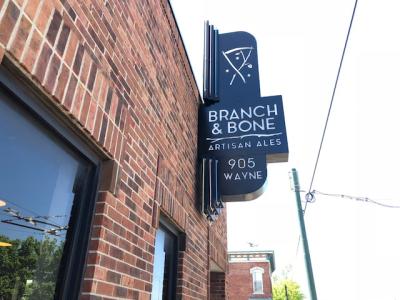 This charming brewery located in the Historic South Park neighborhood of Dayton truly shows their love of the craft through both aesthetic and their strive for perfection in every brew they make!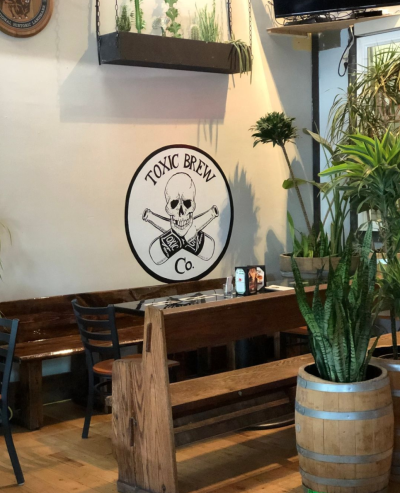 Located in the Historic Oregon District, Toxic Brew Company is the perfect place to meet with friends for some tasty house-brewed Bavarian, Belgian & American-style beers, in a great environment! Its location in downtown Dayton makes it the perfect spot to grab a drink after a long work day!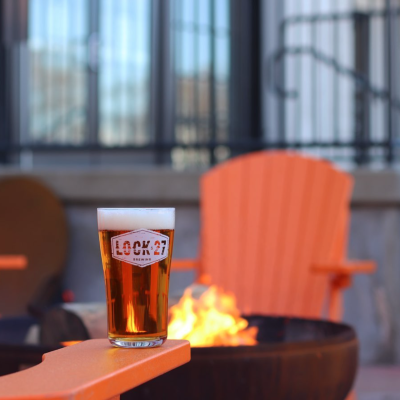 Located in the heart of Dayton next to the Day Air Ballpark, Lock 27 brewery is the perfect spot to meet up with friends before a Dayton Dragons game for a cold beer and tasty grub!
Located in a historic industrial building in downtown Dayton, Warped Wing Brewing Co. is a FUN place to visit! Their craft brewery is  inspired by Dayton's rich history of innovation and invention and it shows through their many locally inspired beer flavors/options.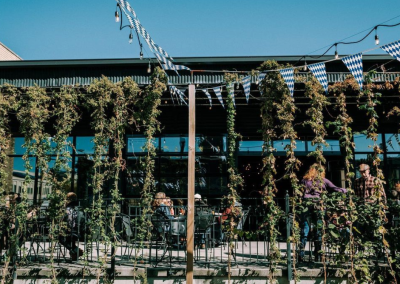 Just down the street from Day Air Ballpark, this hops immersed, live music showing, laugh and smile creating, and beer flowing brewery is the perfect spot to meet up with friends you haven't seen in a while--and then head to a ball game!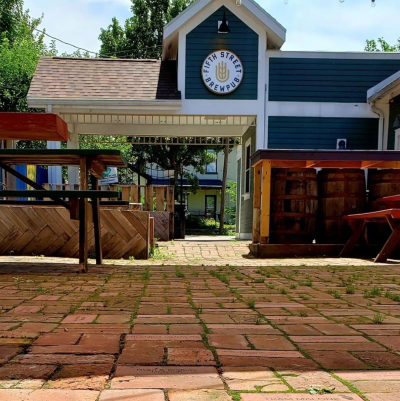 Located in the beautiful St. Anne's Hill District, Fifth Street Brew Pub is truly a unique brewery -- it's Ohio's first cooperative brewpub in Dayton! Hang out on the patio for trivia or head inside for a bite to eat -- and bring your well-behaved and leashed furry friends on Wednesdays for Yappy Hours!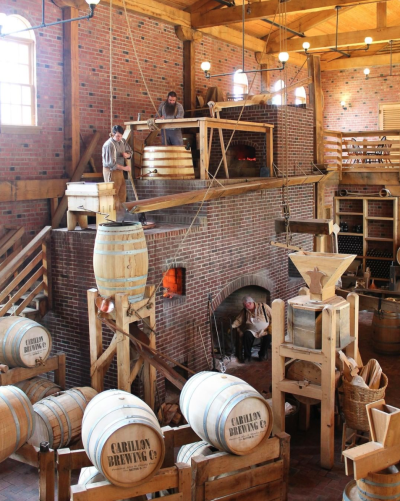 After spending the day exploring Carillon Historical Park, sit back and relax with delicious food and a cold beer at Carillon Brewing Co.; an 1850s style brewery, and the nation's only brewery in a museum!
Hotel(s) Near Downtown Dayton Breweries
Fairfield Inn Downtown: 305 E Monument Ave, Dayton, OH 45402 | (937) 331-9330
Radisson Downtown Dayton (formerly the Crowne Plaza): 33 East Fifth Street, Dayton, OH 45402 | (937) 224-0800
Courtyard by Marriott at the University of Dayton: 2006 Edwin C Moses Boulevard, Dayton, OH 45417 | (937) 220-9060
Holiday Inn Express & Suites Southwest: 2140 South Edwin C Moses Boulevard, Dayton, OH 45417 | (937) 250-6400
Find more here.
---
Kettering Area Breweries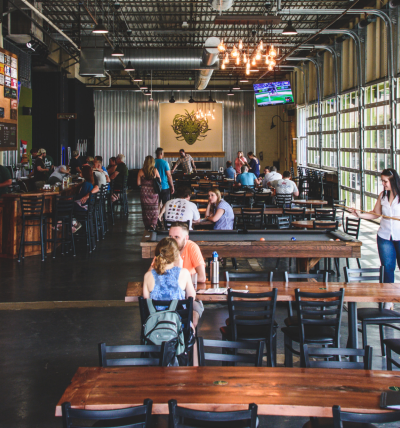 Located just outside downtown in the city of Kettering, Eudora Brewing Company is a brewery, taproom, and kitchen offering a large menu. Eudora offers an 8,000 sq. ft taproom and a 4,000 sq. ft patio, so it is the perfect place to visit with friends on a warm summer night and you can bring your four-legged furry friend on the patio! 
Hotel(s) Near Kettering Area Breweries
Marriott at University of Dayton: 1414 S Patterson Blvd, Dayton, OH 45409 | (937) 223-1000
Courtyard by Marriott at the University of Dayton: 2006 S Edwin C Moses Blvd, Dayton, OH 45417 | (937) 220-9060
Find out more here.
---
Miamisburg/Centerville Area Breweries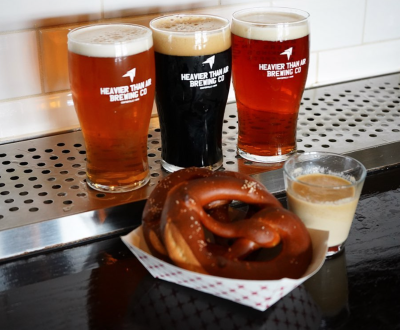 Heavier Than Air Brewing Company surely is a "Dayton" brewery with its aviation-themed craft beer and tap room! Located in Miamisburg, OH, they serve bold beers and light fare!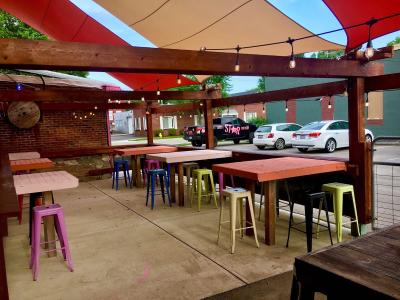 Lucky Star Brewery offers is a great place to visit when you are looking for beer, tasty Mexican fare, and an outdoor patio!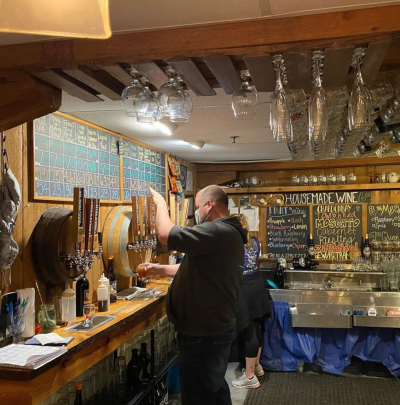 Nestled inside the 19th-century Peerless Mill Inn, Star City Brewing Company offers a wide variety of beer styles on tap as well as several house-made Peerless Mill Wines. Start the summer with their Peerless Mill Winery's Watermelon wine!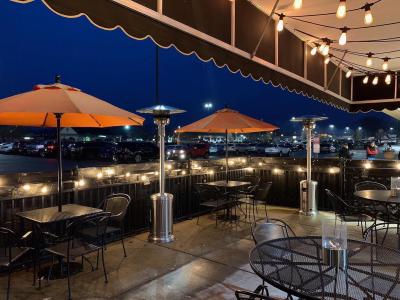 Another Lock 27 Brewing, but this time it's in Centerville! This is the original Lock 27 Brewing location, just 2 miles off of I-675. This location serves as the lab for experimenting and creating new beers for both locations. Not only do they have delicious house brewed craft beers, but they also have a full menu prepared in their kitchen. Lock 27 is a Dayton favorite and a must visit while visiting!
Hotel(s) Nearby Centerville/Miamisburg Breweries
Doubletree Suites by Hilton Dayton South: 300 Prestige Pl, Miamisburg, OH 45342 | (937) 436-2400
Hampton Inn Dayton Mall: 8960 Mall Ring Rd, Dayton, OH 45459 | (937) 439-1800
Hilton Garden Inn Dayton South/Austin Landing: 12000 Innovation Drive, Miamisburg, OH 45342 | (937) 247-5850
Find out more here.
---
Vandalia Area Breweries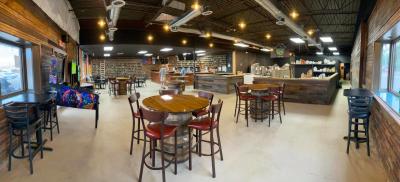 Founded by owners Matt Harris and Mike Legg in 2013, the Hairless Hare Brewery offers a wide selection of craft beer brewed on site. From a blonde ale all the way to the chocolate stout there is something for everyone. 
Hotel(s) near Vandalia Area Breweries
Home2 Suites by Hilton Dayton Vandalia:6615 Towne Center Drive, Dayton, OH 45414 | (937) 949-6200
Springhill Suites by Marriott Dayton Vandalia: 3591 York Plaza Ln, Dayton, OH 45414 | (937) 280-4150
Comfort Inn & Suites North: 3661 Maxton Rd, Dayton, OH 45414 | (937) 890-1221
Courtyard by Marriott Dayton North: 7087 Miller Ln. Dayton, OH 45414 | (937) 890-6112
Find out more here.
---
Round out your weekend with friends and family with a visit to one of Dayton's historic attractions, arts and culture, or outdoor activity. It's all on our attractions page for in-depth information about amazing adventures you can have right here in the greater Dayton area!