Dayton Breweries
Pour a pint, grab a growler. Dayton is "hopping" with a wide variety of new breweries and taphouses. While Dayton has a 200-year history with microbreweries thanks to Col. George Newcom, it has seen a resurgence in the last couple of years with most areas of the Miami Valley housing their own brewery (or a few).
Dayton Beer Company has paved the way for Dayton to reclaim its spot on beer lover's lists. They were the first to open their doors in the Miami Valley. Shortly after, Toxic Brewing Company set up shop and began the economic boost to downtown that many are calling the Brewery District.  The Dayton area is now home to 10 wildly popular local breweries.
If you'd like to check out some of the breweries, but don't know where to start, just hop on the bus! There are several local companies offering Brew Tours. They typically stop at 3 to 4 breweries and provide samples at each one.
Dayton Brew Tours - 937-572-1376
Buckeye Brew Tours - 937-469-6890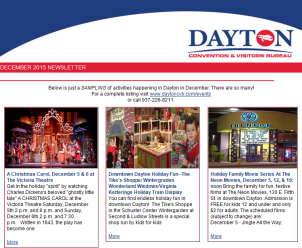 Want to know what's going on in Dayton? Looking to keep up with the latest Dayton, Ohio news? Sign up for our E-Newsletter!
LEARN MORE