Fun Fact: The University of Dayton Arena will host 39 basketball games in 20 days during March Madness® in 2023!
Basketball madness has returned to Dayton! The final countdown is on, as UD Arena proudly welcomes and hosts the NCAA® First Four® Tournament on March 14 & 15, bringing thousands of basketball fans to the Miami Valley. In honor of the First Four, we've compiled our top four things to do in Dayton during March Madness! Whether you're local or traveling from out of town, these are the must-do items to make the most of your time in town.
1. Attend the NCAA®​ First Four® ... of Course!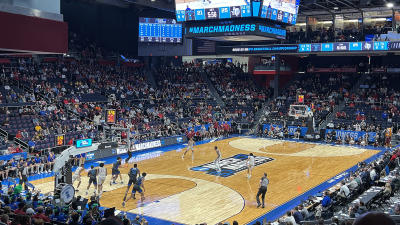 It goes without saying ... if you're able to attend a First Four® game, you absolutely should do so! Remaining tickets are going fast, but nothing beats the electric atmosphere of a college basketball game at UD Arena. Dayton is the Epicenter of College Basketball, and fans from around the country know that THE ROAD STARTS HERE™! There will be two games each night, on March 14 & 15, with the winners of each game advancing on the road to the Final Four®. Get your game tickets now, before they are gone!
NCAA.com: 14 Times UD Arena Put the Madness in March
Even if you can't make it to UD Arena, there are so many great places around Dayton to watch the games.
2. Check out The Big Hoopla's Community Events
Since 2012, The Big Hoopla has been the local organizing committee for community activities surrounding the First Four. This year, The Big Hoopla will present two events on Selection Sunday, March 12, as well as opportunities to watch practice sessions for the First Four games.
Hoopla 4 Miler

On Selection Sunday, March 12, the day begins with he Big Hoopla 4 Miler, a four-mile run that starts and finishes at the heart of basketball, UD Arena. The course offers skyline views, crosses the Great Miami River, and loops past Carillon Historical Park. Registration opens at 7:30 a.m., and the race starts at 9 a.m. Winners receive prizes, including First Four game tickets. Register online for the race. 
Hoopla STEM Challenge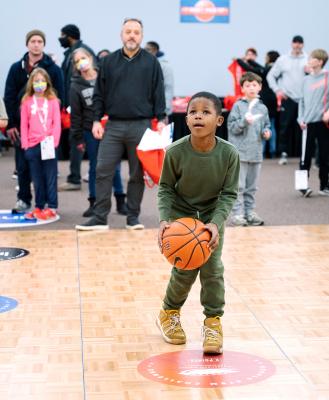 Also taking place on March 12 is the Hoopla STEM Challenge, a free family event. Bring your family to participate in a free basketball 'hot shot' and STEM (Science, Technology, Engineering and Math) education contest with prizes awarded for each shot made! The event is open to boys and girls grades K–8 and will take place at the Dayton Convention Center. The event ties together the excitement and passion for college basketball to the power of STEM education. Regional and national partners will be on-site to engage students with hands-on science, technology, engineering and math demonstrations, as well as two fun, one-hour shows with award-winning science entertainer Eric Energy at 11:30 a.m. and 2 p.m. Registration is free, and more information is available on the event site.
First Four Practice Sessions at UD Arena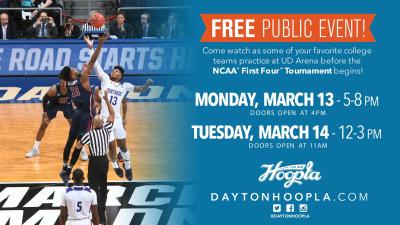 Come watch as some of your favorite college teams practice at UD Arena before the First Four Tournament games begin! These practice sessions - which are free and open to the public - take place on Monday, March 13, 5-8 p.m. (doors open 4 p.m.) and Tuesday, March 14, 12-3 p.m. (doors open 11 a.m.). 
3. Attend OHSAA Basketball State Tournament Games
The NCAA® First Four® Tournament isn't the only game in town! UD Arena is also hosting the Ohio High School Athletic Association (OHSAA) Girls and Boys Basketball State Tournaments! The Girls Tournament is underway right now, with the State Championship games being played Saturday, March 11: 
Division II: 10:45 a.m.
Division IV: 2 p.m.
Division III: 5:15 p.m.
Division I: 8:30 p.m.
Single-session general admission tickets for Girls Basketball State Tournament games are $16 for adults, $12 for students and $20 for premium seats. All tickets may be purchased at the OHSAA ticketing website. 
The OHSAA Boys Basketball State Tournament takes place just after the First Four, on March 17-19:
Friday, March 17 (State Semifinals): DII - 10:45 a.m. & 2 p.m., DIV - 5:15 & 8:30 p.m. 
Saturday, March 18 (State Semifinals): DIII - 10:45 a.m. & 2 p.m., DI - 5:15 & 8:30 p.m. 
Sunday, March 19 (State Championships): DII - 10:45 a.m., DIV - 2 p.m., DII - 5:15 p.m., DI - 8:30 p.m. 
Boys state tournament all-session tickets may be purchased at the OHSAA ticketing website. All-session reserved tickets are $168 each, while premium all-session tickets are $216 each. Single-session tickets for Boys Basketball State Tournament games go on sale at noon on Sunday, March 12. Single-session adult tickets are $16 for adults, $12 for students and $20 for premium seats.
4. Check Out Local Attractions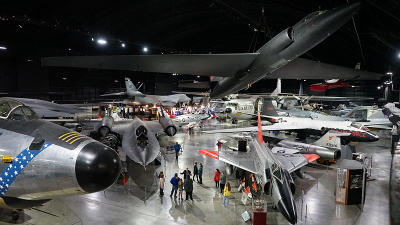 Dayton is so much more than just basketball! Make some time to check out a few of Dayton's attractions, like the free National Museum of the U.S. Air Force (pictured), Carillon Historical Park or the Dayton Art Institute! There are also many shopping and dining options in Dayton, as well as an active craft brewing scene. You can find more information in the digital edition of our Destination Dayton Visitors Guide and by downloading our free Visit Dayton app. Be sure to also visit our Calendar of Events for a searchable list of things to do in Dayton.
 
---

Get out and enjoy March Madness in person - there's nothing like the energy and excitement of a live sporting event - and explore all that Dayton has to offer! Check back here and on the First Four® page of our website for additional information and updates.