This has been a year of many unknowns and changes, including couples having to adjust their wedding plans. Luckily, Montgomery County has many beautiful wedding venues ready to help you coordinate the perfect date and perfect space for your rescheduled wedding.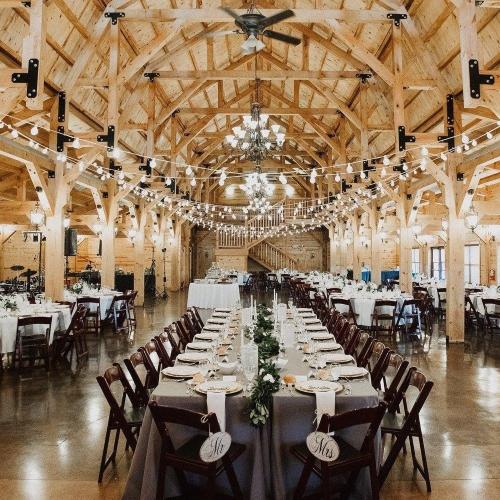 Miamisburg, OH | $$ Affordable
Canopy Creek Farm is a country chic venue in Miamisburg, OH. It offers indoor and outdoor space for weddings, family parties, and corporate meetings.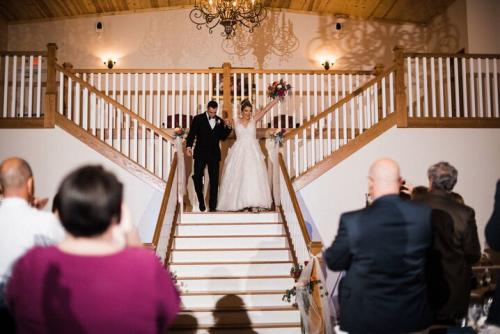 Miamisburg, OH | $$ Affordable
Rosewood Manor is a national award-winning southern mansion styled venue featuring a beautiful grand staircase, elegant chandeliers, and an outdoor wedding pergola next to the babbling creek. The reception hall is lined with romantic backlighting that shines throughout the night. The Magnolia Barn is a wedding venue with a gazebo ceremony with a panoramic vista of rolling hills and stunning sunsets. The white barn features a spacious enclosed patio and bar, creating a festive atmosphere for your wedding. It now includes a newly updated reception area and bridal suite.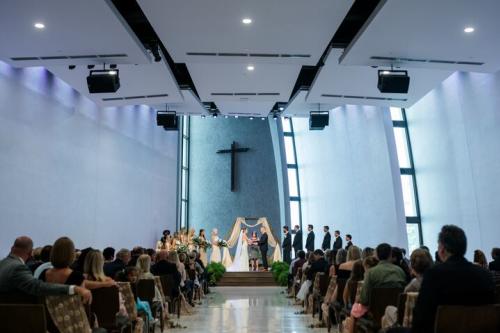 Miamisburg, OH | $$ Affordable
The "Reverie" exists to celebrate significant personal and professional events in the lives of the people of Dayton, Ohio. The Reverie provides a modern space with a classic feel that accommodates a variety of gatherings including weddings, receptions, and corporate meetings.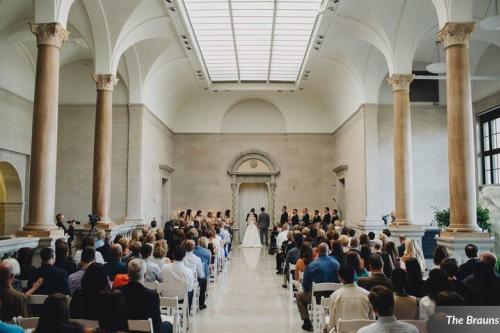 Dayton, OH | $$$ Moderate
The Dayton Art Institute combines a world-class art museum and architecturally significant building to create one of the area's premier destinations for events. The museum offers many event spaces that will accommodate everything from an intimate luncheon, a seated dinner event, or a cocktail reception. Your guests will be surrounded by masterpieces from around the world and across the ages, creating an unforgettable experience. 
Marriott at the University of Dayton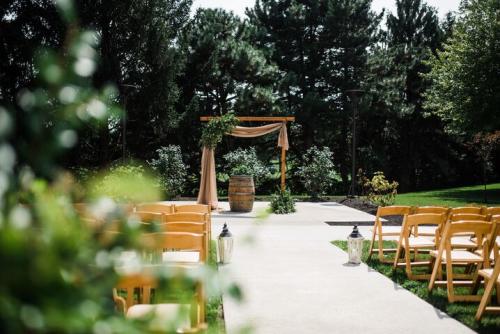 Dayton, OH | $$S Moderate
At Marriott at the University of Dayton, their experts go above and beyond to make your vision, your tastes, and your dream come true for a happily ever after that is infinitely you. Whether a lavish celebration or a more intimate affair, Marriott at the University of Dayton will exceed every expectation. They know that your special day is in the details, which is why they offer an array of services and amenities. From both outdoor and indoor ceremony spaces to private reception areas to Marriott Certified Wedding Planners, they'll ensure that you and your guests get a taste of unforgettable memories.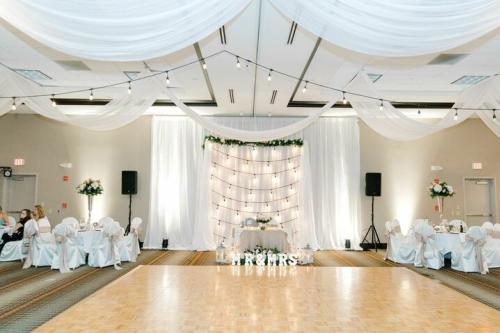 Miamisburg, OH | $$ Affordable 
The Hilton Garden Inn located at Austin Landing is nestled in the Dayton/Cincinnati corridor. It offers a beautiful 4,500 sq. ft. ballroom, and has 125 guest rooms, four bridal/honeymoon suites, and a 300 person reception space, we can host all of your out of town guests and a beautiful ceremony, rehearsal dinner, and reception!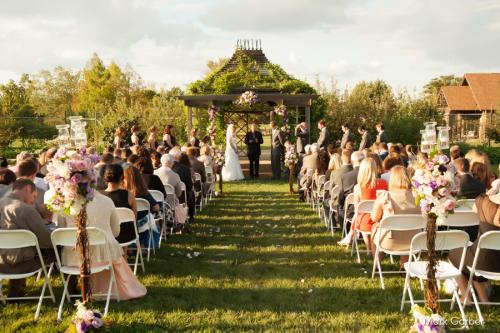 Dayton, OH | $$ Affordable
Now offering weddings and receptions under a tent on our beautiful lawn near the Education Center! They can offer tents to accommodate up to 200 guests. Cox Arboretum also offers smaller venues for more intimate affairs! Currently booking dates for 2021 & 2022.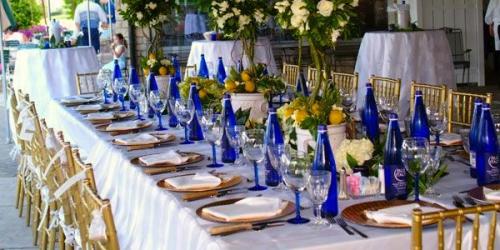 Centerville, OH | $$ Affordable
The Golf Club at Yankee Trace can host your wedding and reception! Offering panoramic golf course views, exceptional architecture, and professional staff. Your guests will feel as if they are visiting an exclusive country club!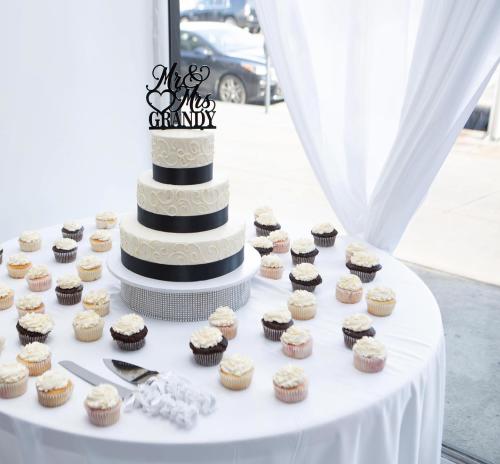 Dayton, OH | $$ Affordable
White House Event Center, LLC is a contemporary industrial chic multi-purpose venue for any special occasion in downtown Dayton.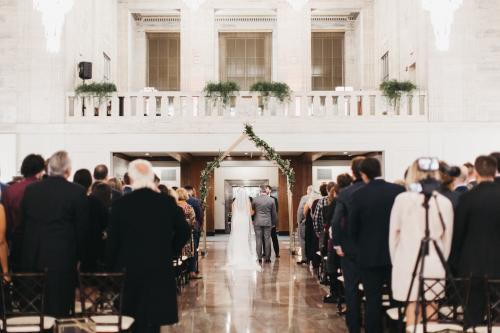 Dayton, OH | $$ Affordable
Celebrate your wedding or next special event at one of Dayton's newest venues! Perfect for events up to 300 guests, the Grande Hall artfully blends Art Deco Architecture with modern amenities.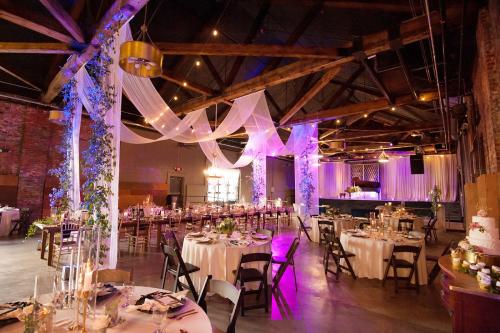 Dayton, OH | $$ Affordable
The Brightside Music and Event Venue is a renovated industrial event space for parties, gatherings, music, community events, art shows in the heart of downtown Dayton.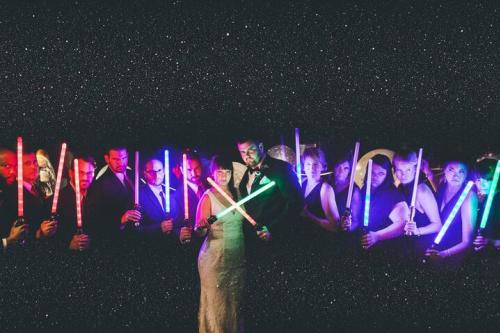 Dayton, OH | $$ Affordable
The Boonshoft Museum of Discovery is one of Miami Valley's most unique wedding venues. Providing couples with an innovative ceremony and reception sites with unparalleled event backdrops. Celebrate your day under the stars, with a customized star show in the Caryl D. Phillips Planetarium, or host your reception in one of our distinct exhibit spaces. You'll find something for everyone at the Boonshoft Museum of Discovery.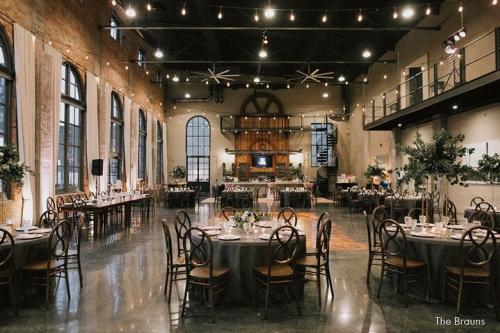 Dayton, OH | $$$ Moderate 
The Steam Plant in downtown Dayton is a former power generating plant that has undergone a three-year renovation, preserving the historical charm while adding modern amenities for today's discerning couple. We offer indoor and outdoor options and space for ceremony and reception. The Steam Plant's versatility allows couples to customize the venue and utilize the spaces to best fit their group size and vision for the day. At The Steam Plant couples can enjoy a "one-stop-shop" by utilizing the Bridal Suite and Groom's Lounge for wedding day preparations. 
 
Crowne Plaza Dayton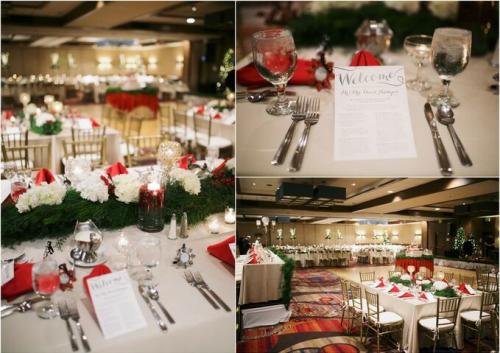 Dayton, OH | $$ Affordable
From an intimate gathering of 50 to an extravagant event for up to 500 the Crowne Plaza Dayton has the accommodations to fit your every need. Group rates for wedding guests, rehearsal dinners, showers, outdoor and indoor weddings, and ceremonies.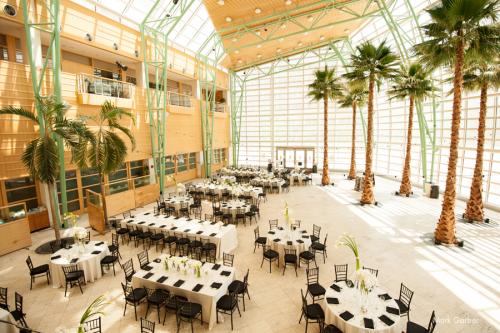 Dayton, OH | $$$ Moderate
Built in 2003, the Benjamin & Marian Schuster Performing Arts Center is a world-class facility for the best in local, national, and international entertainment. Owned and operated by Dayton Live, the Schuster Center includes the Mead Theatre, the Mathile Theatre, and the Wintergarden featuring palm trees set against a block-long, glass-enclosed atrium. The Schuster Center is also available to rent for meetings, parties, receptions, and performances.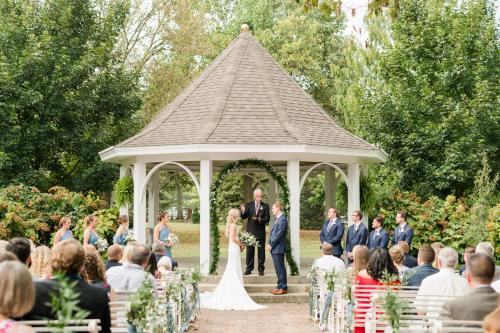 Kettering, OH | $$$ Moderate
Polen Farm, a historic 19th-century farmhouse and barn situated on 15 picturesque acres, is a favorite with area residents for weddings. The Polen Farmhouse includes a roomy living room, dining room, sun porch, and banquet room. A seasonal tent covers a large patio providing the flexibility of an indoor or outdoor event. The Barn features a small service kitchen, will accommodate up to 125 people and is usable year-round. The upper level is roomy enough for as many as 175. A brick path leads from the patio outside the Banquet Room to the Gazebo.
Dayton Country Club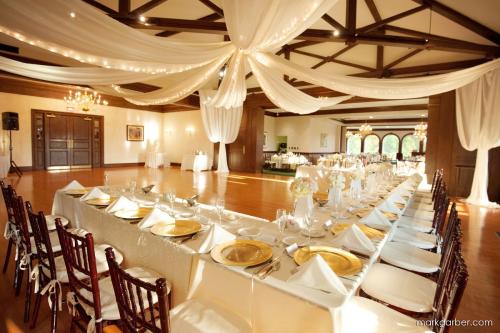 Dayton, OH | $$$ Moderate
For over 100 years Dayton Country Club has hosted lovely weddings and lavish receptions creating unforgettable memories. They have many rooms, spectacular views, delectable menu choices, and dedicated staff who will make every detail of your wedding special.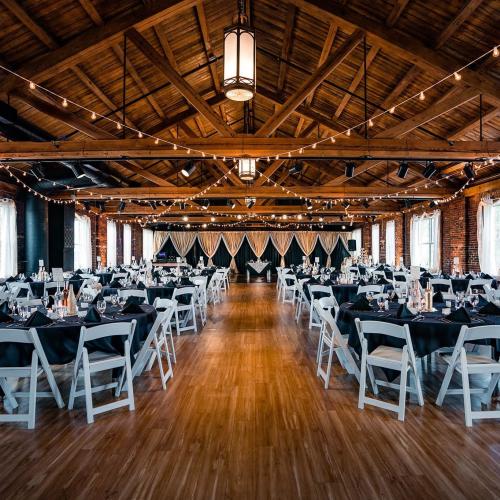 Dayton, OH | $$ Affordable
Top of the Market Event Center has two rooms available The Loft with seating up to 175 and The Warehouse with seating starting at 175 to 350.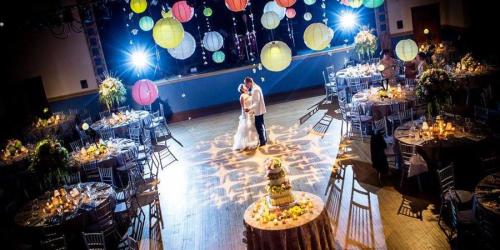 Miamisburg, OH | $$ Affordable
The Baum offers nice-foot original windows, hardwood floors, cathedral ceilings, a catering kitchen, dynamic lighting, and you can choose your own caterer. The BOH provides tables and chairs, and rents for the entire day instead of just a few hours. Two ballrooms are available with seating up to 200!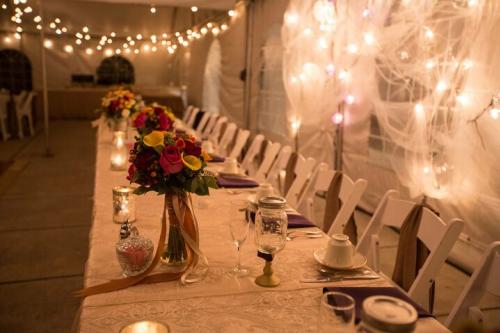 Kettering, OH | $$$ Moderate
If you have been dreaming of a classic, rustic-style wedding with simple elegance in a classic setting, this is your venue! NCR Country Club will make all of your wedding dreams come true. Ideally situated in the heart of Kettering, NCR Country Club has a beautiful private banquet room, which will accommodate up to 220 guests, as well as a wrap-around porch for your guests to enjoy both inside and outside festivities. They have a setting for ceremonies overlooking panoramic views of our award-winning golf course. 

Dayton, OH | $$ Affordable
Dayton History offers an array of unforgettable venues for any occasion. Dayton History's venues offer an extraordinary combination of natural beauty and distinctive spaces. Their landscaped settings and historical buildings offer unrivaled ambiance. Their venues have indoor seating for 5-250 guests. 
Moraine Country Club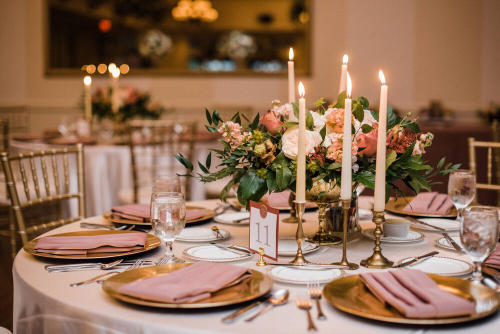 Moraine, OH | $$ Affordable
Moraine is the perfect setting for you to celebrate with your family and friends. They can accommodate up to 300 people in the Deed's Room with additional space available on the Patio. They also have smaller rooms available for ceremonies or for a quaint family brunch following the reception.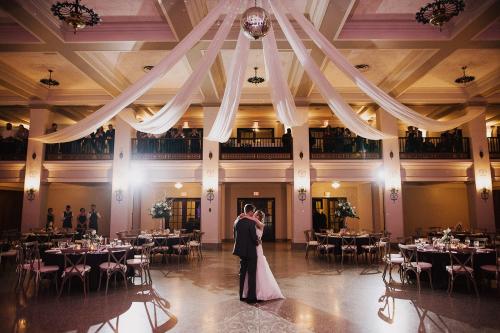 Dayton, OH | $$$ Moderate
The Dayton Masonic Center is a historical landmark, meeting space, performance venue, and special event venue located in Dayton, Ohio.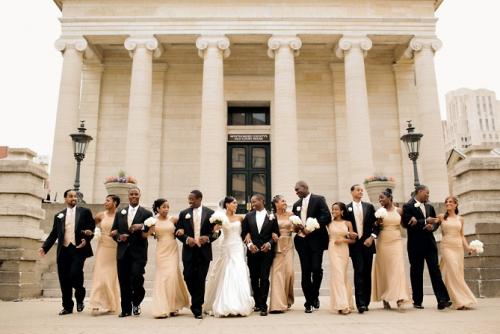 Dayton, OH | $$$ Moderate
Nestled in the heart of Dayton at the intersection of Third and Main Street, The Old Court House offers a prestigious historic setting for your wedding. Visited by a total of eight presidents – including Abraham Lincoln and John F. Kennedy – this gorgeous location places your nuptials into an extensive history. Guests will be greeted by the building's stately architecture, including majestic ionic columns, detailed friezes, and an imposing presence that is sure to make an impression. Inspired by the dignified airs of neo-classical architecture, the main atrium boasts a remarkable flying staircase that spirals towards the dome ceilings that offer an exceptional photography opportunity for the couple and their party. The classic round courtroom with domed coffered ceilings sets a singular atmosphere for any ceremony or small dinner reception, while the intimate Recorder's Office serves as the perfect space for cocktail hour.
America's Packard Museum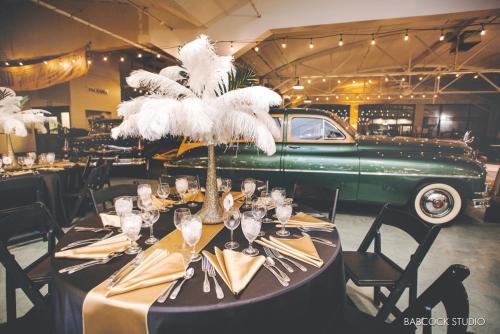 Dayton, OH | $$ Affordable
America's Packard Museum, located in the heart of downtown Dayton, provides a wonderful venue to host your function. Voted among the top five Banquet Facilities in and around the Dayton area. Main Museum - Built in 1917, as the original Dayton Packard Dealership, accommodates up to 200 for a sit-down dinner or 225 for a cocktail reception.