Experience Dayton Virtually
Attractions and organizations in Dayton and Montgomery County are putting the safety and health of you and your family first by closing during the COVID-19 crisis. We will get through this together. You can still enjoy these amazing attractions from the safety and comfort of your home through virtual tours, photo galleries, and videos. These resources will help you plan a future visit when this crisis is over.
The virtual tour of the National Museum of the U.S. Air Force allows visitors to take a virtual, 360-degree, self-guided tour of the entire museum by navigating from gallery to gallery either by using a drop-down map or by following navigational arrows connecting the individual nodes. Icons indicate hotspots where the visitor can get additional information such as videos, audio and links to online resources.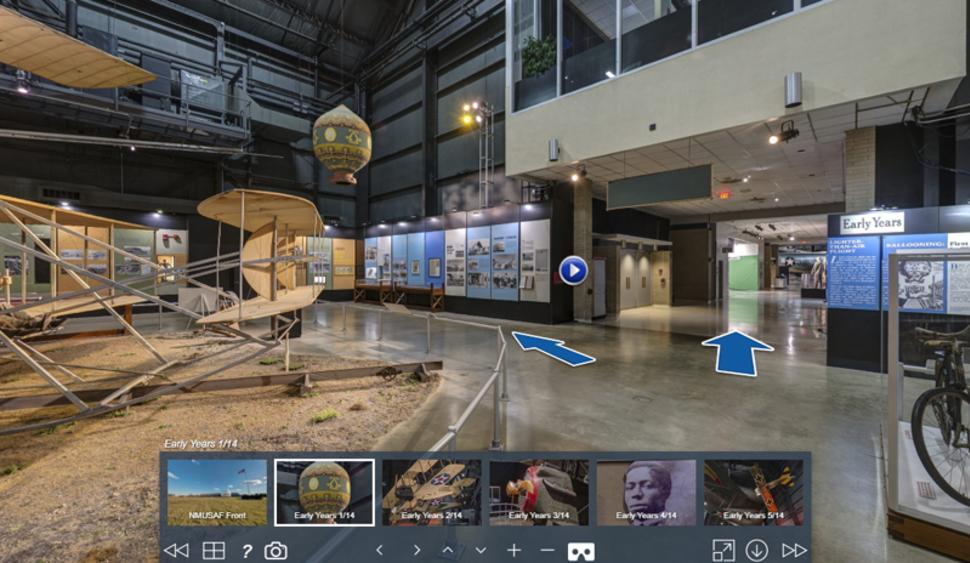 ---
Dayton History is THE place to learn about our community's incredible innovative history.  The organization has compiled a LONG list of trivia questions to test and expand your knowledge of the Gem City.
And, now is the perfect time to plan your future visit to Carillon Historical Park.
Once you have your itinerary planned for your future visit to Carillon Historical Park, don't forget about the many other Dayton History sites. 
---
It's the people, the places and the stories which form the heart and soul of the Dayton Aviation Heritage National Historical Park. Stories of the people and the places which tell us more about the history of each site and a little bit about the history of our country and about who we are as Americans.
 Watch and listen to Ranger Bob Petersen as he explains how the Wright brothers' work in their 4th bicycle shop, now part of the park, cemented the site's legacy as the birthplace of aviation.
Videos: "Inventing Flight" & "Ohio Inventor: Charles Kettering" - Think TV
Enjoy a Neon Movie at Home!
Even though The Neon is closed for the time being, the staff continues bringing great cinema to you. Now you can still support The Neon by watching award-winning offerings at home.
Dayton's Human Race Theatre - Past Productions
During this time of social distancing, the Human Race Theatre Company brings the beauty, drama and excitement of professional theatre to you through videos from their past performances.  Enjoy!
"An Act of God"
"Banned From Baseball"
Dayton Performing Arts Alliance - Education Program
The Dayton Performing Arts Alliance's Education Program offers free resources to teachers, students, and their families. Our Director of Education, Ruth Reveal, creates each lesson plan to correlate with Ohio Education Standards, highlighting arts-enhanced curriculum. You will find activities for a variety of grade levels.
Color Your Favorite Dayton Attraction!
We've compiled coloring sheets of some of the amazing attractions in Dayton and we want to see your finished pieces! Please share your pictures on social media and tag us @daytoncvb!
---
After careful consideration, and in the interest of the guests' health and safety, the Boonshoft Museum of Discovery will be temporarily closed to the public starting Sunday, March 15, 2020 until at least March 29, 2020.
Starting Monday, March 16 the Boonshoft Museum of Discovery will be releasing daily programming on a variety of subjects in a variety of different formats.
Morning Program
Science Education program on a variety of topics in physics, chemistry, and biology featuring the Boonshoft's Science Theater and Do Lab.  These programs will be followed by an activity or experiment that can be done at home to build upon the topic.
Afternoon Program
A virtual museum experience will highlight a behind the scene location, an animal ambassador from the zoo, or special rarely seen items from the Boonshoft's collection vault.
Closing Program
An astronomy experience, from current topics, to notable items in the night sky.  Special opportunities for a "chat with an expert" will be made available as well!
Boonshoft Museum of Discovery - Video Tour
---
Aullwood offers both children and adults the opportunity to experience and appreciate the world through experience-based education. Discover our woods, streams, ponds, prairies, meadows, nature center and working sustainable farm!
Aullwood Farm Video